Charlie Weis impressed with Jaxson Dart's growth in year two with Rebs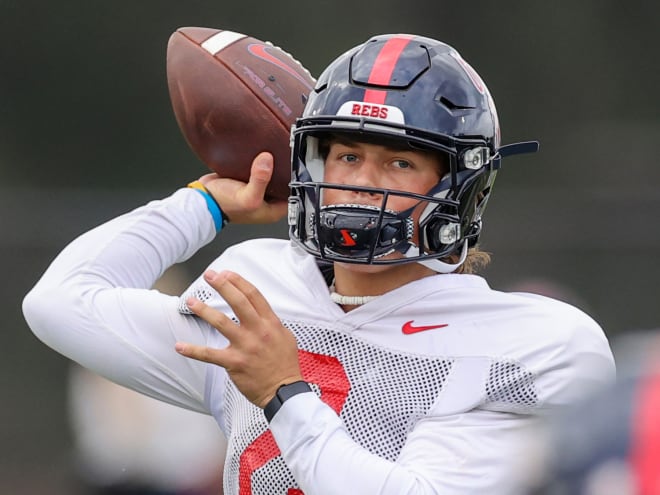 OXFORD | Jaxson Dart is entering his third season of college football, and it's his third quarterback competition.
He beat out Miller Moss for the backup quarterback job as as a true freshman at USC and then found playing time after Kedon Slovis was injured against Washington State. Dart set the school record for most yards in a debut, throwing for 391 yards in a blowout win over Washington State.
Dart played in six games and started three as a Trojan before transferring to Ole Miss. Then, he beat out Luke Altmyer last fall and threw for 2,974 yards for the eight-win Rebels. A year later it's another competition, but offensive coordinator Charlie Weis Jr, sees an improved and different Dart.
"Jaxson is so much further ahead than he was at this point last year," Weis said. "People may underestimate having a year in the system and knowing the plays and being very comfortable in the things we're operating. The timing, the footwork and the drops and I think he's grown confidence in his play and allowed himself to be a more vocal leader. Take some ownership on the team and that's been really cool to see."
Dart routinely mentors the younger quarterbacks at practice and gets consistent praise from teammates. He's splitting repetitions mainly with Spencer Sanders, who started more than 40 games at Oklahoma State, but Weis thinks Dart has been good at just being himself.
Instead of having to transition and learn everything, he's focused on team-building and continuity. The off-the-field growth with his relationships is one of Dart's biggest strengths, the coordinator said.
"He was in a competition (last year) just like he is now and he's taken advantage of that time from last season to the offseason and spring and summer time to develop relationships with his players off the field and quality time with them to earn trust an perspective," Dart said. "It's about how they see the game and see life, and it's really cool to see how much time he pours into others."
The other quarterbacks on scholarship are LSU transfer Walker Howard and 17-year-old Austin Simmons who reclassified from the 2025 class. Many see Howard as the quarterback of the future, and Simmons is incredibly mature and talented for someone who could have two years of high school remaining.
It creates an eclectic and competitive quarterback room for Weis to manage. He is impressed with their temperaments and credits Dart with being a big part of setting that tone.
"It's a very fun room to work with; I commend those guys for the group we have," Weis said. "A lot of times you have that and get some tension because of the competition and all that, but they've been tremendous and handled it the right way and come in with the right mindset each and every day to get better."