Closer look at opening day lineup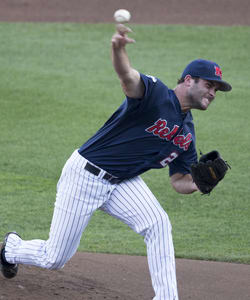 [rl]

OXFORD | Ole Miss head its media day on Monday inside the Diamond Club at Oxford-University Stadium. The No. 18 Rebels open Friday at 4. p.m. against William & Mary. Head coach Mike Bianco announced the majority of his opening day lineup.
Bianco's projected defensive lineup
C- Austin Knight
1B - Sikes Orvis (expected to hit third)
2B - Tate Blackman
SS - Errol Robinson (likely to hit second)
3B - Colby Bortles (expected to hit fourth)
LF - Connor Cloyd/Kyle Watson/Josh Watkins
CF - JB Woodman (likely leadoff)
RF - Cameron Dishon
DH - Henri Lartigue/Joe Wainhouse (Lartigue may hit fifth Friday)
Friday - Christian Trent
Saturday - Sam Smith
Sunday - Brady Bramlett
The pitching staff has already seen a shakeup, as junior college transfer Sean Johnson was expected to pitch on Saturday, but he's been out for nearly a month with elbow tendinitis. The 6-foot-7 right-hander threw a bullpen Friday and will throw another one Tuesday. Johnson is expected to pitch out of the bullpen against William & Mary.
"He's fine," Bianco said. "We just didn't think he was strong enough yet to start this week."
That change moves Smith up to Saturday. The senior from Lake Charles, Louisiana, dealt with a sports hernia for more than half of 2014. That injury somewhat limited his effectiveness after a time through the order.
Smith pitched at least five innings in his first 10 starts of the season but then made it through five just once in his final eight starts - a seven-inning outing against Georgia. He allowed nine total doubles in his final four starts prior to the College World Series after he allowed more than one double just once in his first 13 outings of 2014.
He had surgery following the College World Series and sat out fall practice.
"I'm good," Smith said. "Josh Porter, our trainer, did a good job getting me back in shape and I'm feeling as good as I ever have, and I"m excited."
"I didn't have the strength in the fifth or sixth inning (last season)."
Bianco agreed the injury harmed his season but likes the early returns this spring.
"Just watching the bullpens he looks stronger, breaking ball continues to improve," Bianco said. "And the senior leadership is a difference maker. You can understand and appreciate how much that experience helps them."
The designated hitter spot could rotate depending on matchups and players emerging, but of the defensive spots, most are set expect for left field. The Rebels only have four outfielders on the roster, including just Woodman returning as a starter from last year, and that's caused a lack of separation.
Dishon had one hit in 14 at-bats last season but appeared in 34 games. He'll start in right, but the other corner spot will be any of infielder Watson, Cloyd, Watkins or even Will Golsan, who has had an exceptional few weeks offensively and could see time in the outfield or infield.
Three of the possible options are left-handed, so a situational platoon isn't likely. It creates a difficult situation of finding enough at-bats for a significant sample size to separate them.
"I don't know if you need to have two games in a row or three games in a row," Bianco said. "I don't know if there's a number. It's more feel, but over the first four weeks you've heard me say that's the goal to find the best lineup by the time we get to LSU. One of those guys could DH or play left. One of the other outfielders could sit a game and we could play two of those guys. It just depends. I don't know if there's a right formula for it."
Last season Orvis had three All-America selections -- Auston Bousfield, Austin Anderson and Will Allen -- hitting in front of him in the order, so he saw lots of fastballs and RBI opportunities. With a retooled lineup, he's had to work on more than barreling pitches in plus situations.
"Our lineup last year 2-5 was really good," Orvis said. T"here were guys who could really hit so I had protection. This year Colby Bortles is going to have a great year… I know they are going to try to pitch me differently. Last year I was able to ambush fastballs. This year I get more offspeed so I need to be a more mature, complete hitter, going after different pitches."
Ole Miss is replacing 675 total bases from 2014 and returning 322 total bases - 269 of which come from Orvis (127), Woodman (72) and Robinson (70).