Fans send message after Rebels loss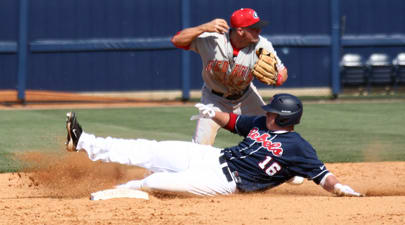 OXFORD, Miss. -- Ole Miss current slide can be summed up by what happened after the final out Saturday.
Per tradition, and no matter the score, the fans in left field start a Hotty Toddy with the team gathered beneath them, and the students in right field follow suit. The Rebels tip their caps to acknowledge the fans before head coach Mike Bianco begins his postgame meeting.
Following, Ole Miss' 8-3 loss to Georgia - the Rebels third series loss in four attempts this season and sixth loss in seven games - the players stood waiting for the "Are You Ready."
It never came. Awkward silence filled the air, and after a few brutal moments, Bianco gathered them in. A few fans attempted to reconcile with a half-hearted cheer a couple minutes later, but the message had already been sent.
"They are like us and waiting for something to happen," senior Matt Smith said. "You could hear anything in this stadium at certain points today. We've got to get them involved. We have to do our part to get them back in it."
Georgia will go for the sweep at 1:30 p.m. Sunday, as Austin Wright tries to avoid a completely woeful week for Ole Miss. The Rebels lost 2-of-3 at LSU last weekend and fell to Memphis, 9-2, Wednesday.
"That's what losing does," Bianco said of the subdued crowd. "It's like an illness, and you feel awful. We haven't played well and helped them. We haven't taken advantage of great crowds."
This time, Ole Miss announced an attendance of 8,833, and the spectators witnessed a dominant performance by the Bulldogs. The Bulldog struck quickly Saturday, scoring three runs in the second inning, and the game wouldn't be tied again.
Smith hit a two-run home run in the fourth to make it interesting, but UGA provided insurance with two runs in the sixth for a comfortable cushion.
Blake Newalu finished Ole Miss' runs with a solo home run in the sixth, but the Bulldogs piled on with single runs in the final three innings.
David Goforth fell to 1-5 this season after allowing seven hits and five runs. Ole Miss made two errors and has six total for the weekend.
Georgia starter Michael Palazzone threw a complete game, scattering eight hits around the three runs. He stuck out only one, but UGA played perfect defense behind the right-hander.
Newalu and Smith were the only Rebels with multiple hits.
"It's up to the upperclassmen as leaders to keep everybody together and keep working," Smith said.
NOTE: Smith has now hit a home run against every Southeastern Conference team. He has 40 career home runs, good for a second-place tie in the school record books with Brad Henderson. Kyle Gordon leads with 48 home runs.