Georgia takes advantage of Ole Miss charity to even series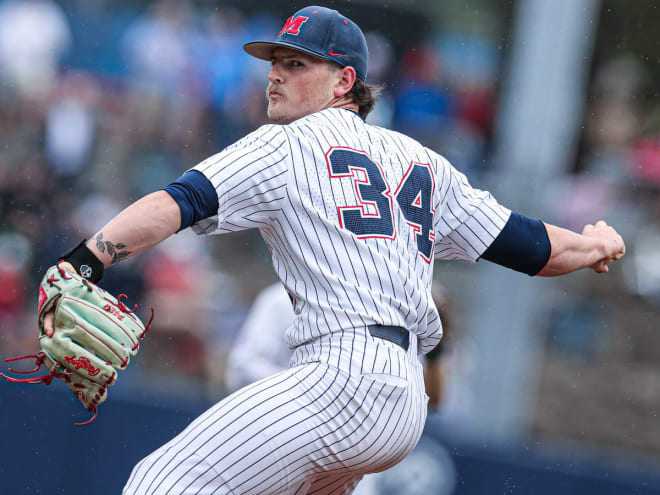 OXFORD | There were six more innings to be played, but Georgia, looking back, won the game in third inning — without a hit. An Ole Miss offense that struggled to get opportunities also contributed.
The Bulldogs scored three runs in the third inning, and Ole Miss didn't get within two the rest of the way in a 7-3 Georgia win that tied the series. The rubber match is set for 1:30 p.m. on Sunday.
JT Quinn threw two scoreless innings to start, but the Ole Miss freshman went walk, hit by pitch, walk, hit by pitch to the first four batters of the third inning. The second hit by pitch brought in a run, and Georgia had RBIs on a sacrifice fly and a fielder's choice.
Three runs, no hits, one error, one left on base.
Ole Miss is 22-21 overall and 4-16 in SEC play. Georgia is 25-19 (8-12).
Kemp Alderman hit a solo home run — his 18th of the season — and Calvin Harris hit a two-run home run in the sixth, but the Rebels produced very little beyond that. Ole Miss out-hit Georgia, 9-7, but the Bulldogs had six more at-bats with runners on base and six more at-bats with runners in scoring position.
Ole Miss was 2-for-15 with runners on and 1-for-5 with runners in scoring position. Ethan Lege was on third with one out when Harris hit his seventh home run of the season.
Georgia starter Charlie Goldstein scattered seven hits in seven innings with the three runs. He struck out four and didn't walk anyone. Georgia didn't walk a batter on Saturday.
"He was terrific," Bianco said. "He's been really good for them, and he was great with command today. The fastball was good, and the changeup and breaking ball were a good mix. It made it really difficult."
The Rebels threw 54 more pitches than Georgia in the game. Ole Miss threw 55 percent of its pitches for strikes — 10 percent fewer than the Bulldogs.
Riley Maddox made his first appearance for the Rebels since April 22, 2022. He had Tommy John surgery last May and threw 20 pitches, 12 strikes, in one-plus innings. Maddox topped at 92 MPH and showed an improved slider.
The sophomore inherited two runners with no outs in the seventh but got a fly out and back-to-back strikeouts to escape. He left the game after a leadoff single in the eighth inning.
"I'm really proud of him," Bianco said. "He had success and a lot of guys wouldn't do what he did. A lot of guys would take the year off, but he wanted to help and pitch in any role. It's cool for that, as well."
Alderman had three hits and raised his average to .373 on the season.
Sam Tookoian and Cole Tolbert threw 1.2 innings and 1.1 innings, respectively, without allowing a run.
Quinn surrendered just three hits but gave up five runs in 4.1 innings because of four walks and two hit by pitches.