McCready: Rebels become Masolis team as SEC looms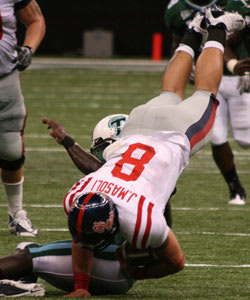 NEW ORLEANS, La. -- For the second straight week, Ole Miss jumped out to a quick 14-0 lead thanks to touchdowns on its first two possessions.
For the second straight week, Ole Miss took a 21-point lead to halftime.
For the second straight week, the Rebels suffered through an inexplicably flat third quarter.
On Saturday night, the similarities stopped there.
Last week, Jacksonville State made Ole Miss pay dearly in the form of a 49-48 win in double overtime that made the Rebels the laughingstock of college football, at least until James Madison's win over Virginia Tech earlier Saturday.
On Saturday night in the Louisiana Superdome, Ole Miss snapped out of its second-half funk long enough to record its first win of the season, a less-than-overwhelming 27-13 win over Tulane.
The season is still oh-so-young, but the Rebels have yet to form a recognizable identity. On Saturday, Ole Miss appeared ready to stop its game musical quarterbacks, as Jeremiah Masoli took every snap in the first half, completing 12 of 15 passes for 213 yards and a touchdown. In other words, Masoli was efficient when he wasn't spectacular.
Ole Miss officials reported prior to the game that Nathan Stanley was suffering from a sore throwing shoulder, though Stanley did play one third-quarter series on Saturday before Masoli returned to action. Nothing against Stanley, who remains Ole Miss' quarterback of the future, but Masoli is very clearly Ole Miss' best option to win football games now.
In the spirit of full disclosure, Masoli's 29-yard first-quarter pass to Lionel Breaux is a pick-6 against most Southeastern Conference corners and Masoli's third-quarter interception against Jacksonville State was a killer, but his general steadiness protecting the football is an absolute necessity.
Through two games, a few things are apparent. For example, there is no break-away threat in the Rebels' stable of running backs. Brandon Bolden is faster than he was a year ago and has a burst, but he's not a guy who is a threat to go the distance every time he touches it. So far, Enrique Davis is still a between-the-tackles punisher who doesn't consistently get to the edge. Again, it's early, but so far, Ole Miss' running game isn't scaring anyone.
Ole Miss' offensive line was young and thin before Rishaw Johnson was dismissed from the team on Thursday. It's even younger and thinner now.
Defensively, through two games, Ole Miss' defense has created one turnover and hasn't yet managed a consistent pass rush. The Rebels' defense was much improved Saturday in the Superdome, but the concerns that existed following the loss to Jacksonville State _ thin at defensive end, shaky at cornerback _ have not yet been alleviated.
The kicking game, meanwhile, is solid. Ryan Campbell booted a 60-yard punt in the third quarter Saturday. Bryson Rose converted a 41-yard field goal in the second quarter and a 29-yarder in the fourth, making him 4-for-4 in his young career as Joshua Shene's replacement.
None of this is meant as a knock on Ole Miss or as a prediction for a subpar season, though some will certainly take it as such. However, as the Rebels prepare for a critical three-game homestand, it appears Ole Miss' best recipe for success is ball-control offense. The Rebels need drives that eat clock, move chains and result in points. As much as fans hate it, a conservative attack is probably the best strategy.
And that's Masoli's game. The Rebels got aggressive at times Saturday, such as when Masoli and Markeith Summers connected on a long touchdown pass late in the first half. Another long pass was dropped by Ja-Mes Logan. But what Masoli does best _ make something out of nothing and provide a scrambling threat that keeps opposing defenses honest against a fragile offensive front while providing stability in the huddle _ is what Masoli does well.
At least so far, this isn't the flashy Ole Miss team of the past two seasons. There's no Dexter McCluster. There's no Kendrick Lewis, Marshay Green or Patrick Trahan distressing opposing offensive coordinators with blitzes.
If Ole Miss is going to return to the postseason for the third straight year, it has to be Masoli's team. On Saturday night, with SEC play just one short week away, the Rebels appeared to become just that.