McCready: Take it from a Cub fan, theres no antidote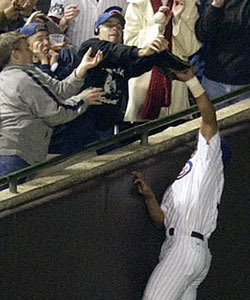 Those who know me well know I am a diehard Chicago Cubs fan.
Outside of my family, there are few things that mean more to me than the Cubs. I realize that's irrational and weird, but in many ways, my relationship with the Cubs is how I mark the time.
I remember the great moments, certainly. I was 14 when Ryne Sandberg homered twice off Bruce Sutter to beat the Cardinals on a Saturday afternoon, sparking an MVP season and the franchise's first division title in 39 years. I was a sophomore at Ole Miss when two rookie outfielders _ Jerome Walton and Dwight Smith _ helped carry the Cubs to an unlikely division title. I was covering an Arkansas-Alabama football game at Bryant-Denny Stadium on a Saturday afternoon when the Cubs swept Pittsburgh in a doubleheader and Milwaukee beat Houston to give Chicago the National League Central crown. I was covering a Florida-LSU game in Baton Rouge when Aramis Ramirez hit a grand slam off Dontrelle Willis to put the Cubs within one game of the pennant in 2003. Those were happy times.
I remember the disappointments, too, probably more than the joys. I can still see the ball rolling through Leon Durham's legs, Steve Garvey's home run sailing over the wall at Jack Murphy Stadium, Will Clark's unconscious performance in the 1989 NLCS, the final-week collapse in 2004 and the Dodgers' three-game sweep of last year's Cubs, a team that won 97 regular-season games only to disappear in October.
Most of all, I remember Game 6 of the 2003 NLCS against the Florida Marlins. Leading 3-0 in the eighth inning at Wrigley Field, Mark Prior got Mike Mordecai to line out to Moises Alou to put the Cubs within five outs of a pennant. Then all hell broke loose. Juan Pierre doubled, Steve Bartman happened, Luis Castillo walked, Alex Gonzalez booted a double-play ground ball and the Marlins scored eight times.
The Cubs never recovered. To some extent, I still haven't.
I say all of that to say this: Ole Miss fans aren't going to have a tough time getting over Saturday's loss to Virginia, one that took its full effect late Sunday when the Cavaliers beat the Rebels, 5-1, to advance to the College World Series. They're simply not going to get over it.
Allow a Cub fan to tell you. It's not as bad as you think it is today. It's worse. Time doesn't heal the wounds. Time just makes the memories more painful. Ole Miss fans will remember Virginia's rally following Evan Button's one-out throwing error in the eighth that opened the door for the Cavaliers' comeback. If you were at Oxford-University Stadium on Saturday afternoon, you felt the oxygen leave the place. If you were there this afternoon, you knew before the first pitch was thrown that you were attending a funeral where the attendees showed up hoping against hope that the deceased would miraculously rise from the coffin and end the nightmare.
The Cubs played a Game 7 after Game 6. Alou homered to give the Cubs a 5-3 lead at one point, but the Marlins' win on that Tuesday night seemed pre-destined. I interviewed Cubs general manager Jim Hendry in March 2004 at the team's spring training complex in Mesa, Ariz., for a story in the (Mobile, Ala.) Press-Register. The story centered on the relationships Hendry, a former Spring Hill College outfielder, still maintained with former teammates back in Mobile. He choked up talking about his friends, but at the mention of that Marlins series, Hendry looked like he'd seen a ghost.
It affected him profoundly. It impacted the organization even more. That team's manager, Dusty Baker, directed the Cubs for three more seasons, but he never won the fans back.
Sunday felt the same way in Oxford. The score at 2:05 p.m. Sunday was 0-0, but it didn't feel that way. The outcome seemed predetermined. The ramifications will be felt for a long time. The first aftershocks will be felt this weekend when televisions all over Mississippi flip away from ESPN to anything _ Food Network, reality shows, midget ping-pong, whatever _ other than the games played in Omaha.
How it affects the program will be interesting to see. If history is any indicator, there will be casualties.
Deep down, Ole Miss fans know this one cuts to the bone. It's Valparaiso all over again. Admit it. You're careful when CBS starts those music montages from previous NCAA tournaments. You know it's coming, and sometimes you turn away. But sometimes you can't, and sure enough, Bryce Drew's shot hits nothing but the bottom the net and that punched-in-the-gut feeling comes back new.
This super regional will be that way. It will hang over the Rebels' program. It will be brought up in news stories next February and again in May. Fans won't be immune, either. Again, take a Cub fan's word for it. I'll have flashbacks of that October 2003 night at the unlikeliest of times. I'll wonder what would have happened had the Cubs been playing no-doubles defense on Pierre's line-drive double down the third base line. I'll wonder what would have happened had Alou caught the Bartman ball, had Gonzalez fielded Cabrera's tailor-made double-play grounder, had Baker had his bullpen ready. The list goes on and on, keeping the memory fresher than it should be.
Ole Miss fans will be able to relate. You will think of Saturday afternoon at the strangest times. You'll remember a hit here, a pitch there, and you'll wonder about what could have been. Unlike Super Regional losses to Texas and Miami, Ole Miss fans won't find consolation in losing to superior teams. Nothing against Virginia, for they're a nice club, but this super regional was Ole Miss' to win.
This Ole Miss team won 20 Southeastern Conference games and a share of the regular season league title. For the better part of two months, it looked like a team ticketed for Omaha. When Drew Pomeranz gutted his way through seven innings and left with a lead Saturday, everything pointed toward a night of celebration in Oxford.
You know the rest. It's not fair, but this team's lasting legacy is the eighth inning Saturday afternoon. Nothing will change that.
Omaha was five outs away when Evan Button's routine throw to first bounced in front of and to the right of Smith. Omaha felt so very close to Oxford then. According to Yahoo! Maps, Omaha is still the same 789 miles away from Swayze Field it was before the weekend started. The route _ I-55 to St. Louis, I-70 to Kansas City and I-29 to Omaha _ remains intact.
As Virginia celebrated on Sunday afternoon, however, that distance felt far more daunting than that, the road more unsurpassable than ever.