New bat specifications could change college baseball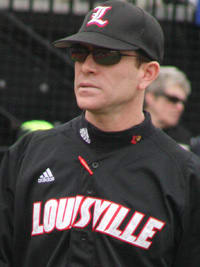 OXFORD, Miss. -- One busy morning two years ago, Ole Miss head coach Mike Bianco was skimming a local newspaper, scanning for any innocuous nugget that might be a passing talking point around the office that day.
Bianco dropped the newspaper and called the Southeastern Conference office to inquire about the then-unknown switch. The SEC office in Birmingham, Ala., had heard some rumblings, but details weren't flowing from all corners.
Move ahead two years, and Bianco is well aware of the changes. He sees them in practice, and he is far from ready to compliment the NCAA on its new plan.
Bianco thinks the impact will be significant -- in a negative way.
"It's going to change college baseball," Bianco said. "No doubt about it. I haven't spoken to anybody that says they like them. I don't mean just players, I mean other coaches. But that is the bat that will go into effect this spring… It is what it is."
The Rebels have a lucrative bat contract with Easton, and the prominent baseball supplier sent Ole Miss several bats certified by the new standard prior to the start of fall practice.
According to Bianco, the new bats produce noticeably less punch. And he has evidence.
"We've got some days of batting practice that no home runs are hit," Bianco said.
Attempting to understand the new testing system can quickly become a convoluted mess of acronyms and equations.
After the 1998 College World Series, when 35 runs were scored in the title game and 62 home runs were hit in 14 tournament games, NCAA baseball began steps to adopt a testing standard called BESR (ball exit speed ratio). BESR testing introduced bats that were heavier than previous standards and had smaller barrels. Also, BESR measured the exit speed of baseballs after bat contact using a controlled scenario.
The test was supposed to make bats extremely similar to wood bats in "liveliness," but many critics of the testing see the format as flawed. BESR certification requires a maximum baseball exit speed of 97 miles per hour (the same as top-of-the-line wood bats), but that measurement is determined using a 70 mph pitch, a 34-inch, 31-ounce bat and a 66 mph swing speed - much slower than any live scenario at the collegiate level.
Also, aluminum bats are hollow, meaning properties other than weight and length contribute to the power produced. Aluminum bats compress upon impact, resulting in a "trampoline effect" that adds distance and speed to the baseballs when hit.
Thus, a new testing system will begin Jan. 1, 2011, -- BBCOR (ball-bat coefficient of restitution).
This method doesn't measure exit speeds, but rather what the bat and the ball do upon impact. The "trampoline effect is minimized, and BBCOR- certified aluminum bats and wood bats of the same size should act in extremely similar manners - even over time.
It also takes into account the different bat lengths and how that changes the equation.
The following is from a newsletter the NCAA sent out on the issue.
"The standard sets the performance line slightly higher than the best available wood bats in our database. This will ensure that all wood bats continue to be legal under the new standard."
Bianco said college coaches haven't been given concrete reasons for the change. He admits last season was an offensive year in the SEC, but Bianco sees it as cyclical.
"Nobody has really given us a reason (for the change)," Bianco said. "We've heard pace of game. We've heard safety, that could be an underlying factor. Some people talk about the offensive integrity of the game, but last year was an offensive year without a doubt, at least in the SEC. My experience is that that just happens."
The pace of game and "too offensive" reasons baffle Bianco the most. However, the average College World Series game in 2009 lasted one hour, 19 minutes longer than the average game in 1973.
"The thing that frustrates me is in one breath everybody involved in college baseball talks about how popular it is," Bianco said. "You have all these stadiums and attendance and more games on TV, a new Omaha (College World Series) contract with ESPN and people love it. Then in the next breath, they tell you the games are too long and too many runs are scored and you're driving people away."
But no matter what Bianco thinks of the new rule, his team is one of the lucky ones. While Easton rushed about a half-dozen demo bats to Oxford, Miss., and other schools with similar bat deals, some colleges won't see the new models until right before the season.
Although the NCAA sent out a memorandum to bat manufacturers Sept. 16, 2008, informing them of the change, the transition hasn't been a timely one.
Louisville -- who, as one would guess, uses Louisville Slugger for its bats -- has only received one bat built to the new specifications. Due to the lack of BBCOR aluminum, the Cardinals are practicing this fall with the old bats and will hit with wood bats this winter.
UL coach Dan McDonnell expects to switch to the new bats when preseason practice begins in February.
"We took batting practice with it one day, but since we only have one, we decided to wait and swing it later," McDonnell said. "I don't blame the Easton schools for using them, since they have them, but we don't have that luxury."
While some coaches have been vocal in their opposition to the changes, McDonnell hasn't joined in the fray. He agrees with the fight but doesn't see the need to waste his energy just to have it fall on deaf ears.
"I put my efforts into the program and the players," McDonnell said. "With certain issues, I give way to the older coaches and let the word be heard. I'm hearing everything that's going on. I'd love to sign a petition. I don't agree with it."
Supporters of the old bat specifications point to why aluminum is used in the college game to begin with. Other than cost, it's an equalizer and it allows a larger group of players to be successful at the collegiate level.
"There's a reason we use aluminum," McDonnell said. "These guys are young and the bat gives amateurs a chance to play at a high level. Some of our kids struggle big time in summer leagues with wood, and we might see that during the season now."
"The fear is this could make a certain type of player obsolete and shrink the pool of successful players, possibly hurting the quality of the game," said Rob Francis, a former Ole Miss assistant who is the new coach at St. Petersburg College. "It's gonna be interesting, because there is definitely a difference."
McDonnell is planning to put greater emphasis on bunting this season, as he normally spends a minimal amount of time on the skill. He believes there will be a premium on power hitters, but other than that, he's trying to not over-think the new bats.
It's still baseball, and the objectives remain the same.
"At the end of the day, you have to pitch and throw strikes," McDonnell said. "It's about making routine plays and getting timely hits. Last time I checked, we're all using the same bats.
"You still have to be better than someone else," McDonnell said. "I want my team to beat your team. I don't care if we use wiffle balls and bats. I just want to beat you."