Notes: Haynes' record-breaking performance a family affair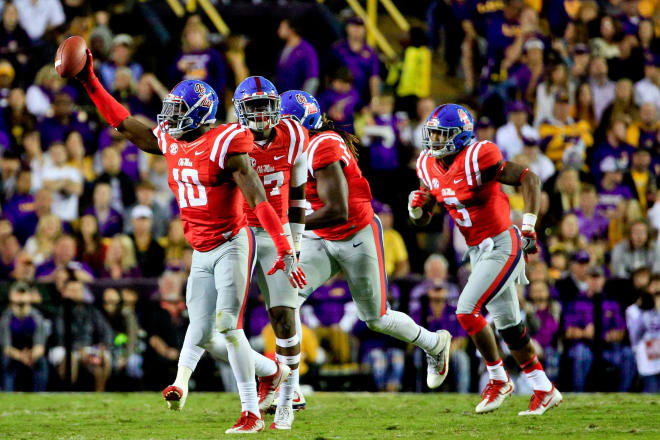 OXFORD — Marquis Haynes broke Greg Hardy's career record for quarterback sacks this past Saturday in Ole Miss' 57-35 win over Vanderbilt.
Haynes sacked Vanderbilt's Kyle Shurmur three times, a breakout game of sorts for the Rebels' senior star, a performance that thrilled three generations of his family.
"I have a little daughter who was watching me play and I always try to go out and do my best for her," Haynes said Tuesday, following the Rebels' practice as they prepare for Saturday night's SEC West showdown with No. 24 LSU. Aubreeana is a little more than a year old, but Haynes is sure his little girl knows when dad is terrorizing quarterbacks.
"She knows because when her mom goes to clapping, she goes right away with her," Haynes said.
After the game, Haynes received plenty of texts and calls congratulating him on the accomplishment. One stuck out.
Haynes' dad, Maurice Haynes, was "so happy. He told he was just blessed to see me break the record. He always told me, 'I didn't have a chance to go to college because I had you and I want you to go out there and do the best you can. You're the only one out there with our name on their back so you have to go out there and finish the job I couldn't do." I take that to heart because my dad was a really good football player growing up. He played running back, tight end, defensive end. He's like my role model, who I look up to and talk to every game."
The record, Haynes said, "means a lot. After being a freshman here, I never thought the day would come when I'd break the sack record."
To get to the record, Haynes had to change his approach and get into the film room. Like the Ole Miss defense, Haynes' season got off to a slow start.
"I think a lot of teams focus on my angles," Haynes said. "They know I'm going to get off the ball and so, me and Coach Crime (Wesley McGriff) sat down and watched film on each team and we focused on what they were doing to me. We figured out a way to move me around, line me up and just go. …We just decided to line me up outside and just ride."
"I think coaching wise, sometimes we over-coach kids," Ole Miss defensive line coach Freddie Roach said. "I think we kind of took a step back to see what he does best. That's what we did as a staff and we got good results. He's a kid who can run, he can rush, and we kind of simplified it for him and let him go play football."
McGriff told him to focus on pass first, allowing Haynes to "just go and create chaos like I have the last few years."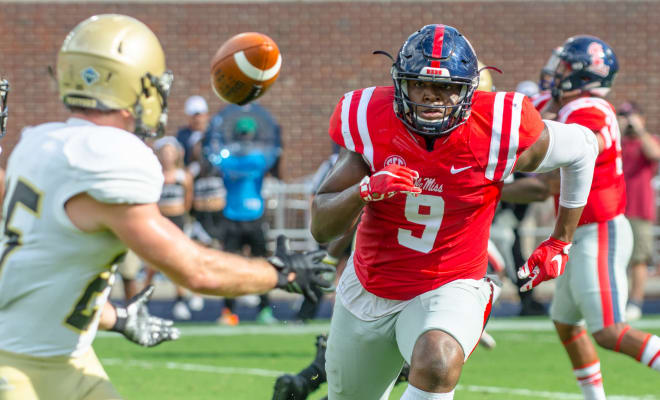 LSU TO TEST REBELS' CONSISTENCY, DEPTH: Haynes and Roach had high praise for LSU's offense, especially the Tigers' running game and running back Darrius Guice.
"They look really good," Haynes said. "They have a good scheme. They try to out-flank you. They have a good jet sweep going, so we really have to prepare and focus and get ready for those plays."
Ole Miss will attack the Tigers with Haynes and Breeland Speaks at defensive end. Speaks' move outside has keyed an improvement in his game and the Rebels' overall defense, Roach said.
"Breeland is one of our better players and we had to get the best four (linemen) on the field," Roach said. "Moving Breeland out there was a good decision. He's had a good time and he's played well."
Roach also had high praise for defensive tackle Josiah Coatney and added that reserve interior linemen Ross Donnelly and Austrian Robinson provided key snaps against Vanderbilt. Roach said. Markell Winters and Ryder Anderson are being asked to step up at defensive end after the Rebels lost Victor Evans and Qaadir Sheppard to injury.
"It goes back to what I've said since I've been here: You've got to be consistent," Roach said. "It's the hardest thing to do in life. …I think everybody in the world struggles with consistency. That's what we've been teaching here and we've got to get better at it.
"I think every week has gotten better. We've got to be able to go four, five, six plays and be consistent at our job. It's just little things. I don't think people how much little things affect a ballgame. We've got to continue to harp on that and demand it. We're starting to see it and see these players get better at it."