Notes: Rebels awaiting word on linebackers injury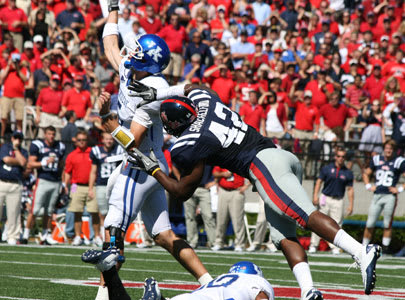 OXFORD, Miss. -- It was a routine drill, one Ole Miss' linebackers do every day.
The linebacker uses his hands to get off blockers, presumably to practice shedding obstacles to get in position to tackle rushers in game situations.
D.T. Shackelford was going through that drill Monday when he fell to the turf inside Ole Miss' indoor practice facility. The rising junior got back up quickly but did not continue practicing. Instead, he repeatedly slammed his helmet to the playing surface in frustration before limping off the field with the help of Ole Miss' medical personnel.
"D.T. hurt his knee today," Ole Miss coach Houston Nutt said. "They're doing an MRI. We'll know tomorrow for sure what's going on right there. …I hope it's not too serious, but you just don't know."
Asked if the injury could be serious, Nutt answered in the affirmative.
"It could be, but we won't know until after the MRI for sure," Nutt said.
UPON FURTHER REVIEW: Nutt met with the media Monday afternoon for the first time since Saturday's scrimmage, the second for the Rebels' this spring. Nutt said he saw "a lot of improvement" from the offensive line, running backs, quarterbacks and receivers.
More specifically, Nutt had praise for running back Enrique Davis, who scored two touchdowns in the session, and offensive tackles Bradley Sowell and Bobby Massie. The Rebels entered the scrimmage looking for an answer at offensive guard, and Nutt intimated they might have found some.
"Matt Hall really stepped up for us at right guard," Nutt said. "I'm proud of him. He's come a long way from learning the system. Of course, he's so big. That helps. …At left guard, Alex Washington did good, but he's got some competition. It could be between (Emmanuel) McCray or Patrick Junen or Jared Duke. I just don't know."
On defense, Nutt praised linebackers Ralph Williams and Clarence Jackson and cornerbacks Charles Sawyer and Wesley Pendleton.
QUARTERBACK CORNER: Media was kicked out of Monday's practice during the early portion of pass skeleton drills, so RebelGrove.com will not have a quarterback corner detailing each quarterback's passing efficiency from Monday's session.
Nutt said Zack Stoudt "really threw the ball extremely well" Monday. He said Ole Miss installed some new shotgun plays specifically for Randall Mackey and Barry Brunetti.
"That's where they're natural - when they're in the gun," Nutt said. "For a reason, we wanted them to get behind the center early, because they haven't done it very much. I've been really proud of Randall again, going back to the snap count, to the huddle call, all those things. But Zack is very, very accurate right now."
Ole Miss offensive coordinator David Lee mentioned the possibility Saturday of the Rebels using a two-quarterback system this fall. Nutt said it's "still early, but what gives him that thought is we've done that before together."
REBEL RUMBLINGS: Running back Brandon Bolden suffered "a really tough ankle injury" during Saturday's scrimmage, and Nutt said he "will probably hold him" for the remainder of spring drills due to severe swelling. Nutt said Bolden suffered no broken bones.