Rebels add another from the portal for revamped secondary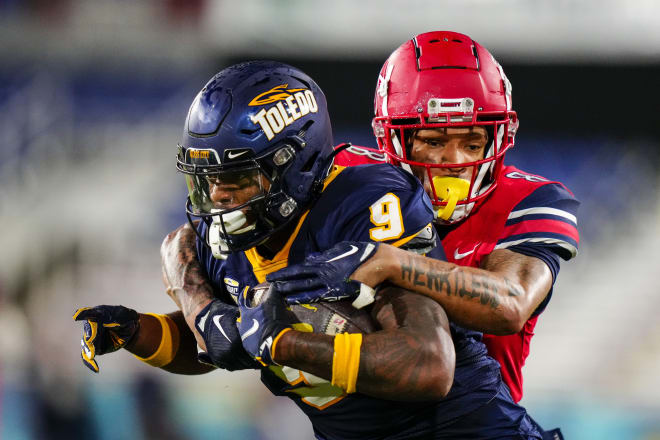 Ole Miss continued to revamp its defensive secondary Tuesday, landing a commitment from former Liberty cornerback Daijahn Anthony out of the NCAA Transfer Portal.
Anthony, a 6-foot, 205-pound junior from Richmond, Va., played two seasons at Liberty. He recorded 41 tackles and three interceptions in his two seasons with the Flames. He transferred from Shepherd (W. Va.) University following the 2019 season.
Anthony has one season of eligibility remaining.
"I kind of had a real good season last year and this is my last year and I wanted to give myself the best opportunity to play on the biggest stage and give myself the best chance to get drafted," Anthony said. "The coaches, I really love them. Once I hit the portal Friday, a couple of hours later, Ole Miss called me."
Anthony flew to Oxford on Sunday and spent 48 hours there.
"It was really good, good food, good vibes," Anthony said. "I'm grateful for the experience, grateful for the blessings."
Anthony said Ole Miss told him he'll come in and "plug and play," starting at either cornerback or one of the three safety spots.
"That was a big thing for me, getting film at safety for the NFL and having film at corner from all these years," Anthony said.
Anthony said he had offers from South Carolina, Wisconsin, Washington and others. Some 20 schools, including North Carolina and Nebraska, were trying to get Anthony in for an official visit.
"It's not really overwhelming. It's kind of a surprise. I really wanted to see who was really going to give me a chance without showing who else I've got. ...I can't wait."
Anthony said he had "a lot of (NIL) numbers thrown at me," ranging from $50,000 to $150,000 for a season. He said he and Ole Miss got a "good deal done", one that was not the highest offer he received, though he could make more "if I handle my business and do what I've got to do."
Anthony said Auburn coach Hugh Freeze, who coached Anthony at Liberty, wanted Anthony but was making a defensive tackle a priority on the Plains. Freeze, Anthony said, wanted his former cornerback to maybe give him a week to see how things shook out at Auburn. However, Anthony elected to make the move while on his visit to Oxford. He said Tuesday his decision to go to Ole Miss is "final."
"Me and Coach Freeze have a great relationship," Anthony said. "He said he was happy for me.
"It's going to be a great journey for sure. I'm just going to go in and try to help us win and compete for a national championship."