Rebels Nkemdiche no longer in brothers shadow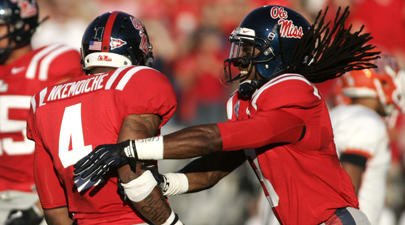 OXFORD, Miss. --
Denzel Nkemdiche
has never been jealous of his brother's relative fame.
He's never been bothered by the fact that, until recently,
Robert Nkemdiche
was the member of his family who was best known by football fans everywhere as the top player in the high school class of 2013.
Instead, Denzel Nkemdiche focused on his own career, adjusted to a new position and worked. Those efforts have paid off this fall, as Nkemdiche has emerged as one of the Southeastern Conference's most consistent defenders as a redshirt freshman.
"All the questions and the magazine articles and newspaper articles and all that stuff, it was all motivation," Denzel Nkemdiche said. "It just kept me going and gave me something to work for. I felt like no matter how much Robert's success is or how much Robert has succeeded in high school, I've taken that next step. I've made it to the next level, so I want to keep taking steps forward, leading for him and showing him that it's possible and that you can do it, no matter what. Even though he is the No. 1 player in the nation. I still want to show him I can do it, too."
Robert Nkemdiche, a 6-foot-5, 260-pound defensive end currently playing his senior season at Grayson High School in Loganville, Ga., is ranked as the nation's No. 1 prospect by virtually every national publication, including Rivals.com. For the better part of the past two years, Robert Nkemdiche has been a household name in recruiting circles. Denzel Nkemdiche, meanwhile, was overlooked out of high school and signed with
Ole Miss
months after National Signing Day.
"I never let things like that get to me," said Denzel, who took a redshirt last season. "If I let a positive thing like that get to me, then that makes no sense at all. That's my little brother. That would be me getting mad about my little brother's success. That's something I would never do."
SIZE DOESN'T MATTER
Denzel Nkemdiche, a 5-11, 203-pounder, moved from defensive back to linebacker in fall camp and has been a standout at the position from the first day. Nkemdiche leads the Rebels and is fifth in the SEC with 38 tackles. He's also added two sacks and two forced fumbles.
"I try to use my quickness as their weakness," Nkemdiche said. "I can't waste steps. I have to have my eyes in the right place, and I have to read the right reads. I have to go. I can't hesitate, or else they'll get a hand on me. I'm a lot smaller than they are, so it doesn't go my way all the time.
"I do study the linemen. I study their footwork and things of that sort. But when I know where I'm going and I know exactly where to go, it's hard for a lineman to pick me up. I have to know exactly where I'm going. That's my job. My teammates trust me to make that play when it comes my way. That's what I'm going to do -- prepare to make that possible. … I'm a ball hog. I'm going to find the ball and I'm going to go. I'm not going to hesitate at all."
A DUAL ROLE
Despite his relative youth, Nkemdiche has also emerged as one of the leaders on the Rebels' roster. As of Tuesday afternoon, Nkemdiche had 3,837 followers on Twitter, and his charismatic personality appears to attract fans from a variety of demographics. It has also earned the respect of his teammates.
"To be a freshman and a leader is rare, particularly in this conference," Ole Miss coach
Hugh Freeze
said. "But he's kind of assumed that role somewhat defensively, he and (sophomore safety) Cody (Prewitt). I think it has to do with he backs everything up on the field with his attitude and effort.
"He still makes mistakes, like all freshmen do, but he goes 100 miles per hour when he makes those. Sometimes he's able to overcome. But the passion he shows playing this game at this university, no one can question that. That's something, I think, our fans and our people have been hungry to see and he leads the way in that arena."
"I've always thought there was no age, no perfect rubric for being a leader," Nkemdiche said. "If you want to be courageous and step and lead by example and lead vocally, why not? If the teammates respect that, why not keep doing it and why not show up every weekend?
RECRUITING ROBERT
Attempts to reach Robert Nkemdiche for this story were unsuccessful. The younger Nkemdiche is publicly committed to
Clemson
, but
he told Rivals.com earlier this week
that he's still considering Ole Miss,
Oregon
and
USC
, adding that Denzel's presence at Ole Miss has his heart "here and there," and admitting that his mother wants him to sign with Ole Miss and play with his older brother.
Robert Nkemdiche has attended several Ole Miss games this fall, including this past Saturday's 30-27 loss to
Texas A&M
. Denzel Nkemdiche said he's also serving as a recruiter when he's in contact with his highly coveted younger brother.
"I talk to him more about what we can do here, how special we can be if he came here and if he understood how we could change Ole Miss' program," Denzel Nkemdiche said. "He's really taking that into consideration now that he's seeing us compete at this level and seeing what I'm doing at this level."
Denzel Nkemdiche has said publicly that he will support his brother's decision regardless of his collegiate destination. Between now and February, however, he isn't giving up on getting Robert Nkemdiche to Oxford.
"I'm his brother and all, but I'm an Ole Miss Rebel," Denzel Nkemdiche said. "I'm part of this organization and I want this organization to be the best it can be. For it to be the best it can be, we have to get recruits like that. And he's going to bring a lot of recruits with him, and that's going to be tremendous to this organization. Period."
For now, though, the focus is on Saturday's 11:21 a.m. showdown with
Auburn
, the Rebels' quest for bowl eligibility and his desire to eradicate the bitter taste of last weekend's near-miss against the Aggies.
"It hurt," Nkemdiche said. "I'm glad that players were affected like that. I'm glad that they hurt like that. That means they really do care. It means they really want to win. It hurt. It hurt the entire locker room. It was a feeling that we don't ever want to feel again. That's going to give us a little push."