Snead motivated by high expectations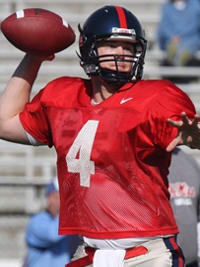 Jevan Snead
knows an entire fanbase's expectations rest on his broad shoulders.
The Ole Miss quarterback has heard about the high hopes for the Rebels' 2008 season thanks in large part to his presence in the huddle and under center. Snead has read enough of the preseason hype to know that his arrival from Texas is one of the big reasons many college football analysts are forecasting an Ole Miss breakthrough into the bowl season for the first time since Eli Manning's days on campus.
No one has to tell Snead that many dreams are all but attached to his right arm.
Snead can feel each and every hope, all but see every single dream.
"I've definitely felt it," Snead said. "But it's something that keeps me going and keeps me motivated to make sure that I'm working hard and don't take a day off or don't do anything like that. It's kept me knowing I have to work hard and I know what I'm doing. It's been a good thing. It's been a driving force."
And he's not the least bit intimidated.
"It's definitely motivation, just knowing that everybody is behind me, really," Snead said. "Everybody's so excited right now to see what we're going to do. That keeps us motivated to keep working hard."
Snead, who met with electronic media members shortly after appearing as a guest on a pair of radio programs airing in the Southeast Wednesday, was asked about his own personal expectations.
"I guess that's a tough question," Snead said. "I expect to win. That's one thing. And (I expect) to manage the team. My big thing is I just want to do everything I can for the team. I know if I were to not work hard one day, then I think that would translate into a bad play here or a bad play there. I'm just striving for excellence, really."
Besides, Snead hasn't had a lot of time to worry about pressure. Instead, he's been in charge of organizing seven-on-seven workouts that include Ole Miss' quarterbacks, running backs, wide receivers, tight ends, linebackers and defensive backs.
"I've been very excited to see how many people have come out there," Snead said. "Everybody wants to get better. We don't want to have another season like last year, so everybody's going to get out there to work to help the team. It's just a great experience just getting out there with my teammates and throwing. I think just going out there and knowing I'm the man has kept me working hard and has kept me extremely motivated this summer."
Snead, who sat out the 2007 season after transferring from Texas, has spent a good part of his time this summer continuing the process of getting acclimated to playing under the center as opposed to out of the shotgun formation. Snead, who prepped at Stephenville (Texas) High School, has spent most of his football life in a spread-formation, no-huddle, shotgun-exclusive offense. So Snead, who now up to 225 pounds on his 6-foot-3 frame, has had to learn how to drop back.
"I feel like I can be better," Snead said. "I definitely feel much improved from the spring. It's something I've been working hard (on) and I don't feel like I'm bad at it anymore. I just feel like there's always room for improvement."
Snead hasn't played in a game since going 26-for-49 passing for 371 yards, two touchdowns and two interceptions in a backup role as a freshman at Texas in 2006. He said Wednesday he doesn't anticipate any difficulties in shaking off the game-field rust when the Rebels' season begins Aug. 30 at Vaught-Hemingway Stadium against Memphis.
"During the past year, I worked with the defense, and they were going full-speed in practice, so I feel like that definitely helped me to keep sharp," Snead said. "I know it's going to be a little different getting out there on the field for the first time, because it's been a little while, but we're just working hard right now and I know we're going to work hard in camp to make sure I'm ready to go."
Snead has sensed that his teammates are ready to go as well.
"Everybody has their heads up," Snead said. "Everybody's got their chests puffed a little bit. Everybody has a little pep in their step about the upcoming season. That's the way it should be. Everyone should be excited to go out there and play for Coach (Houston) Nutt and for his staff because they're a good one. I expect some wins."