Freshman Blackman expected to make impact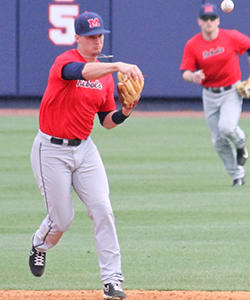 [rl]

OXFORD | Holding a commitment from one of the truly elite high school baseball players resembles holding a lottery ticket for a college baseball team.
There's the likely possibility the MLB First Year Player Draft is going to make it all meaningless, but it's obviously better to have the ticket than the alternative. Ole Miss has seen the other side in recent years, including 2012 when three signees skipped the Rebels for professional careers.
But this past summer that ticket hit. Tate Blackman, an infielder from Altamonte Springs, Florida, bypassed the draft and landed on campus. He's D1Baseball's Preseason SEC Freshman of the Year, and he's the No. 18 Rebels' starting second baseman when the season opens Friday against William & Mary at 4 p.m.
"It's a blessing," Blackman said. "I came in as a freshman trying to work hard. My goal was to make an impact this year. Hopefully Friday is a good day for me and a good day for the team. We get a victory and I can stick (at second base)."
Head coach Mike Bianco said: "We think he's our best option at second, but we saw a kid who doesn't play like a freshman - not just his ability but the way he carries himself. He looks like the guy most ready to play and he's an outstanding hitter, runs well and a good defender."
Blackman, whose three older brothers played college baseball at Stetson, Coastal Carolina and Stetson, respectively, made professional teams aware of his signing bonus requirement prior to the draft.
Other than one team calling in the third round to test that number, Blackman stayed off the board until the Brewers took him in the 20th round. The Brewers didn't have nearly enough pool money to get that done, and Blackman was certain on Oxford.
"My parents and me stuck to my number," Blackman said. "I told the scout it was my dream, but if he didn't have what I wanted, then he can skip on me. He skipped on me, and I'm blessed to be here."
Blackman led the Rebels with a .391 average (9-of-23) and .462 on-base percentage through seven fall intrasquads before fracturing his ring finger on a stolen base attempt. That ended his fall, but he's been 100 percent this spring.
There was some rust from the inactivity, but the 6-foot, 190-pounder is ready for the opener.
"Getting back was kind of rough for me," Blackman said. "I had a lot of punch outs and it wasn't my goal obviously, so seeing pitches live again and recognizing that fastball again, getting back my swing.
"Lately I've felt it better and my swing is coming along, and I've also worked on my approach - what pitch to swing, what pitch take and what pitch to be aggressive with. That's the final thing before Friday starts."
"The closest I can think of is Chris Coghlan"
Not that Blackman hasn't had expectations on his shoulders throughout his career, but an eye-opening comparison came out of nowhere during the summer.
A national crosschecker told RebelGrove.com the closest comp to Blackman is Chris Coghlan, the former Ole Miss All-America selection and 2009 NL Rookie of the Year.
"I know that seems like I'm just picking someone, but that's really what I believe," the crosschecker said. "He's got that kind of ability. He's not him right now, but that wouldn't surprise me if that is what he becomes."
The accolades and opportunities ahead could have been halted before Blackman even made it halfway through his high school career. As a freshman, Perfect Game ranked him as the No. 1 middle infielder nationally, but Colby Bortles (yes, his teammate now) slid into him during a play at second base, snapping Blackman's fibula and tibia.
"I was turning a double play and it wasn't really his fault," Blackman said. "I stepped in front of the bag instead of clearing myself and he slid right through the bag like he was taught… I give him a hard time about it. I've been playing with Colby since i was eight years old. I knew it wasn't on purpose. We are still teammates. I learned a lot to clear myself. I thank him a lot. He taught me to turn a double play."
Prior to the injury Blackman ran 6.9s consistently in the 60 but as a sophomore he was in the 7.4-7.5 range - slow for anyone but especially middle infielders. Then it got to a 7.2 as a junior before Blackman increased his workload and got a little lucky.
"I got a screw taken out and I told my trainer I needed to get my speed down," Blackman said. "We did hamstring stuff and agility stuff and my next 60 was 6.51. In eighth grade the best was 6.93. Best senior year was 6.5. They said 'he can hit. he can field. Can he really run.' That was always the question for me. Now I have all my tools back. It was a true blessing."
Blackman picked Ole Miss over Florida State and a host of other programs. Sikes Orvis and Auston Bousfield were fixtures around Blackman because they played travel ball with his brothers. That connection gave Ole Miss an early edge, and the campus sold him on his decision.
"I loved this place way better," Blackman said. "Being able to play with Sikes is awesome. It's like playing with my brothers all over again."
Orvis has known Blackman since the sixth grade. He says the youngest is the best of the four brothers.
"He's always had confidence and swagger," Orvis said. "He's always been the best of the four. He's talented and has power. He's not afraid to mess up. He's a hard-nosed player. He's going to be really good. The game speeds up on him like all freshmen, but he'll be fine. He's ready to go."