Goforth declines Indians offer to play in Cape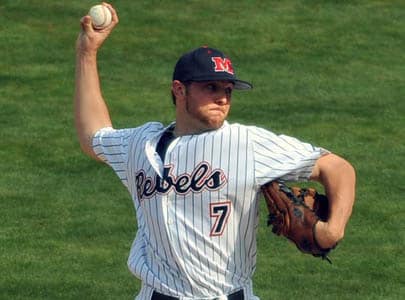 The Cleveland Indians selected David Goforth in the 31st round of the 2010 MLB Amateur Draft and wanted the right-hander to pitch this summer before handing out a significant offer.
Turns out, the Indians' plan was a deal breaker.
Goforth, who just finished his redshirt sophomore season at Ole Miss, turned down the Cape Cod League invitation and is planning to return to the Rebels for his junior season. A reliever-turned-starter, Goforth is Ole Miss' most experienced weekend starter back for 2011 - with the departures of Drew Pomeranz and Aaron Barrett.
"The Indians basically wanted me to tryout this summer, but I'm not going to do that," Goforth said. "I was in the Cape last summer, and they have had chances to see me. They've seen the good and the bad.
"I talked to the scout, and after I didn't get back with him and didn't play summer ball, he said they'll see what happens next year."
Goforth is coming off a difficult sophomore season, when he began the year as Ole Miss' closer before assuming the role of Sunday starter around the midway point. The Philadelphia (Neshoba Central), Miss., product had just two appearances of six innings and finished the year with a 9.43 ERA overall and 11.09 ERA in Southeastern Conference play.
As a freshman, Goforth (5-foot-11, 191) had a 2.80 ERA in 25 appearances out of the pen.
"I'll be the first one to admit I didn't have the season I'd like to have, but there was no point in playing summer ball this year," Goforth said. "I talked with (head coach Mike) Bianco and (pitching) coach (Carl) Lafferty, and I talked to my family.
"We're all in agreement that I need rest. I've been throwing since I got to Ole Miss without a significant break. You've got to give your arm rest. Pitchers at every level need that."
Goforth is in Oxford, Miss., helping the coaching staff with baseball camps and will be back-and-forth between Oxford and Philadelphia until the fall semester begins. He'll keep his body in shape and wait until school starts back to begin throwing.
"I'm excited about redeeming myself at Ole Miss," Goforth said. "The Indians knew what I wanted, and now everybody is on the same page. I'm OK with how things have worked out."