Higgs impressed by Ole Miss, contemplating decision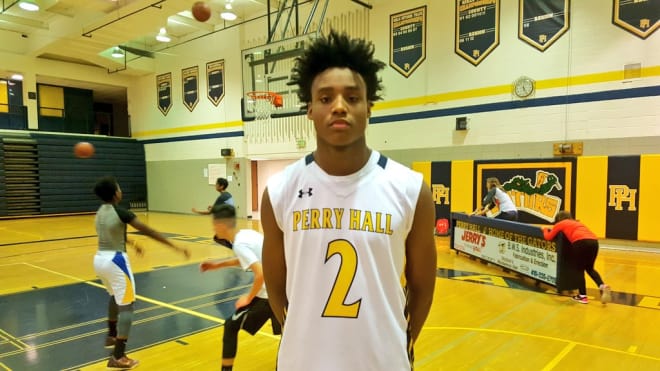 Baltimore forward Anthony Higgs has other visits scheduled.
However, following his visit to Ole Miss over the weekend, "nothing is set in stone," his Perry Hall High School coach, George Panageotu, said.
The 6-foot-8 Higgs returned from Oxford on Sunday and he spent Monday thinking about possibly ending his recruiting and going with the Rebels.
"It was great," Panageotu said. "The campus, Oxford, exceeded expectations. The staff, being with them for a weekend, they're fantastic. All in all, it was a great time down there.
"I think he realizes that's a great fit for him. It's just making the commitment to realize he's going to go from Maryland to Mississippi for four years, that's the hard part. He enjoyed every aspect of it as well."
Higgs arrived in Oxford on Friday, spent the weekend with the program and attended Ole Miss' football season opener against South Alabama.
"Like I said, it was better than I thought," Panageotu said. "You heard about the Grove, Oxford, Ole Miss football, but you feel safe and comfortable there."
Panageotu said he spent some time on Oxford's Square on Sunday and was blown away by random strangers saying hello while he enjoyed a cup of coffee.
"That just doesn't happen up here," Panageotu said. "It was really neat."
As for the basketball portion of his visit, Panageotu said Ole Miss' coaches impressed Higgs when they showed him how he'd fit.
"We sat down and watched film of where he would be on the court," Panageotu said. "They realize his strengths and what he can offer as a 3-man or a stretch-4. He would be a big part of his future. That caught all of our eyes. …It'll be more beneficial for his game to be the stretch-4 and be the guy who can take the ball 25 feet from the basket and beat his guy off the dribble than just be a rim protector."
Higgs has a visit set for Colorado in two weeks. Xavier, Tulsa and Massachusetts are due visits as well. That doesn't mean those will happen. As of Monday night, Higgs was thinking about Ole Miss "big time," Panageotu said.
"We met tonight," Panageotu said. "He's just wrapping his head around this visit. Nothing is set in stone either way. We're just letting him digest what happened. It just exceeded every expectation. Everything looked new and fresh there. It was awesome. I was very, very impressed."