Matt Corral gives Ole Miss glimpse of future during electric second half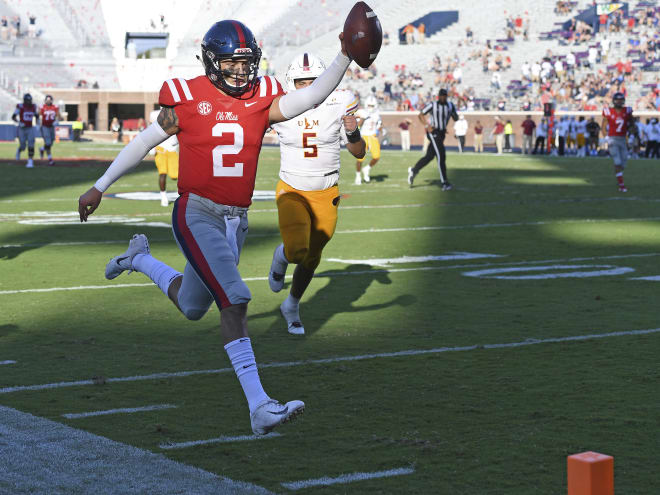 OXFORD | It took Matt Corral two plays on successive drives to spark a level of excitement for what's coming next season for the Ole Miss offense.
The No. 63 prospect nationally in the 2018 class, Corral had only thrown two passes prior to Saturday, being on the front end of an Alex Weber circus catch against Southern Illinois that made SportsCenter in week two.
So when he entered the game to start the second half against ULM, there was an uptick in buzz that usually doesn't accompany a game that was 49-7 at the time and finished 70-21 as Ole Miss moved to 4-2 on the season.
Corral opened his highlight reel of a late afternoon — that finished 10-for-10 passing — with a correct RPO read and a laser to DK Metcalf down the left sideline. It went for 30 yards, and Corral's first career passing touchdown happened on the next play with an 11-yard swing pass to Scottie Phillips.
"I thought it was import to get Corral some time with the starters but with the starters or not the decision making is the same, and he was good there," offensive coordinator Phil Longo said. "He was as aggressive as he is in practice, and he threw a great ball."
The following drive started on the Ole Miss 8-yard line, and Corral promptly moved from the end zone shadow with a 31-yard toss to DaMarkus Lodge. The freshman kept the ball on a counter on the next play and raced around the right side, outrunning defenders and finding a crease for a 61-yard touchdown.
Corral finished with 143 yards and two touchdowns on the perfect day passing and added 78 yards on the ground, including 63 yards after contact, helping Ole Miss to a school record 826 total yards — surpassing the 751 against Troy in 2013.
Jordan Ta'amu, who had more than 400 yards of total offense in the first half, made a point to congratulate and encourage Corral following the game.
"I was super happy for him and told him that this is his offense next year and it's your program," Ta'amu said. "I told him to do what he does, be patient and his time is coming. I loved the way he performed. He played just the way he practices."
Corral can play in two more games this season without losing the year of eligibility.
The Long Beach, California, native graded out a team-best 94.0, per Pro Football Focus. Longo and head coach Matt Luke were thrilled with his poise and decisions, as he was blitzed on four of his 10 passes but found the correct coverage and converted those into 96 yards and both of his touchdowns.
Corral had a perfect 158.3 NFL quarterback rating while throwing without pressure.
"He showed his feet, both moving in the pocket and also with the run," Luke said. "I was so pleased with him handling himself like that. He bounced up after getting hit on that run. He's a tough kid, and he can bring a lot of the table."