McCready: 10 Weekend Thoughts presented by Harry Alexander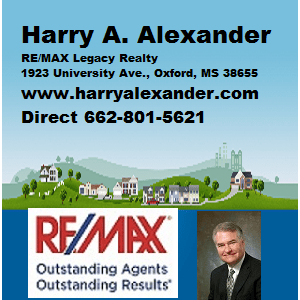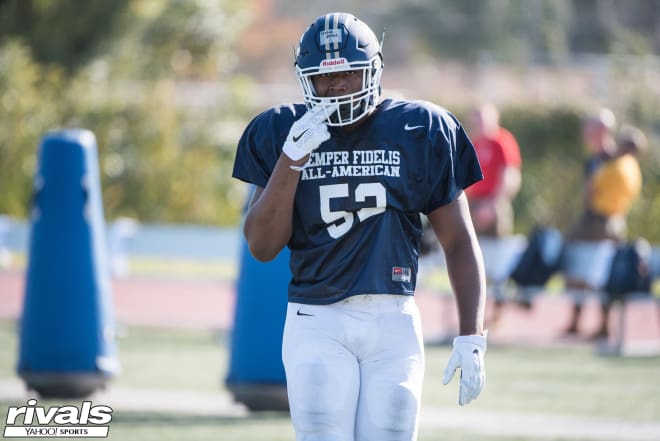 1. On June 11, Kobe Jones and his mother, Telesia Jones, were served process in connection with a lawsuit filed by Oxford clothing establishment Rebel Rags against the Mississippi State defensive lineman and several others.
Clarksdale, Mississippi-based attorney Charles Merkel III hired Lopaz Jones, the owner of Jones Investigation Services of the South, LLC, to serve the summons to Kobe and Telesia.
According to documents obtained by RebelGrove.com, when Lopaz arrived at the Jones' residence on June 11, Telesia and her daughter were in the process of leaving their residence. Lopaz pulled behind their vehicle, exited his vehicle and served Telecia with a summons. Lopaz then asked Telesia to call her son and arrange for him to come home to accept service of process.
Lopaz then backed his car out of the driveway so Telesia could leave. He parked his vehicle on the street to wait for Kobe to arrive. In the interim, Kobe's father, Melvin Jones, approached Lopaz to ask him about the summons he had just served Telesia.
During that time, Telesia called Melvin. Melvin took the call and utilized the speaker feature on the phone, allowing Lopaz to clearly overhear the conversation.
According to documents obtained by RebelGrove.com, Lopaz clearly heard Telesia tell her husband, "I am tired of all this NCAA (expletive)."
Lopaz, in documents obtained by RebelGrove.com, then heard Melvin tell his wife, "We should get our own attorney instead of trusting Mississippi State's attorneys. We are going to plead the Fifth. All of this was supposed to be confidential."
Telesia responded, saying, "I'm tired of these damn coaches. If it wasn't for that damn Dan Mullen, we wouldn't be in this (expletive.)"
Kobe arrived at the family residence soon thereafter and accepted summons from Lopez. Before Lopaz left, he heard Melvin tell his son he needed to get his own attorney, adding, "You need to plead the Fifth the next time they interview you."
Kobe responded, according to documents obtained by RebelGrove.com, telling his father, "I know what to do, Dad. We already have lawyers. The coaches told us the other day this would probably happen."
2. For those searching for another tie between Mississippi State and the NCAA's investigation into Ole Miss' football program, Telesia and Kobe's comments are difficult to ignore. It's reasonable to conclude Kobe Jones interviewed with the NCAA in February 2016 at the behest of Mississippi State representatives and perhaps Mullen himself.
Obviously, Melvin Jones is concerned his son may have incriminated himself by offering false information to the enforcement staff and thereby jeopardized himself in connections with the Rebel Rags defamation lawsuit.
Finally, it's clear from Kobe's statements the Mississippi State staff was aware of the information provided to the NCAA by Jones and Bulldogs linebacker Leo Lewis and had developed contingency plans as a result.
According to documents obtained by RebelGrove.com, on June 30, the NCAA enforcement staff uploaded a video in which Telesia Jones claims to display various merchandise obtained from Rebel Rags as well as the business card of Rebel Rags owner Terry Warren's daughter, Ashley Grantham. The video is narrated by Jones' attorney, Chris Shapley.
Attorneys in the case have raised several questions about the video, wondering about the timing of the video, the authenticity of the claims made in the video and whether Rebel Rags even carried some or all of the merchandise shown in the video when Jones took his unofficial and official visits to Ole Miss during the recruiting process.
Attorneys involved in the case have, per sources, asked that the Committee on Infractions compel Kobe Jones and Mullen to submit to interviews to discuss issues surrounding the video and other matters. To date, those requests have been denied though the chief hearing officer in the case, Xavier athletics director Greg Christopher, reminded all parties of Bylaw 19.7.7.3, which obligates all parties to present relevant information to assist the panel in reaching informed decisions on the issues.
According to documents obtained by RebelGrove.com, Shapley informed attorneys in the case that Jones would not sit down for an interview.
3. So here we are, a mere 15 days from the COI hearing, and while there's not much mystery left in regards to what will be discussed at the Embassy Suites in Covington, Kentucky, there is no consensus whatsoever regarding the eventual verdict.
There were a couple of interesting stories published Friday, starting with Steven Godfrey's remarkable opus focusing on the quandary Lewis finds himself in as the 2017 season is set to begin. A few hours later, totally by coincidence, mind you, I published a transcripts-reliant article on RebelGrove.com that cast some suspicion on inconsistent testimony and a pattern of untruths found in some of the interviews conducted as part of the NCAA's case against Ole Miss.
My story, predictably, garnered very little national traction. Godfrey's story picked up more traction, but usually, national media members fawn over each other when one of their colleagues publishes such a revelatory piece. That didn't happen Friday. The story was either ignored, retweeted with little or no comment or attacked, albeit only with the weak tactic of going after the messenger and not the message.
Lines have been drawn. Agendas have been exposed. With just two weeks to go before all sides face each other in suburban Cincinnati, it is what it is.
What will happen? Again, no one knows. On Friday night alone, I talked to one national media member (no, not Dan Wolken) who said he believes Lewis' recruiting is ultimately going to result in devastating sanctions against both Ole Miss and Mississippi State. Another national media member (again, not Wolken) said he believed the COI was not happy with the enforcement staff for putting them in this position. Finally, a person with intimate knowledge of the case continued to wonder if Lewis might simply not show up in Covington, allowing all sides to basically walk away from this entire saga with a modicum of victory and a minimum of fallout.
Again, we'll see.
4. Ole Miss opens its football season on Saturday evening against South Alabama. The Rebels will play two games before the NCAA hearing and another six to eight games before the final verdict comes down from the COI.
So we here at RebelGrove.com will write about football. Most of you here want that, and the young men who have put in the work to ready for this season deserve it. Just try not to get irritated at us when sometimes the football season takes a backseat to the NCAA situation, for it most certainly will.
Anyway, on to football. Media spoke with Ole Miss wide receiver Van Jefferson on Friday afternoon. Jefferson missed the first half of camp while he recovered from a knee surgery. He looks 100 percent now, however, and figures to play a big role for the Rebels in 2017.
5. One of Jefferson's offensive teammates, center Sean Rawlings, has played a huge role for Ole Miss in preseason camp.
Rawlings, exclusively a center this season after playing some tackle last year, is the quarterback of the Rebels' offensive line. He's also had to be a coach of sorts on the field as new offensive line coach Jack Bicknell Jr. transitions onto the staff, filling the vacancy left when Hugh Freeze resigned and Matt Luke was promoted to interim head coach.
Rawlings talked about several of those topics Friday.
6. Rawlings had some other interesting thoughts that weren't caught on my video. Among them were his belief that Ole Miss will be more physical up front this season than it was in 2016.
"You obviously want to dominate people off the ball and finish the block," Rawlings said. "That creates holes as soon as you finish guys and drive them off the ball, so we want to be as dominant as we can be. That'll get the run game going."
On the development of quarterback Shea Patterson:
"He's a competitor and he's approached this camp like a professional. He's made so much progress in a ton of different areas. We're got so much confidence in him. He's got so many abilities and with him honing in on areas he needed to work on coming into camp, and I feel he got that accomplished. We're really confident with him back there."
On the progress of offensive tackle Greg Little:
"He's made a huge jump. He kind of got thrown into the fire last year. I think it was the LSU game or something. Ever since then, he's had a mindset to better himself. He's absolutely done it. You can see him working harder on and off the practice field. He's approached this season, I feel like, a lot differently. He's matured more and I think that's going to help him a lot more down the road."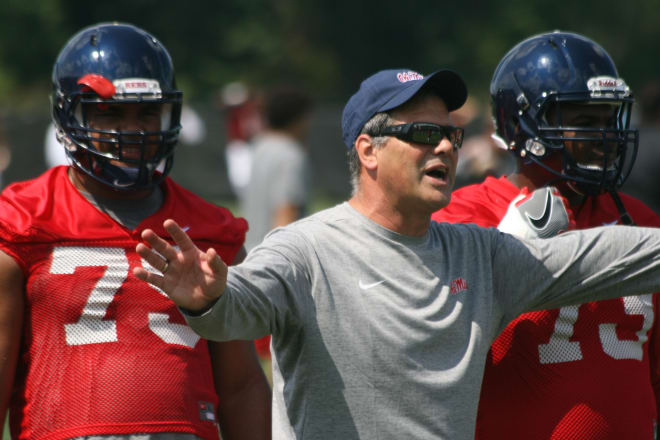 7. Bicknell has learned a new offense, learned his players' names and had one of the most fun months of his career.
He's also enjoyed a deep, talented unit that enters the new season with versatility, health and friendly competition. From Rawlings to Little to Rod Taylor to Jordan Sims to Javon Patterson to Daronte Bouldin to Alex Givens, the Rebels have a collection of experienced players who have been forced to learn new roles in the past due to injury and adversity.
A season later, that experience has been invaluable. Throw in the emergence of redshirt freshman Royce Newman and freshman Ben Brown, and Bicknell is downright bullish about the Rebels' front.
"For sure we have eight and we're working on a ninth," Bicknell said. "Obviously, that's a luxury. Certainly, I don't think I've been too many places where you've got over eight. A lot of times, you're praying to the good Lord one doesn't get hurt because you feel like you've got five. I feel like it's a real luxury. I feel like we've got some good young linemen coming along and I think that's really going to help us this year.
"They're young, so they're not quite where Rod and Greg are, but we feel like they could go and help us if they needed to."
8. This time a year ago, Myles Hartsfield was a nervous wreck.
He was learning an unfamiliar position and preparing to face one of the nation's most electric offenses.
A year later, Hartsfield is comfortable. He's back home at cornerback and enjoying a simpler scheme under new defensive coordinator Wesley McGriff.
"Coach McGriff loves to attack, so there can't be a lot of schemes where we're thinking too much," Hartsfield said. "He wants us to be fast and physical and attack. I love when linebackers are blitzing because it makes a defensive back's job easier. You're not guarding the wide receiver for 5-10 seconds. With our defensive line, if they do a post-corner (route), our defensive line is going to be in (the quarterback's) face by then. ...We're ready to attack this year with a new mindset."
Here's more from Hartsfield:
8b. In case you missed it Friday afternoon in the midst of all the NCAA stuff, Ole Miss kicker Gary Wunderlich gave a fascinating, entertaining and insightful interview following the Rebels' walk-through practice. Here it is again:
9. Football season begins in six days. In other words, tailgating season and football party season has arrived as well. Here's our bartender extraordinaire, Jonathan Howard:
Football is coming, and for the occasion, so is a little bit on my recommended Grove libation…PUNCH!
Though it's mainly known as a non-alcoholic beverage today, punch was invented as a beer alternative in the 17th century by sailors of the East India Company. These men were accomplished drinkers, throwing back an allotment of 10 pints of beer per shipman per day. But when the ships reached the warmer waters of the Indian Ocean, the beer held in cargo bays grew rancid and flat. Once the boats reached the shore, sailors created new drinks out of the ingredients indigenous to their destinations, with rum, citrus and spices being the most common ingredients.
The sailors brought their punches back to Britain and soon the drink became a party staple, spreading even as far as the American colonies. Massive punch bowls were ubiquitous at gatherings in the summer months. The founding fathers drank 76 of them at the celebration following the signing of the Declaration of Independence. In fact, punch was consumed fervently throughout the entire American Revolution, making it a huge part of our alcoholic history.
Punch is a potent dram, originally made with port, sherry, rum and gin, but it is now enjoyed with every type of spirit possible. You add some citrus, sugar, and something to dilute the punch to taste without losing flavor. It could be soda water, ginger ale, or even Sprite, but the real way to do punch is tea. So, for your drink of the week, we are going to take the classic whiskey smash cocktail and make it into an easy punch.
So, steep some mint tea really strong but without leaving it in too long, as it will get bitter. I usually just use two tea bags to the normal amount of water and pull the tea bags out after about five minutes. Other than that, you just need some lemon juice, simple syrup, and your favorite bottle of whiskey. Combine all the ingredients and stir them together, then store in a refrigerator overnight. Travel it to your favorite game hangout and pour at will.
Cheers!
Whiskey Smash Punch
1 liter bottle of whiskey of your choice
12 ounces lemon juice
12 ounces simple syrup
24 ounces steeped mint tea
Directions: Mix all ingredients, stir, and store in a refrigerator overnight. Place in a punch bowl or spouted container and ice down the punch, preferably with the largest ice cube possible. Garnish with lemon wheels, mint leaves, and if you want to get fancy, flowers. Try and keep the punch as cold as possible during travel.
NEXT LEVEL TIP: Freeze some water in a bowl of your choosing overnight. Place it into a cooler for travel so it can sweat out, and then use that large piece of ice for your punch.
Editor's Note: If you'd like to hear more from Jonathan regarding punches and tailgating/party ideas, listen to the linked edition of the Oxford Krystal Beer Garden. Guests on the show include Jonathan and LB's Meat Market owner Greg Jones.
Editor's Note No. 2: I'm not Jonathan Howard, but here's my contribution to the Drink of the Week segment (no cucumber for me).