McCready: 10 Weekend Thoughts presented by Harry Alexander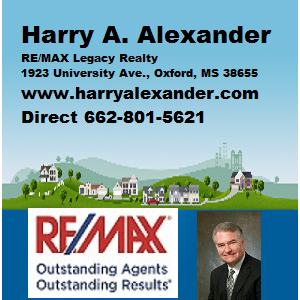 1. Ole Miss picked up its biggest win of the season on Saturday in Oxford, beating Florida by six points in a nationally televised game.
It was Ole Miss' first top-50 win of the season and the Rebels' fourth top-100 win of the season. It also improved the Rebels' record to 10-7 overall, 3-2 in the Southeastern Conference.
Ole Miss is now No. 90 in kenpom.com, meaning the Rebels are nowhere near close to the NCAA tournament bubble. However, and this is a big however, there is plenty of opportunity for Ole Miss to dramatically improve its NCAA tournament resume.
That starts on Tuesday at 8 p.m. at Texas A&M (11-5 overall, 0-5 SEC, No. 29 in kempom.com) and continues on Saturday at Arkansas (12-5, 3-2, No. 35 in kenpom.com). As I tweeted on Saturday, the Rebels have to break through on the road soon for it to matter, but if they do, things get interesting quickly.
There's a narrative circulating that it would take 12 or 13 Southeastern Conference wins for Ole Miss to get into the NCAA tournament field. Maybe it's true, but I doubt it. There's no SEC team outside of the top 100 in kenpom.com ratings as of Monday afternoon. Those non-league losses everyone hangs over the Rebels (fairly, I'd add) won't look so bad if Ole Miss could somehow take care of themselves in the SEC. Virginia Tech is No. 48 in kenpom.com. Middle Tennessee is No. 55. Utah is No. 72. South Dakota State is 80. Only the loss to Illinois State (No. 164 in kenpom.com) looks awful as of today.
Ole Miss still gets a shot at Texas (No. 38 in kenpom.com) later this month. As I wrote a week ago, it's way too early to write off this season.
2. How good is the SEC? Pretty damn good.
For example, per SEC Media Relations:
· Eight SEC teams rank in the Top 40 of the Jan. 15 NCAA RPI, including No. 6 Auburn, No. 10 Kentucky, No. 13 Tennessee, No. 21 Arkansas, No. 33 Texas A&M, No. 35 Missouri, No. 39 Alabama and No. 40 Florida.
· Twelve SEC teams in the Top 75 of the RPI leads the nation· SEC teams lead the nation with 63 Quadrant 1 and Quadrant 2 wins (as of Jan. 15).
· Ten SEC schools have played schedules that rank in the Top 50 according to the Jan. 15 NCAA RPI.
· Thirteen SEC schools have a Top 100 SOS.
· Nearly a quarter (24.2 percent) of the league games this year have been decided by one possession (8 of 33).
· Four teams are receiving mention in the Associated Press Top 25 highlighted by Auburn (17th), Kentucky (18th) and Tennessee (21st). Florida is receiving votes.
· SEC basketball teams entered the start of league play having won 76.1 percent of their non-conference games. That is the best winning percentage at the start of league play since 2006-07 (77.8 percent).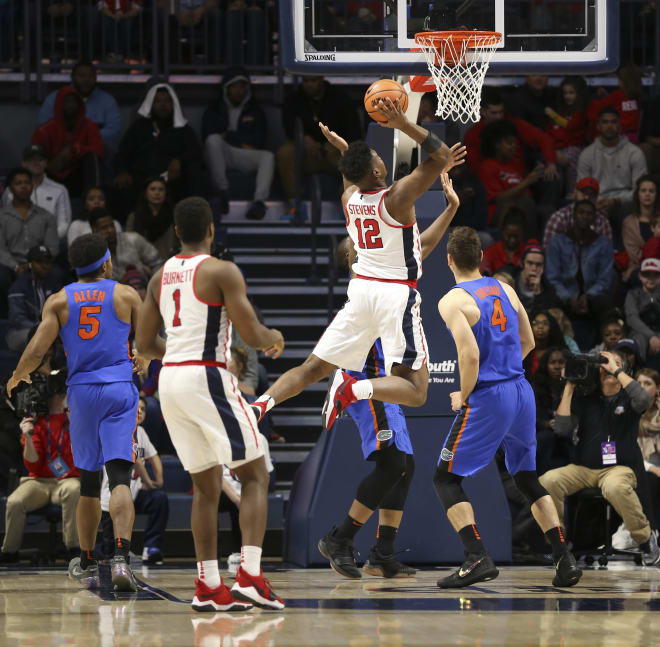 3. Where can Ole Miss get better? That's a solid question. On Saturday, forward Bruce Stevens was terrific, giving the Rebels a post presence that has been lacking frequently during the first two-plus months of the season.
As Florida coach Mike White said, if Stevens can continue to develop and become a consistent presence, Ole Miss is dangerous, especially if guard Terence Davis can snap out of his recent offensive slump.
As of Monday, Ole Miss is sixth in the SEC in scoring offense and 13th in scoring defense. The Rebels are No. 11 in field goal percentage, No. 9 in 3-point shooting, dead last in rebound margin, third in assists, tied for sixth in steals and sixth in turnover margin.
Stevens, from what I saw watching bits and pieces on television, looked significantly better on defense against the Gators. He'll be tested in College Station Tuesday, but again, both games this week are huge opportunities for Ole Miss. Win one and things get interesting. Win two somehow _ yes, I realize it's incredibly unlikely _ and the story line around this team would be changed dramatically.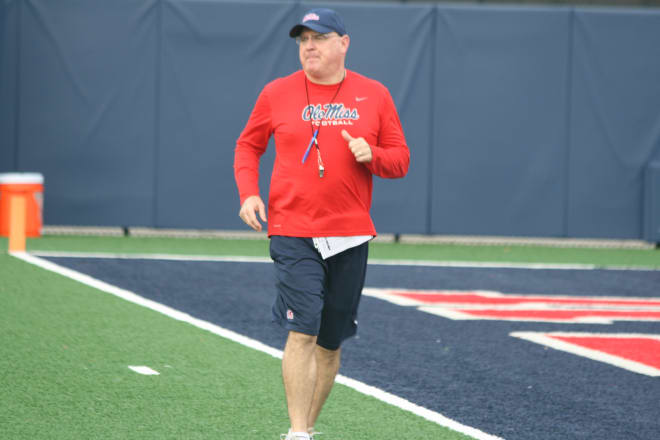 4. Bradley Dale Peveto left Ole Miss for Texas A&M over the weekend.
My take: It's not that big of a deal. That's not a knock on Peveto, who is a solid assistant coach and a good recruiter. He knows Fisher, is a strong recruiter in an area Fisher needs to dominate to maximize his chances in College Station and likely wants to return to his Texas roots.
For Ole Miss coach Matt Luke, Peveto's departure gives Matt Luke yet another opportunity to put his stamp on the program. Given the paramount importance of recruiting over the next 24 months, I believe that's a good thing.
5. Speaking of college coaching changes, Alabama offensive coordinator Brian Daboll left Tuscaloosa to take the same position with the Buffalo Bills on Sunday, prompting speculation that former Ole Miss coach Hugh Freeze could be in line to be the next addition to Nick Saban's staff.
Two things: 1. I still believe the SEC would frown on Freeze's hiring at an SEC school in 2018 and 2. Saban isn't hiring anyone to be his offensive coordinator who's going on the religious speaking circuit.
I'll admit the thought of Freeze working for Saban is intriguing, but I've never thought it was a fit for either man — on multiple levels.
6. A day later, I still can't believe the ending of the NFC Divisional Playoff game between New Orleans and Minnesota, but it clearly happened and the final four in the NFL is set.
I feel cheated a bit, as I was convinced we were going to get a sexy New Orleans-New England Super Bowl in Minneapolis, one that would have pitted Tom Brady against Drew Brees in a game between two quarterbacks who are somehow defying Mother Nature.
Alas, it didn't happen. Instead, I'm left hoping someone, anyone, can beat the Patriots. A week ago, I wrote about Alabama fatigue. I've got New England fatigue as well.
Anyway, here are my picks for Sunday:
AFC Championship Game:
New England 27
Jacksonville 21
NFC Championship Game:
Minnesota 20
Philadelphia 13
7. I spent the weekend in Chicago with my son, Carson, taking in the Cubs Convention at the Sheraton Hotel and Towers. So forgive me for having a couple of personal thoughts this week.
Carson's big Christmas gifts were two-fold. He got a pass to the Cubs Convention and he also got a gift card to the Nike Store on Michigan Avenue in Chicago. A year ago, at a weak moment, I bought Carson some expensive soccer cleats. The boots came with a lecture regarding responsibility. He spent the ensuing 12 months taking great care of those cleats, so on Thursday morning, we returned to the same Nike Store to choose a new pair.
Carson and a really nice Nike employee had a long, detailed conversation about the English Premier League, La Liga, Bundasliga and more. I was impressed and happy to be completely out of my element. Carson tried on cleats, tested them on some turf on the third floor of the store and finally settled on some Mercurial Vapor XI shoes worn by Neymar Jr., who now plays for Paris St. Germain (or so I heard).
On Thursday night, we ran into Cubs radio color analyst Ron Cooper. Carson likes to listen to the Cubs' games on the radio when we're going to and from soccer or baseball practices, so he was thrilled to meet Coomer. Coomer was impressed to meet a young fan from Mississippi who knew so much about the Cubs, and he let Carson put on his 2016 World Series ring. We probably could've gone home right then and the weekend would have been a complete and total success, but it only got better.
On Friday, we got our passes for the convention, which I purchased back in August (they sold out in an hour, so Carson was pretty impressed that his dad had pulled off the passes and kept it a surprise until Christmas). Each pass came with a voucher. My voucher got me $5 off a purchase of $50 or more at the Cubs official store. Carson's voucher got him an autograph from Cubs star third baseman Kris Bryant.
Some guy offered us $400 for the voucher within minutes, but I'm not sure Carson would have sold it for triple that amount. On Saturday, Carson had a comprehensive autograph plan in place. He was assured a minute with Bryant in the 10 a.m. hour and he was excited to learn he would be able to get an autograph from Cubs pitcher Eddie Butler later that morning. Butler, you see, became one of Carson's favorites back in July when he threw a batting practice ball from the outfield at Camden Yards to Carson before a Cubs-Orioles game in Baltimore. Carson kept the ball in pristine condition over the next six months, waiting for the opportunity to get Butler to sign it.
That came on Saturday. Butler liked the story and couldn't have been nicer to him. That batting practice ball, now autographed, will have a pretty cool story attached to it. By the end of Saturday, Carson had gotten autographs from Cubs pitchers Justin Grimm, Justin Wilson, Rob Zastryzny and Mike Montgomery. He also got to listen to several panels of Cubs players, past and present, and got hitting tips from former major league outfielder Brian McRae.
He also was interviewed by an NBC affiliate in Chicago, where he was asked to emulate Anthony Rizzo's batting stance, and he strode to the microphone at a panel that included Cubs president Theo Epstein and proceeded to ask Epstein when he should buy his Bryce Harper/Cubs jersey. The little man is not afraid of cameras or microphones.
It was a cool event. He said it was the best Christmas present he'd ever gotten. I wasn't sure what to expect, but I hope to attend again (only next time, he's on his own in the autograph lines).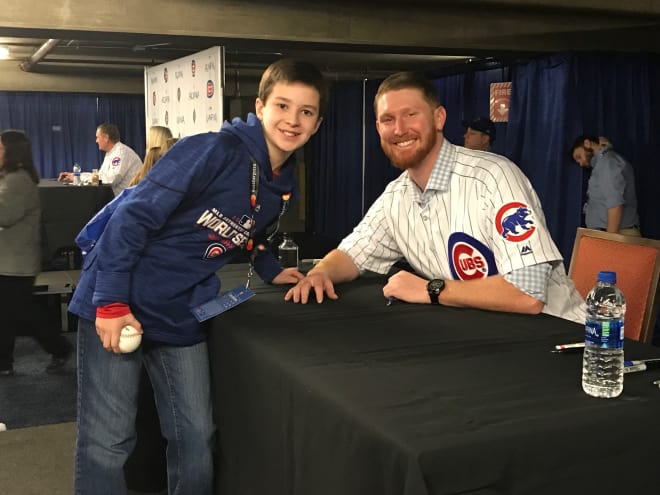 8. I swear I won't make a habit of this, but there are some of you who are Cubs fans or just MLB fans in general who might be interested, so here are a few takes following my 36 hours or so with the Cubs over the weekend:
A. Everything you hear about Kyle Schwarber's physical transformation is true. I'd guess the Cubs' left fielder has lost 30 pounds. He looks like a completely different person.
B. The Cubs' front office _ not just Epstein and Jed Hoyer _ is incredibly impressive. They are also emblematic of the new face of Major League Baseball -- young, Ivy League-educated, analytical and thorough.
C. Epstein said he was through predicting what would happen with the slow free agent market. I gathered he believed neither the Cubs nor any other team was in a hurry to sign the free agents still on the market.
D. There was a lot of Bryce Harper buzz at the Sheraton, but if I'm reading body language properly, some of the Cubs are already sick of it. This group has been to three straight National League Championship Series and won a World Series. The thought that they need some type of savior to come in and take the franchise to the next level is irritating, best I could tell.
E. If you're a fantasy baseball guy or girl, here's some advice. Take Willson Contreras early this year. The Cubs' catcher, per several people in and around the franchise, is poised to become a superstar.
F. I attended a panel of Cubs pitchers on Saturday. One takeaway: Major League Baseball pitchers are absolutely flummoxed by Reds first baseman Joey Votto. They have no idea how to get him out. Striking him out is the Holy Grail of sorts, apparently.
G. The game is healthy. Kids were everywhere, and the Cubs did a great job of making the weekend special for young people.
9. It's time for the drink of the week, presented by my friend and award-winning bartender, Jonathan Howard. Here's Jonathan:
The hardwood Rebs are a little Jekyll and a bit Hyde, losing games we shouldn't and winning ones we are not expected to. We are a strange mix of structure and chaos, but sometimes that can come together to make something great, like a 20th Century cocktail, which is your drink of week.
The 20th Century is a cocktail created in 1937 by a British bartender named C.A. Tuck and named in honor of the celebrated Twentieth Century Limited Train which ran between New York City and Chicago from 1902 until 1967. The recipe was first published in 1937 in the Cafe Royal Cocktail Book by William J. Tarling, President of the United Kingdom Bartenders' Guild and head bartender at the Cafe Royal.
The drink is a surprising blend of gin, white creme de cacao, Lillet Blanc, and lemon. While it seems a strange combination, I can assure you the resulting beverage is quite delicious. You get really great botanicals form the gin, velvety chocolate from the cacao, bright citrus from the lemon and supporting spice and citrus from the Lillet Blanc. The resulting beverage is one of the most satisfying and remarkable mixes found in cocktail cannon, and I urge you to give it a try!
20th Century
1.5 oz. gin- preferably London Dry
3/4 oz. Lillet Blanc
1/2 oz. white creme de cacao
3/4 oz. lemon
Directions: In a mixing tin, add all ingredients, ice the tin and shake vigorously. Fine strain into a cocktail glass and garnish with a lemon twist. Cheers!
Next Level Tip: Change out the gin for rye, and the white creme de cacao for dark and you've got a drink entitled the 19th Century, which is also very, very cool.