McCready: Everything up for review as Freeze, Rebs enter critical offseason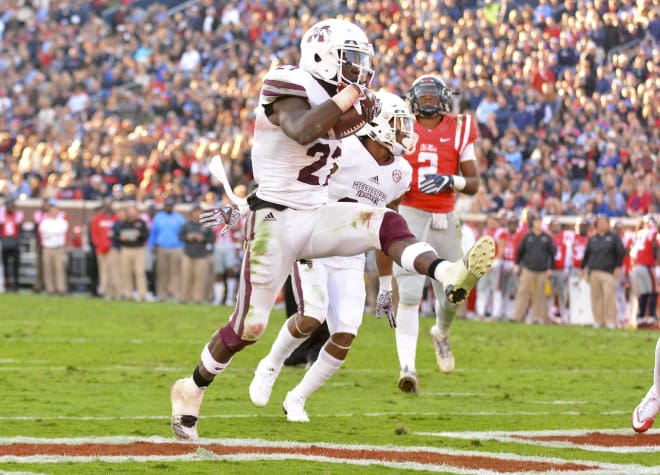 OXFORD — Dave Wommack announced his retirement Saturday.
Hugh Freeze can't let the carnage from this disastrous season stop there.
Ole Miss wrapped up a 5-7 season Saturday with a blowout Egg Bowl loss to Mississippi State. The 55-20 loss was Ole Miss' worst in a century. The last time the Rebels lost by five touchdowns to Mississippi State was in 1916, before Ole Miss was in the Southeastern Conference and before there was a Golden Egg trophy.
The Rebels' defense surrendered 566 yards in the process, once again making a mediocre offense look like a national title contender.
Ole Miss allowed 457 rushing yards to Mississippi State, including 250 in the first half alone. Let's get real here: Pinning those stats on one man is an exercise in foolishness. Making Wommack a scapegoat, while ridiculously unfair, won't even begin to fix what ails Ole Miss.
I don't like calling for jobs. I recognize these are people with families. I've been fired. I know the emotional toll it takes on someone first-hand. That said, college football is a business judged by scoreboards and stat sheets, and Ole Miss' performance, on both of those measuring devices, was severely lacking this season.
Sure, Ole Miss had some critical injuries. The loss of Ken Webster on the first defensive possession of the season was a killer. Fadol Brown's health, or lack thereof, was problematic for much of the year. Of course, injuries are part of football. They happen to everyone. Here's the bottom line: Ole Miss started the season ranked in the top 15 nationally and finished it unable to accommodate the desperate Liberty Bowl representatives just hanging onto hope that a 6-6 Rebel squad could spend a few days between Christmas and New Year's in Memphis.
This is big boy football, and Freeze is 11 months removed from a Sugar Bowl win and a top-10 finish. Those two facts usually equate Freeze getting an opportunity to repair his program.
Freeze was asked about the possibility of further changes following Saturday's game. He seemed more than prepared to answer it.
"We've got to look at everyone and everybody," Freeze said. "We were not good and when you can't stop their base stuff, we've got to figure out is it process, is it people, what exactly is it. We've got a lot of young kids over there who I think have the potential to be good but we've got to go recruit better and then do an exhaustive study on all of our staff and system.
"It'll be up to me to figure out what direction we want to go next. The first step will be getting the guy that you want to coordinate it and then going from there. …I'd love for him to be a great mentor of young men but really (I want) a toughness and a physicality defensively where he demands that energy from them and that work every day."
Ole Miss needs a culture change. Ole Miss needs an influx of talent. Ole Miss needs the recruiters who can land that talent. Freeze is getting paid $4.8 million a year _ give or take a couple of hundred thousand dollars _ to make those things happen.
Ole Miss' defense was soft in 2016. It lacked any semblance of discipline. Runners ran free. Coverage busts were routine. Rarely has a program taken such a large step backward on one side of the ball. Entering Saturday's game, the Rebels were 12th in the Southeastern Conference in scoring defense, total defense and rushing defense and 10th in passing defense. That's pathetic. Freeze needs to blow it up and start over. There's no nice way to put it.
"Not to overreact but Freeze needs real dog coaches to help him on the field and in administration," former Ole Miss linebacker Allen Walker said Saturday night. "Ole Miss gets bullied too much be serious SEC contenders. All coaches can't be nice. You can love by being nasty."
He also has to decide if that's enough. Are the Rebels good enough on offense? Entering Saturday's game, Ole Miss was fifth in the SEC in scoring offense and total offense, 13th in rushing offense and first in passing offense. The preseason loss of running back Jordan Wilkins was one blow, the injury to Eric Swinney in the season opener was another. Freeze has to determine if the lack of a strong running game is the result of some injuries or if it's symptomatic of something larger.
"We were bad on defense all year, but offensively, we declined," Freeze said. "Some of that is we lost some really good experienced players, but we've got to take a look on that side also."
Shea Patterson showed in his three-game freshman year that he's a playmaker, a talented quarterback that an offense can be built around. Ole Miss has a collection of talented receivers and a potentially solid core of offensive linemen. Wilkins and Swinney will be back, but the lack of an elite running back has been evident throughout Freeze's tenure.
As I wrote in this space a week ago, this will almost certainly be the offseason that determines Freeze's course at Ole Miss. He certainly deserves an opportunity to fix his program, but in today's college football, there is too much money on the line for administrators to allow a program to crater for long.
The fact that Freeze has to tackle this undertaking under the cloud of an ongoing NCAA investigation is certainly problematic. Will that cloud chase away potential defensive coordinators and/or position coaches? Can the 2017 signing class be salvaged enough to prevent another step back in talent? There's a needle of sorts to be threaded, and starting tonight, it's Freeze's job to thread it.
Freeze said Saturday 2016 was the "toughest of my professional career," referencing the losses, the injuries and "everything going around our program."
That season is over, but the work isn't. Ole Miss wakes up Sunday morning in a place it never could have dreamed it would be on Nov. 27. That ugly Magnolia Bowl trophy is in Baton Rouge. The Golden Egg is in Starkville, though the Rebels will likely see plenty of it (and they should after some of the nose-rubbing they did with it over the past two years) on MSU's official Twitter account over the next few months. There's no bowl to prepare for, and as of Saturday evening, the Rebels are No. 70 in the Rivals recruiting rankings (27th in average ranking per commit on their 10 current 2017 commitments).
"I'm glad the season's over now," Freeze said. "It's been difficult. I can't wait to hit the road recruiting and get the necessary changes made and get to spring ball."
Spring probably feels a million miles away for Freeze right now, and for once, that's a good thing. Freeze's to-do list is a long one, and he can't afford to skip a step.