McCready: High Hopes? More like Panic! At The Pavilion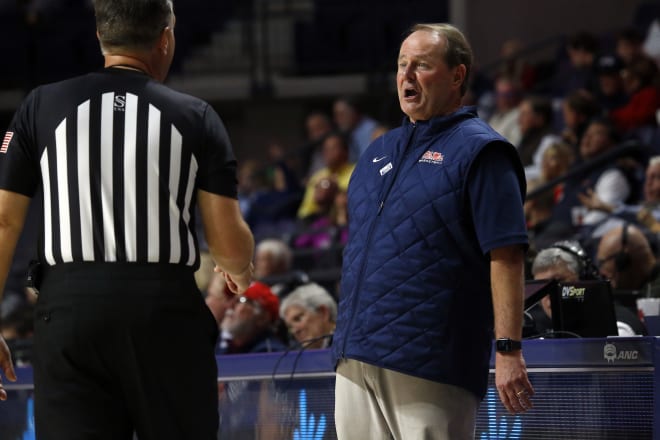 OXFORD — At one point early in the first half, right after Kermit Davis called a frustrated timeout, Panic! At The Disco's "High Hopes" played over The Sandy and John Black Pavilion sound system.
Maybe it was just crazy optimism. In all likelihood, it was just pre-programmed.
However, on a night when the Rebels dropped to 1-7 in the Southeastern Conference in front of a sleepy, half-full (maybe) arena, it felt like trolling.
Of course, just 11 hours earlier, Panic! announced that the group will end after its forthcoming European tour. The final tour begins in Vienna on Feb. 20 and concludes in Manchester, England, on March 10.
At this pace, March 10 is likely going to be a fairly newsworthy time period for Ole Miss basketball as well. The SEC Tournament begins on March 8 in Nashville. Ole Miss will almost certainly be playing on that first night. If the Rebels are still alive on March 10, when Panic! plays "High Hopes" for the final time in Manchester, it'll be quite the upset.
This isn't piling on, either. There's not a lack of effort on Ole Miss' part. The Rebels play hard. They compete. It just isn't working.
The fans know it. On Tuesday, for a 6 p.m. tip against SEC foe Missouri, the arena was lifeless, at least for the most part. Sure, it was a cold, rainy night in Oxford. Sure, the losing has taken its toll. Yes, Ole Miss was without the services of guard Matthew Murrell, who suffered a knee injury Saturday in a loss at Arkansas. At some point, they're all just excuses.
Ole Miss lost to first-year coach Dennis Gates and the Tigers, 89-77. There's no point in providing an autopsy of the contest. Missouri isn't great, not by any means, but the Tigers have some shooters. Ole Miss, especially with Murrell sidelined with a mild MCL sprain, doesn't have enough. That's been the story of the season.
On Tuesday night, Ole Miss shot 44.3 percent from the floor and 35.7 percent from behind the 3-point line. For this Ole Miss team to get close to its stated goal of an NCAA Tournament berth, Murrell and Daeshun Ruffin were going to have to be great. Murrell has been good. Ruffin has been a shell of his pre-ACL injury self at times. On Tuesday, the Rebels scored enough to win and Ruffin was solid, scoring 18 points and making four of his 10 shots from behind the 3-point line.
Missouri is a team that plays with tempo and has some guys who shoot from deep. Ole Miss couldn't stop them and couldn't keep up. Against Missouri, the Rebels didn't have enough defense, either. Missouri shot 55.4 percent from the floor and 53.3 percent (16-for-30) from behind the arc.
Ole Miss won the rebounding battle, 36-27. It tied Missouri, 28-28, on points in the paint. It beat the Tigers by 10, 18-8, on second-chance points. Missouri forced 16 turnovers and committed just 11 and made the Rebels pay. The Tigers won points off turnovers, 20-7. If you're looking for another stat that sent Ole Miss to another league loss, that's probably it.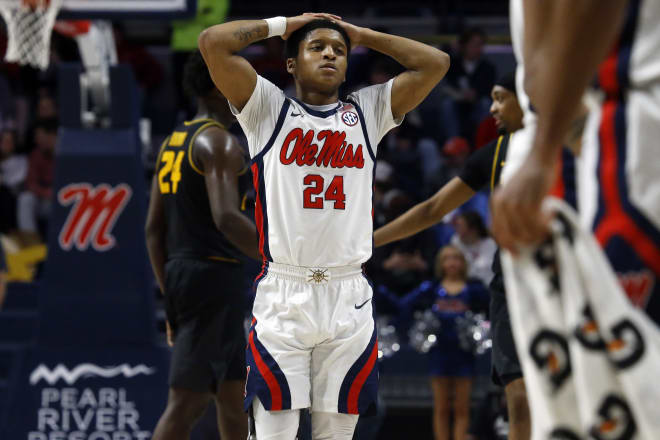 One doesn't have to be related to James Naismith to understand how basketball games are ultimately decided. It's about creating offense, solid defense, limiting turnovers and preventing second-chance opportunities. Ole Miss typically gets some of that right each game, but the Rebels clearly have a hard time putting everything together.
"I thought we fought it and tried," Davis said. "I just thought they had shot-makers tonight and they hadn't had that in a while."
Asked about that inconsistency, Davis gave a thoughtful answer.
"At Arkansas, we guarded well enough but we didn't shoot it well enough," Davis said. "Teams that find themselves kind of where we are will find different ways to lose games. We have found different ways. I like the fight of our team. We tried like heck. Just hats off to Missouri. They made a bunch of shots tonight. Credit to them. Offensively, we were plenty good tonight."
The upcoming schedule is daunting. Ole Miss travels to Oklahoma State on Saturday and returns home to face a suddenly hot Kentucky team on Tuesday night. After that, it's a two-game road trip to Vanderbilt and Georgia. There's a Feb. 11 home date against lowly South Carolina and a home game two weeks later against fast-sinking LSU. Every other date on the schedule, at least at this point, looks daunting.
Davis looks frustrated on the bench. He tried every combination conceivable on Tuesday against Missouri. He'd done it all year. For the most part, it just hasn't worked. The Rebels are now 9-11, a season after winning just four of 19 SEC games, including an SEC Tournament loss to a Missouri club itching to fire its coach.
With their team down 15 points with 7:48 left, fans scurried for the exits. It was 7:35 p.m. Maybe there was a dinner special somewhere on the Square. Maybe they had early bedtimes. More likely, it was apathetic surrender.
Those who left early missed a gritty comeback effort. Ole Miss pulled to within 79-71 with 3:36 left before Missouri put it away. Again, the Rebels' effort can't be questioned. They're plucky. They fight. They just don't win.
Ole Miss athletics director Keith Carter and his new lieutenant, former Auburn athletics director Allen Greene, sat in Carter's usual seats Tuesday night. One likely doesn't need to be a mind-reader to guess the content of at least some of their conversation.
The Pavilion was built to be an exciting place. Basketball simply must be a meaningful, exciting bridge from the Egg Bowl to the SEC portion of the college baseball season.
Right now, it's not. Before the season, the stated expectation was Ole Miss had to be a part of the NCAA Tournament conversation. That's not going to happen. Instead, Ole Miss won't play another truly meaningful game until March 8, and that will only be significant if it is the first of five wins in five days.
The ending to this story has felt inevitable for a while now. It might not be as predictable as what's coming for Panic! At The Disco, but it's probably not far off.