McCready: No simple reason for Nutts failure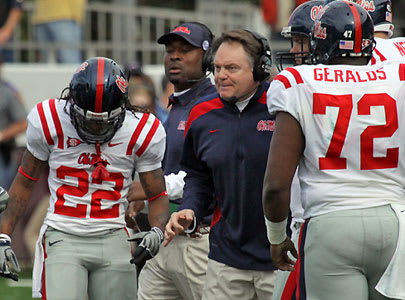 OXFORD, Miss. -- It's easy to say Houston Nutt's downfall began with the embarrassing collapse against Jacksonville State in 2010.
It might be even easier to pinpoint the 2009 Egg Bowl loss at Mississippi State as the genesis of a rapid downhill spiral.
Either of those two conclusions, however, would be too simplistic. One game, no matter how disastrous it may have been, isn't the root cause for a program's implosion.
Instead, it was a combination of poor recruiting, a lack of discipline, inconsistent preparation and pure paranoia that led to Nutt's downfall.
Nutt was relieved of his duties Sunday, two days after a 30-13 loss to Kentucky that dropped Ole Miss to 2-7 overall and 0-6 in the Southeastern Conference. Dating back to the aforementioned Egg Bowl loss in Starkville, Ole Miss has lost 14 of its last 15 SEC games, including a school-record 12 league losses in a row.
The combination of 20/20 hindsight and a flux capacitor time machine couldn't have predicted Nutt's era in Oxford would end before basketball season began. However, the decline was rapid, setting the stage for a tumultuous, chaotic final three weeks of the 2011 season.
At the end of the 2008 season, when Ole Miss reeled off consecutive wins over Arkansas, Auburn, Louisiana-Monroe, LSU, Mississippi State and Texas Tech, there weren't many teams nationally better than the Rebels. That was inarguable.
The pollsters agreed, ranking Ole Miss in the top 10 of the 2009 preseason polls. Sports Illustrated agreed as well, putting the Rebels on one of its geographical covers of the magazine's college football preview edition. Tru TV had a thing for Ole Miss, too. Nutt agreed to give inside access to a production crew from the network for a reality show about college football that would focus on the Rebels.
A week into camp, Nutt pulled the plug on the idea. I remember everyone laughing it off, but I told ESPN.com's Chris Low on one of his visits to camp that August that I took the decision as a sign of fear, an indication that the pressure of the spotlight was cracking the Rebels at their very foundation.
I was proven right. The 2009 season went down in the record books as a 9-4 campaign that included a win over Oklahoma State in the Cotton Bowl. At first blush, it appears to be successful. Upon analysis, however, that season was a lost opportunity.
A questionable offensive gameplan killed the Rebels on a Thursday night in South Carolina. The offense failed to show up in a home loss to eventual national champion Alabama. After strong performances in wins over Arkansas and Tennessee, the Rebels were oddly flat in a loss at Auburn. Then, after a bounce-back win over LSU in Oxford, the Rebels were stunned in Starkville. That loss cost Ole Miss a trip to the Capital One Bowl to play Penn State, gave new Bulldogs coach Dan Mullen bragging rights and momentum and was the beginning of the SEC malaise that ultimately cost Nutt his job.
Since that day, Ole Miss' only reputable wins have come against a distracted Oklahoma State team and a below-average Kentucky outfit. The 2010 season-opening loss to Jacksonville State humiliated the program, as did consecutive losses to Vanderbilt, a blowout defeat at Tennessee last November and second-half debacles against Alabama, Arkansas, Auburn and Kentucky this fall.
The mistakes in recruiting have become obvious. Nutt failed to sign a quarterback he could build his program around. He inherited Jevan Snead, rolled the dice for a year on Jeremiah Masoli and then turned again to junior college transfers. His high school quarterback signees _ Nathan Stanley, Raymond Cotton and Maikhail Miller _ are either gone or grayshirting. The lone quarterback commitment in the current recruiting class, C.J. Beathard, is a project with no significant offers from BCS-level programs.
Program insiders insist Nutt became obsessed with landing the next Felix Jones at Ole Miss. Ironically, while Nutt was consumed with speed, he recruited a team that observers have labeled slow for the past two years.
He landed Enrique Davis in his first Ole Miss class, and at the time, it appeared to be a coup. Davis has been serviceable, but he's never emerged as a star. When Davis and Brandon Bolden leave after this season, they'll leave one running back _ Jeff Scott _ who has remotely proven he can play in the SEC. In a league where other programs have stables of runners, that situation is inexplicable and unforgiveable.
Last recruiting season, Ole Miss put all its focus on Boynton Beach, Fla., running back Tre Mason. The Rebels thought they had him wrapped up, but when Auburn lost out on a couple of running back targets, the Tigers made Mason a priority and Ole Miss' chances were stopped cold. The Rebels had no backup plan.
The list goes on and on. The Rebels lost three potential defensive stars _ Clarence Jackson, Tony Grimes and Delvin Jones _ to off-the-field issues. There were character flags on all three during the recruiting process. The Rebels rolled the dice and lost. Four-star wide receiver Patrick Patterson never impacted the program, at least not positively. Z Mason never developed as the tight end Ole Miss believed he would be, and he left early. Rodney Scott transferred after last season, never having come close to justifying the hype that accompanied his signing. Nutt didn't want to sign Tig Barksdale, but he gave into pressure. Sure enough, Barksdale was a disaster and a distraction. Every program has attrition; under Nutt, Ole Miss' came in bunches.
Over the past few weeks, as the losses began to pile up and the program came under intense scrutiny, those cracks in the proverbial foundation widened and the structure began to collapse around Nutt.
Nutt and athletic director Pete Boone have never peacefully coexisted. Program insiders have insisted for years that Boone micromanages the program. They speak of him in adversarial terms. As I've written previously, Boone certainly deserves blame for that situation, but to put the entirety of that fault on Boone's shoulders is ridiculous and, more to the point, wrong.
According to sources, Boone frequently tried to clear the air between he and Nutt early in the coach's tenure in Oxford. Each time, per those sources, Nutt dismissed any talk of trouble, baffling Boone. Nutt doesn't like confrontation, his friends have said many times, but situations never were dealt with. Nutt frequently complained about Ole Miss' lack of a training table for athletes. Sources close to the program, however, have insisted that Boone offered to provide that for the football program. Nutt, according to sources, declined, wanting instead to keep providing stipends for his players. The NCAA, it should be noted, allows one or the other and not both.
Nutt's inner circle seemed to be composed of long-time aides and boosters who kissed up to maintain their level of access. Everyone else was treated with a certain degree of mistrust. Media types who covered Nutt at Arkansas refer to his inner circle as paranoid. That paranoia was readily apparent on numerous occasions.
Nutt played media favorites, too. In the spirit of full disclosure, I knew immediately I would always be viewed cautiously. In the weeks before I started at Rivals.com, I visited Nutt in his office. Less than a minute into the conversation, he asked if I had once had a radio show in Mobile. I knew that he knew I had hosted a show there; he had been a guest on more than one occasion. I knew then the proverbial waters had been poisoned.
Last November, after Tennessee's mauling of the Rebels in Knoxville, multiple sources told me Nutt would have to make staff changes after the season. I wrote the story. Some 48 hours later, Nutt reminded Ole Miss fans in a bizarre press conference that it had been 50 years since the Rebels had won back-to-back Jan. 1 bowl games. A day later, he approached me at the beginning of practice, questioning my story. I asked if he had read it. He answered negatively. So I pulled out my phone and read it to him. He clearly had been told my report said something it didn't.
That was par for the course. Like many coaches, Nutt insulated himself, only Nutt did it to ridiculous extremes. In my opinion, people in his inner circle frequently misled him in an attempt to further their own agendas and gain more access to the coach and his program.
In the final days, when it became brutally obvious that Nutt's dismissal was likely imminent, there was no one who could save him. Some message-board posters called for fans to be good little Rebels, but no one presented an impassioned defense of Nutt. Interestingly, the one media outlet that got close with the coach over the past four years didn't even attempt to come to his aid in the final weeks.
So it ended today with a whimper, with three weeks of the season remaining and with a program in relative chaos. All that's known of Nutt's future is Ole Miss owes him millions and almost four years after he raised the hopes of a fan base desperate for a winner, the football program he leaves behind looks very similar to the disaster that he inherited.
**
SPECIAL OFFER
**: Get premium access to RebelGrove.com for 30 days- FREE!.
Sign up here
and enter the promotional code
rebels30
. (
Offer ends December 1, 2011
)

Click
Here
to view this Link.