McCready: Nutt focuses frustration in wrong direction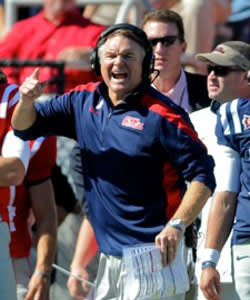 OXFORD, Miss. -- It took 30 seconds of his post-game press conference before Houston Nutt focused all of his frustration in one direction Saturday.
Ole Miss had just lost a 29-24 decision to No. 10 Arkansas, the Rebels' 10th straight loss in the Southeastern Conference and the program's 12th loss in its last 13 league games dating back to a November 2009 Egg Bowl loss at Mississippi State.
His team had just played its best game of the season. The Rebels rushed for 151 yards, completed 18 of 30 passes and committed just one turnover. Ole Miss, the league's worst team in terms of time of possession, controlled the football for more than 37 minutes against Arkansas. The Rebels led 17-0 at one point and had the football in the final minute with a chance to win.
Still, Ole Miss lost. The third quarter was the Rebels' undoing, as were 12 penalties, a safety and a key drop. Nutt addressed all of that Saturday, but first he felt the need to attack a beat writer covering his team. That writer, in this case, was me.
"They played real hard," Nutt said. "They played harder than that 49-10, right, Neal? One on my players told me. I don't read your stuff; they tell me what you say. One of my freshmen told me that Neal McCready wrote that we were going to get beat 49-10. It wasn't no 49-10."
Those who subscribe to Neal's Picks know that every Thursday, I publish a picks column forecasting every SEC game and making picks against the betting line. The column is tongue-in-cheek, often self-effacing and typically sarcastic. As I've said on many, many occasions, I don't watch much college football that I'm not paid to watch, so it's amusing to me and to readers to see how I fare predicting each week's games.
Last Thursday, I predicted Alabama would beat Ole Miss, 41-7. I underestimated the Tide by 11 points and heard nary a word from Nutt. This Thursday, I picked Arkansas to win, 49-10. Obviously, I missed. It happens. There's no personal vendetta. It's a picks column, for goodness sake.
"It was a real effort and a real attitude out there about some guys out there against the number ninth ranked team in America," Nutt continued. "That's what I'm trying to do. I'm trying to keep these guys in a real effort and attitude of don't ever give up, don't quit, fight, no matter what people say. No matter what they say because see, they don't know. They're not the expert. They don't have to commit and go through what you go through. And so I was just really proud of how they played. They stayed really focused. The attitude has been awesome, but I wish we were standing here with a W. We were close but it didn't happen."
Nutt's right. I don't "commit" to his program. I don't have to. I don't want to. I cover his team. I don't cheer for it. I don't root against it. Why coaches struggle with that concept I'll never know, but many do. I'm not a fan.
Anyone who takes my predictions seriously is, pardon the pun, nuts. I picked Ole Miss to beat Brigham Young. I picked them to beat Vanderbilt. I picked them to lose to Fresno State. I never heard a word.
I have my theories as to why the reaction came now, given the chaotic atmosphere surrounding the athletics department at Ole Miss these days, but it's hardly worth getting into. I'll simply say that some people clearly have Nutt's ear, and this isn't the first time something I have written has been misrepresented to him.
It really doesn't matter. Coaches are in the scoreboard business. Their job performance is publicly gauged in digital glory on jumbotrons each Saturday and neither I nor any media member have any input. If a coach is winning, no reporter can write anything to take away from the victories. If he's losing, no amount of spin can erase the sting. That's the way it works. It's the downside of making more than $2.5 million per year to coach football.
Asked Saturday what his program is missing, Nutt said the Rebels "just don't have depth right now. We have guys banged up. I'm not going to sit here and go through it all. You know all that. It is what it is right now. We're playing a lot of young people, and we don't have the word 'next.' We can't say 'Next,' especially when you lose a Wayne Dorsey and a Marcus Temple. That hurts. That's hard."
I could be snarky here and ask if that's my fault, too, but I won't. It's not. It's Nutt's. That's reality. In the fourth year in his program, recruiting failures and a high level of attrition have caught up to him. The Rebels are indeed thin in key spots, not talented enough in others. The league losing streak reflects that.
Ole Miss has now been outscored 57-7 in the second half of its last two games. The Rebels have been outscored 138-51 through half of its SEC schedule. Some 36 or 37 days from now, I suspect, Nutt will likely have to address that in some form to someone.
Perhaps Nutt will be let go. Perhaps he will be retained but encouraged to make changes to his coaching staff. Perhaps he'll be granted another season to reverse the downward trend. Opinions vary.
I'll work the story as long as I'm on the job. I won't get a vote. I don't want one. I won't make a prediction either - at least until Thursday.