McCready: Rebels may have hit their stride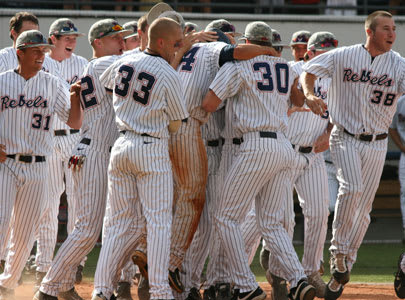 Ole Miss wrapped up a two-week stretch that could have been a killer on Sunday.
The Rebels not only survived it, but they also used it as a vehicle to catapult their season.
At least it felt that way Sunday afternoon when Kevin Mort's game-winning hit drove home Taylor Hightower to give Ole Miss a 7-6 win and a sweep over LSU, a victory that extended the Rebels' winning streak to five games.
Now the next four weeks will determine whether another hair-raising June at Swayze Field is in the offing.
Ole Miss, ranked No. 19 by Baseball America, staved off a sweep last weekend at South Carolina, winning a Sunday afternoon game. At that moment, it didn't look like much. However, it just might have been the turning point of the season.
"That was probably the biggest win of the season," Ole Miss designated hitter Matt Snyder said. "Obviously, we went and beat Southern Miss pretty good and then Saturday and today, the bats were just exploding and the bullpen is doing awesome."
"We looked like a different team Tuesday night (against Southern Mississippi)," Ole Miss coach Mike Bianco said. "And then I thought we looked like a different team this weekend, much like we did the first three or four weeks of the season. …I think Sunday was a big deal for us in Columbia."
This weekend, with No. 5 LSU in town, the Rebels swept the Tigers, beating the defending national champions in a variety of ways in front of packed houses on what turned out to be a sun-splashed weekend in Oxford. They certainly hope it's a sign of things to come.
And it could be. The Rebels go into the final four weeks of the season 28-13 overall and 11-7 in the Southeastern Conference. Their RPI has jumped from the mid-40s to 25, and that was prior to Sunday's win. Mississippi State (RPI: 44), Arkansas (RPI: 4), Alabama (RPI: 17) and Auburn (RPI: 19) wait on the schedule, meaning that number is only going to improve provided Ole Miss doesn't stumble in its remaining mid-week games against non-league foes.
Realistically, Bianco's team needs to win six of its remaining SEC games to be in the discussion to host an NCAA regional. Seven wins would make it very difficult for the NCAA tournament selection committee to send the Rebels away in the regional round, and eight wins would put Ole Miss in the mix for a national top-eight seed. Anything more than that is proverbial gravy.
The path is wrought with potholes, certainly, but there's reason to believe it could happen. First, Ole Miss has now won a game where ace Drew Pomeranz was off his game. Pomeranz struggled throughout his brief outing Saturday, but the Rebels' offense more than made up for it in a 12-10 win.
Secondly, sophomore Matt Crouse seems to be emerging as another dependable arm in the Rebels' pitching arsenal. Crouse was spectacular in the mid-week win over Southern Mississippi last week before delivering a brilliant outing in relief to get the win late Saturday night against LSU.
Then, there's the offense, one that could be snapping out of a mid-season funk. Matt Snyder, bothered by injuries throughout the season, hit three home runs over the weekend, giving the Rebels significant thump in the middle of their lineup. His eighth-inning homer Sunday afternoon ignited the Rebels' comeback. Alex Yarbrough's first career home run later in the frame tied the game.
"He's tremendous," Bianco said, referring to Snyder. "He's a legit four-hole guy. We always talk about a fear factor in scary offenses, and with (Matt) Smith and Snyder in the middle of the lineup, it's hard not to have one of those two guys (hitting). …It's just an added dimension."
Then there's closer Brett Huber, who admitted that his confidence was shaken by a difficult outing last Friday at South Carolina. Since then, Huber has been solid. Over the weekend, he slammed the door on LSU Saturday afternoon and then held the Tigers at bay until the offense could deliver its heroics.
"On Sunday at South Carolina, I just went out and made pitches," Huber said. "This weekend, the atmosphere just helped so much. We knew it was a very important point in the season and pitching, hitting and defense all came together. LSU's a great team. We did a really good job."
Finally, there's confidence. This team, at least for now, has it in spades.
"We haven't been this high the whole season," Yarbrough said. "It's been awesome the whole weekend."
"It's baseball," Bianco said. "Why is it sometimes hard to hit it in the fairway? Why is it sometimes hard to make a four-foot put? This is a tough game mentally, and confidence has so much to do with success that one little thing (can alter things)."