Notes: Ole Miss defense looking to build off opener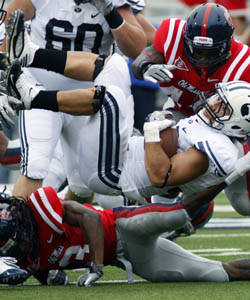 OXFORD, Miss. -- Question marks surrounded Ole Miss' defense entering this past Saturday's opener against Brigham Young.
Could the Rebels' young front-seven hold up against a big, veteran offensive line? Was the linebacker corps deep enough? Would the secondary improve against the pass?
After limiting BYU to 316 yards and just one offensive touchdown in Ole Miss' 14-13 loss, Tyrone Nix's group appeared to give positive answers to virtually all of those questions.
There's no sense of satisfaction, however. Instead, Nix and the defense are looking to build on that outing and improve Saturday at 5 p.m. against Southern Illinois.
"It's been good," Nix said. "They've come out and competed. They understand that we must get better. From Week One to Week Two is one of the biggest times to make major improvements and I think the kids have come out and practiced well."
Nix said the focus after reviewing the BYU film is on eliminating mistakes. Nix said there was a lack of execution on several third-down opportunities, allowing the Cougars to keep drives alive. Additionally, on a couple of big-yardage gains for BYU, Ole Miss' problem was "guys not putting their eyes in the right place, so we've tried to go back and emphasize the little things and being consistent in doing them."
Nix said he felt the use of Aaron Garbutt at the spur position (a hybrid outside linebacker/strong safety) helped the Rebels' overall team speed on defense.
"I think you saw him flash and make some plays," Nix said. "Putting him on the field with (safety) Charles Sawyer was a big help to our defense."
Nix said freshman linebacker Keith Lewis has impressed this week in practice, so much so that he will play significant snaps against Southern Illinois.
REBELS GETTING CLOSER TO GAME TWO: Ole Miss worked for more than two hours in full pads Wednesday, and the Rebels' effort drew praise from coach Houston Nutt.
"We're excited about the way they came back, bounced back and had a good attitude and good enthusiasm," Nutt said. "I can't wait to get back out there."
Nutt said he expects his team to make a major improvement between the first and second games. Nutt, who began his coaching career at Murray State, said he knows the Rebels will get a strong test from FCS-member Southern Illinois, a team that features several transfers from FBS programs.
"You know that's why those teams have won some games and come up and beat some teams," Nutt said. "They have a lot of players that want to play and are good athletes. ...They're a good team."
MESS WITH TEXAS?: With Texas A&M's seemingly imminent merger with the Southeastern Conference, Nutt was one of several SEC coaches Wednesday who indicated plans to begin to spend more recruiting resources in the Lone Star State.
"We've always loved Texas," Nutt said. "We've been in Texas since we've been here, but not very much. We'll be in there much more. In fact, before this started happening, we'd already started to go into Texas, so this just gives you a bigger reason to go in there a lot more, maybe putting another coach or two in there."
SALUKIS EXPECT PHYSICAL PLAY: Southern Illinois is anticipating a physical game Saturday night even outside the tackle box. The Salukis' wide receiver corps, which might be without Luke Standiford for a second straight week, intends to be physical on the perimeter against the Rebels' secondary.
"I feel like we can be physical with anybody. We're not afraid of anybody," Southern Illinois wide receiver Cam Fuller told The (Carbondale, Ill. Southern newspaper. "We're never going to back down from anybody, so, we're definitely going to go in there with a physical mentality this Saturday."
The Salukis rushed for 240 yards and three touchdowns on 46 carries in a blowout win over Southeast Missouri State last weekend. Southern Illinois passed for another 254 yards in the win.
Southern Illinois coach Dale Lennon told The Southern he expects a big and talented Ole Miss defensive line, adding that the Salukis may have to use the perimeter to his advantage.
"The strength of their defense is probably their defensive line," Lennon said. "That's where they got most of their experience returning. Their defensive ends are very talented. Their secondary also have the type of players that are just playmakers."