Notes: Rebels open with Saint Louis, a four seed with an ace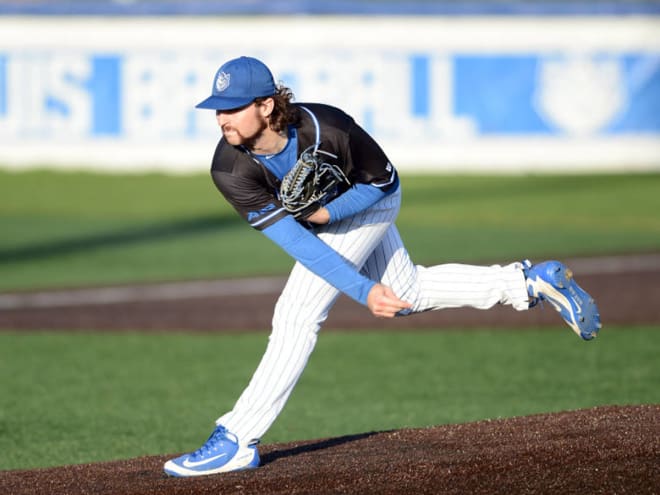 OXFORD | Mike Bianco didn't know much about Saint Louis when he saw the Oxford Regional participants for the first time, but he was certain the question he wanted answered first.
When it comes to four seeds and automatic bids, not all are created equal. Some have notable starting pitchers that — at least on paper — can make things complicated for the host school. Saint Louis (38-18) and likely Friday starter Miller Hogan fits that profile.
Hogan, a right-handed junior, is 10-3 with a 2.19 ERA in 102.2 innings. He has 129 strikeouts, 12 walks and a .196 batting average against. Miller has allowed 21 extra base hits including 10 home runs.
"Unfortunately for us they have an ace," Bianco said. "You know how I feel about that. The first thing you look at with the four seed is if they have an ace pitcher, and they certainly do in Hogan. A guy that has a 2 ERA and 120-something strikeouts in 100 innings."
No. 4 national seed Ole Miss (46-15) will likely counter with Ryan Rolison, a projected first round pick this summer, who threw two innings of hitless relief on Sunday in the SEC Tournament final against LSU.
Hogan has gone at least six innings in all of his 15 starts and has topped out twice at 121 pitches. Strength of competition is certainly a question mark, but he's performed well against teams with competent RPIs, as well.
Half of his 14 regular season starts were against teams with RPIs of 227 or worse, and four of them were outside the top 250. However, he allowed three hits and one run with nine strikeouts and one walk against Jacksonville (RPI 18) over seven innings and held Purdue (RPI 31) to one run on five hits with seven strikeouts and no walks in six innings.
His season high for runs allowed is four, which happened against Notre Dame (RPI 97) and Davidson (RPI 98). He's allowed one earned run or fewer in six of his last eight starts.
"I'm a little surprised we got sent to such a high national seed," said SLU coach Darin Hendrickson to the Post-Dispatch. "I thought we were one of the better four seeds out there. When you play in a one-bid league, you have to know you're going to play somebody really tough. Our club, we've got experience playing in a big-time regional in South Carolina, where the atmosphere will be similar, so you're just happy for your guys.
"We'll embrace the challenge. We're not done. We're not just going down there to show up. We're going to try our best. We've got a heck of a pitching staff. Miller Hogan is going Friday night. He'll be one of the highest draft picks in SLU history, if not the highest. What more can we do?"
Hogan had a 1.08 ERA in 25 innings in the Cape League last summer and picked up two wins against Cotuit which included Ole Miss cleanup hitter Thomas Dillard.
"I remember facing him," Dillard said. "He's a really good pitcher and can throw close to five pitches for strikes. He's a good competitor who is always in the zone."
BIANCO DISAGREES WITH KENTUCKY GETTING LEFT OUT
The Southeastern Conference got four national seeds and 10 teams into the field, but Kentucky — despite a 30 RPI and 34-22 overall record — was the third team out of the field of 64. Former South Carolina head coach Ray Tanner said conference record was the main reason, as the Wildcats went 13-17 in the SEC and then lost in the opening round in Hoover.
Bianco didn't agree with the decision and believes the SEC has to overcome more for at-large bids because of the strength of the conference.
"Really disappointing," Bianco opened. "It's what, I was told, kept us out last year, and just disappointing. To me it's that double-edged sword where people throw — not just at the SEC, but especially the SEC — at Power Five conferences by saying you have that RPI because you play in that league, and that RPI is built in. Part of that means you're playing really good teams week in and week out, therefore we beat up on each other.
"You can have a really good team with a sub-.500 record, and when that is the stigma or criteria it's really unfair. When you look at a team like Kentucky and not matching them up against any particular team or a team like us last year, you match them against against some other team in a conference that's not as good — and I think everybody recognizes that — to say they wouldn't have a better or above .500 record in those leagues doesn't make sense. The logic doesn't make sense that you get penalized almost double. You get penalized for not counting RPI and then in the SEC an RPI in the 40s is a little high but another conference with an RPI of 40 it's supposed to be a positive. It's the same metric. But you get penalized for having more losses. To me it makes no sense."
INJURY NEWS LIMITED FOR KESSINGER AND KEENAN
Grae Kessinger left the LSU game Sunday in the early innings after re-injuring the hamstring he initially hurt against Tennessee in mid-March.
Kessinger wouldn't give a percentage on his chances to to play against the Billikens Friday, but the Ole Miss shortstop said it wasn't as bad as when it was first hurt this season, and that he moved around OK prior to treatment on Monday.
"Hamstring will be good by this weekend," Kessinger said. "I'm going to get in here with trainer (Josh Porter) and get some rehab in. Hopefully it'll be close to 100 percent… I was moving around all right, but it didn't feel good. We trust Anthony (Servideo) and know he can do it, so we're letting it heal and trying to get it better for this weekend."
Bianco said it was too early to know a status on Kessinger, and he's also waiting word on star freshman Tyler Keenan who missed action this past week with a wrist injury. Keenan was scheduled for an MRI early Monday after being available to play defense but not hit on Sunday. More of a prognosis for Keenan is expected by Tuesday.