Notes: Servideo's role in the 'best nine' still a work in progress for Rebs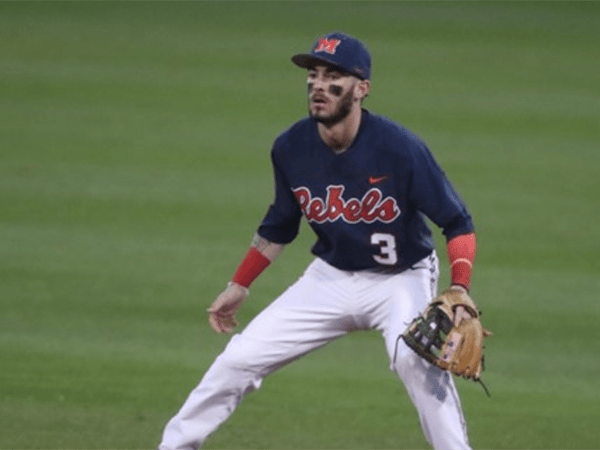 NEW ORLEANS | Anthony Servideo knew something would come his way quickly.
Baseball often works like that when a player changes positions or enters the game without many repetitions. And at Tulane on Friday two first-inning fly balls headed toward him in right field. He made the catches easily, of course.
"You watch him and he makes it so easy and then you look at other guys who are out there all their lives," Ole Miss head coach Mike Bianco said. "He's incredible out there and it's fun to watch Everybody knows he's going to be a star."
Then, soon after, the first difficult one came. During his first game action in the outfield since Little League or before, Servideo ranged toward the foul line in right field and accelerated to make a catch on the dropping liner look easy. He got back on his feet and flung it back in so the runner couldn't advance. He showed why his teammates think he's the best outfielder on the roster.
[Related: 9 things to know from series win]
"I knew how far the wall was from the line," Servideo said. "I knew I had a lot of room so I ran over there and had to slide and catch it. Luckily I caught it."
Servideo bounced between right field and second base in New Orleans, picking up two key hits and playing flawless defense on Sunday as Ole Miss took the series from Tulane. Current center fielder Ryan Olenek believes Servideo could be an All-SEC outfielder if he got the chance. He admitted the sophomore is better than him out there.

But he's also the best defensive second baseman, and Olenek has been solid in center. How to work it all out is still one of the early-season questions. Jacob Adams played the majority of 2018 at second base and has been good there this year, as well.
Servideo to center could be an option moving forward, shifting Olenek back to right field where he spent must of last season after the Rebels moved Will Golsan to center. Olenek was the everyday day center fielder in 2017.
"We did it last year but it's tough," Bianco said. "We'll continue to play with it and figure it out. We told the guys it's the best nine and maybe not our nine best. We'll still work on that."
'A CHANCE' ETHRIDGE COULD RETURN THIS WEEKEND
Ole Miss ace Will Ethridge may be back in the rotation this weekend against Long Beach State.
A blister developed on the middle finger of his throwing hand during the season opener and he left his start early, allowing no runs in 5.2 innings.
Ethridge completed short work off a mound on Sunday without any discomfort. It was the first time he'd picked up a baseball since February 15. The actual blister is gone, but it's a matter of strengthening the area so it doesn't happen again.
"It's that new skin and once you get rid of it you can tell a difference," Bianco said. "That's where it's more fragile than the regular skin.
"We have to play it safe and see, but there's a shot next weekend, but even today we talked to him and know we're not throwing him unless we know he's really ready to do it. Not just mentally but physically with the finger. You don't want to break it open again."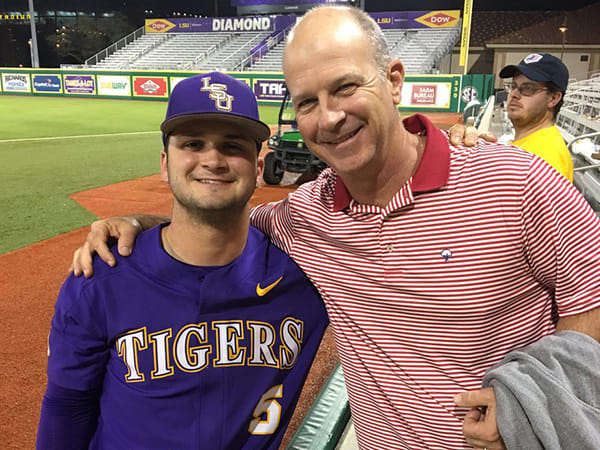 BIANCO DOESEN'T EXPECT GAMES AGAINST HIS SONS TO BE WEIRD
Bianco had a busy Saturday.
Following Ole Miss' walkoff loss to Tulane that evened the series at the time, he made the 80-mile trip from New Orleans to Baton Rouge to watch his son, Drew Bianco, play first base for LSU.
He made it in time for the 7 p.m. first pitch, taking advantage of the close proximity. Bianco came in as a reserve during the 17-8 LSU victory. The true freshman has started three games for the Tigers and is 2-for-12 with a double.
The Biancos made the decision long ago that none of the sons would play for their father. Instead he wanted his boys to have the complete college experience without the added issues that come with the coach-dad dynamic. Ben Bianco is a sophomore at Louisville, and Sam Bianco is committed to ULL.
Mike will coach against his sons at least five times in 2019, as Ole Miss visits Louisville for a two-game midweek set in March and takes a trip to LSU in early May. The 19-year Ole Miss coach doesn't expect any odd moments as those games quickly approach.
"When (Drew) committed two and a half years ago and every year since I get interviewed and he gets interviewed because you have that storyline but I don't think it's going to be as weird as people think," Mike said.
"It's great for you guys to write about it, but we're going to be playing LSU and I don't get to pitch or hit. He's going to play Ole Miss. I get it that the question is asked and maybe I'll be wrong, but I don't think so. He'll just be No. 5 in the other dugout."
HOLSTON YET TO SEE ACTION THIS SEASON FOR REBS
Greer Holston was the only pitcher to travel and not see action for Ole Miss against Tulane.
The junior hasn't appeared in a game this season after posting a 3.27 ERA in 24 appearances and 33 innings last season. Bianco said Holston isn't injured.
"Yeah (he's healthy) but just hasn't been as good as the other guys yet," Bianco said on Sunday.
During the three weekends of preseason intrasquads, Holston, who has a noticeable drop in fastball velocity from the low 90s he pitched at last season, threw 4.2 innings and allowed four runs on four hits with six strikeouts and four walks. He also hit two batters. The 23 batters he faced hit .235 off him, but he had a 1.71 WHIP.
"Greer's velocity is down a little bit," Bianco said the week of the season opener. "He has struggled a little bit in some intrasquad games. He would've been one of the guys who we would've looked to maybe be one of those weekend guys. Now he's back in the bullpen in a similar role to he's been before. There have just been guys who have pitched better than him."