Ole Miss cheat sheet for the MLB Draft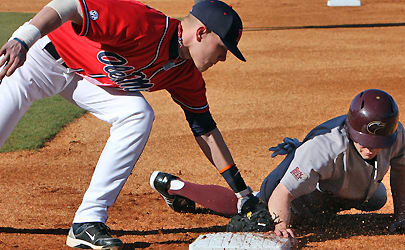 The 2011 Major League Baseball First Year Player Draft begins Monday with the first 60 picks. Rounds two through 30 are Tuesday, and the Draft finishes with rounds 31 through 50 on Wednesday.
Three extremely pivotal days are ahead for Ole Miss, as the Rebels look to establish quality depth and bring in a highly-rated recruiting class. The Draft could derail those plans.
What follows is a cheat sheet to prepare you for the annual event. After talking to many sources, it's a breakdown of the Ole Miss-related players most likely to get drafted and establishes why and possibly when it could happen. Perfectly predicting the Draft is impossible, as signability changes things, and the selections aren't made in a vacuum. Every player selected alters the Draft position of another player after him.
However, this guide should display how things are playing out as the rounds move by. Could other prospects be drafted? Sure. Is there a chance one or more of the players mentioned below won't be drafted? Of course. My goal is to give you a road map to determine how things are shaping up for Ole Miss.
NOTE: This list doesn't include players that are out of eligibility.
Senquez Golson
Outfielder, Pascagoula, Miss.
The Projection: 2nd to 4th (Could slip due to signability)
The Scoop: Golson is an incredible athlete that flashes solid hands and plus speed. His departure to professional baseball would affect two sports, as he's a prized cornerback signee for the Ole Miss football team. Golson wants to play football, so this is about how much is offered and does it make sense to turn the money down. Some scouts say Golson has hurt his stock in recent weeks by skipping pre-draft workouts and "putting off a negative vibe." Teams want a sure-thing this early in the Draft, and Golson doesn't seem to fit that description. An offer in the high six figures is a possibility, especially considering organizations can pay Golson a signing bonus over a five-year period due to his football ability. This is truly a toss-up, and it's impossible to be more accurate until the first offer has been extended. Ole Miss would love to see Golson fall to at least the fourth round.
Hawtin Buchanan
Right-handed pitcher, Biloxi, Miss.
The Projection: 3rd to 10th (Likely to slip due to signability)
The Scoop: Buchanan, a 6-foot-8, 240-pounder, told me Saturday night it would take "a miracle" to bypass Ole Miss, so signability is the issue for organizations. Current Rebel Bobby Wahl was a top-five round talent, but he fell to the 39th because of his strong desire to attend college. Buchanan could see a similar slide this week. I anticipate teams will call him Tuesday and throw out rounds and numbers to see if he's at all receptive. However, UM recruiting coordinator Carl Lafferty has to feel good about Buchanan. He wants to attend Ole Miss, and organizations likely won't take an early shot.
Josh Laxer
Right-handed pitcher, Madison, Miss.
The Projection: 3rd to 10th (Could slip due to signability)
The Scoop: Laxer is one of the rare players that makes his number known. He's told multiple media outlets he will sign for a minimum of $900,000. The slot suggestion for that total is near the end of the first round, and only 10 players out of the top 60 picks received $900,000 or more last year. Laxer only worked out for the Nationals, and most insiders don't expect an offer to reach his number. It's also doubtful Laxer lowers his number. It wasn't pulled out of the air. It's a set amount for a reason. Ole Miss should be optimistic here, but I think Laxer is more likely to sign than Buchanan. One scout said Laxer may be close to his ceiling - another good sign for the Rebels.
Michael Reed
Outfielder, Austin, Texas
The Projection: 3rd to 5th
The Scoop: Michael Reed blew up this past season and has soared up Draft boards. The athletic outfielder has the tools and the ability to put together at-bats and hit quality pitching. Most view Reed as highly signable, so that could move him up or down the board, but I expect the Leander High School talent to begin his professional career soon. Out of all the high school Ole Miss signees, Reed is the most likely to sign with a professional team.
David Goforth
Right-handed pitcher, Ole Miss junior
The Projection: 5th to 10th
The Scoop: Goforth can push his fastball into the mid-90s and the addition of a cutter helped him have a serviceable year as a starter for Ole Miss. ESPN's Keith Law has Goforth as a top-100 prospect, and most believe his pitches will play better in pro ball. Billed as a bullpen guy at the next level so change-up struggles are not an issue. After turning down an offer last offseason, it's likely Goforth will sign this time around.
Austin Wright
Left-handed pitcher, Ole Miss junior
The Projection: 5th to 10th
The Scoop: Wright was inconsistent and struggled with command at times in 2011, but he displayed improved pitchability at the end of the season, and his make-up is a major positive for scouts. He's a prototypical prospect that will be taken on the second day and be given an offer I don't see him turning down. Wright reportedly turned down a $200,00 offer in the past.
Dylan Chavez
Left-handed pitcher, Sacramento, Calif.
The Projection: 15th to 30th
The Scoop: Chavez struggled at American River College this past spring, but he's worked out for several teams, and his measurables are all solid. He can pitch into the 90s from the left side and show workable offspeed stuff. Command and pitchability are inconsistent. He's one to watch, as Ole Miss is in desperate need of older arms. The Rebels should sweat if he's taken on the second day.
Ryan Hornback
Catcher, Houston, Texas
The Projection: 15th to 30th
The Scoop: Hornback is a true catch-and-throw catcher that won a Rawlings Gold Glove award his freshman year at San Jacinto Junior College and has developed a superb reputation as a receiver. After about the seventh, rounds aren't terribly important, but I'd keep an eye on Hornback. His decision could go either way, and some teams like him enough to take a shot around the 15th to 18th round. That would be bad for Ole Miss. He struggled offensively early in the year but improved late and showed enough bat skill for it to not be a detriment.
Matt Crouse
Left-handed pitcher, Ole Miss junior
The Projection: 25th to 35th
The Scoop: With Wright and Goforth leaning heavily to the pros, Ole Miss needs Crouse back in 2012. Losing Crouse and Chavez would leave a lot of inexperienced arms trying to push the Rebels back to respectability. Many scouts have a hard time placing Crouse, as his fastball is a touch short, and his offspeed pitches don't rate as a reliever at the next level. However, scouts think Crouse is signable and will move on from Oxford, Miss., if taken anywhere on the second day - or even later.
Jake Overbey
Infielder, Jackson, Tenn.
The Projection: 10th to 30th
The Scoop: I've heard more than one person compare Overbey to former Ole Miss star Justin Henry. He projects as a quality college player that could move toward a high ceiling and put together a nice career. Almost every team wants to see him in college and see what's what in 2014, but watch out for the Phillies here. Philadelphia really likes Overbey now and could make a move on him if some other things fall on its draft board. Otherwise I expect Overbey to show at Ole Miss.
Matt Snyder
First baseman/DH, Ole Miss junior
The Projection: 25th to 35th
The Scoop: This is a tough one to figure out. I've heard numerous opinions that Snyder would sign if he's taken anywhere close to a decent spot. He appears to be a draft-and-follow candidate to see if he can show skills at first base. With the shoulder injury, he's a risk for an organization, but it seems to be an opportunity for a club to get a potential power bat in the later rounds and get a signature.
Brett Huber
Right-handed pitcher, Ole Miss sophomore
The Projection: 25th+
The Scoop: Huber is a draft-eligible sophomore that could get selected in the later rounds. He was a Freshman All-America selection and throws a hard slider. Command can come and go, and another college season would probably up his stock. Not to mention that Ole Miss really needs Huber in the bullpen. Losing him right now could be devastating.
Chris Ellis
Right-handed pitcher, Hoover, Ala.
The Projection: 25th+
The Scoop: One of the top prep pitchers in Alabama, Ellis was injured during a portion of his senior season and didn't log a considerable number of innings on the mound. He returned healthy and flashed a nice breaking ball and a fastball that went into the low 90s. I expect Ellis to get selected, but most people I've talked to think he'll be in red and blue for at least the next three years.
Sikes Orvis
Catcher, Orlando, Fla.
The Projection: 25th+
The Scoop: Orvis can hit a baseball a mile from the left side. That alone is enough for a club to draft him. He doesn't excel at a defensive position, but his catching skills have improved dramatically. The bat is going to play high at the college level, and he projects to give the Rebels a serious middle-of-the-order threat immediately. Orvis has put out a really high number, so signability is a definite issue for teams. I don't expect a lot of drama here.