Ole Miss fan, who is blind, follows the action through voice and his radio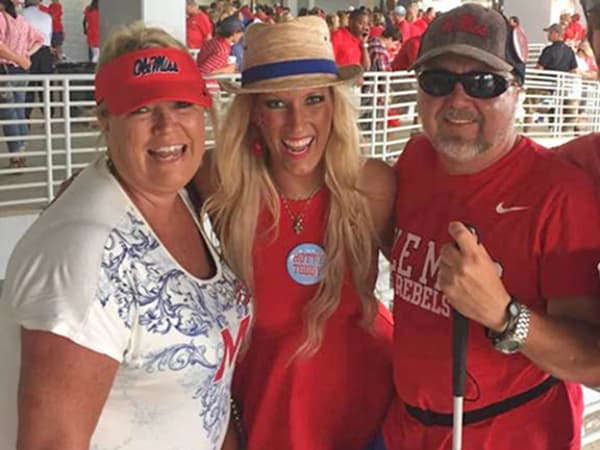 MORE: Kellum in 40th season with UM baseball | Rebs sweep Tulane with Sunday win
Dust and dirt cover the surfaces and the crevices, joining the graying letters on the plastic buttons and knobs that have weathered the elements and held a prominent place beside multiple chairs and a plethora of beverages over the years.
There's a routine and a specific station. The Bosch Power Box stereo sits at the center of Stacy Blackwell's sports fandom and transmits the voice that is synonymous with Ole Miss athletics.
David Kellum, the voice of Rebel baseball for 40 seasons, serves as the eyewitness to the action for anyone following Ole Miss from afar, describing the plays and events, crescendoing often and moving into a dull monotone when warranted.
Kellum is a peripheral figure for many Ole Miss fans. He's there as an accompaniment while they watch in person, or he describes the action, and they use past mental pictures to see a realistic version of what is taking place.
But Blackwell, 55, doesn't have the privilege of using video highlights from recent games to strengthen his interpretation of Kellum's calls. The unabashed Ole Miss fan can't recount a visual image of Ryan Rolison's delivery or Jordan Ta'amu's throwing motion. He just has Kellum's words and cadences, and he has his own ears to make sense of what's happening in Oxford or other Southeastern Conference towns.
Blackwell, a Brandon, Mississippi native, is blind.
Bright light is the only thing he sees when he opens his eyes, and while he's spent nearly 15 years captivated by Ole Miss sports, he's never seen a play or a pitch with clarity. He's never had a clear vision of The Grove or the showers in right field.
But he has Kellum. And that's enough.
"He made things for me where I can see the game just like you see it with your eyes," Blackwell said. "I see with my ears because of his announcement skills. The description and the emotion make it where I can see. I'm visually impaired, but David Kellum allows me to see."
Blackwell, ironically, has degrees from the two other major schools in Mississippi. He earned a bachelor's degree from Southern Miss and a master's degree from Mississippi State. Sports have always been a major interest, but he admits Ole Miss was an afterthought until his nephew took Swayze Field and the fan base by proverbial storm in 2003.
" I'm visually impaired, but David Kellum allows me to see."
— Stacy Blackwell
That relative is Stephen Head, the three-time Ole Miss baseball All-American, who was named the National Freshman of the Year in 2003, the SEC Player of the Year in 2004 and a Golden Spikes finalist in 2005.
Blackwell described the introduction into his new hobby as "magical" and quickly became obsessed with the start times and broadcasts for Head's baseball games.
More than a decade later, the family element is gone, but the bond remains through Kellum's voice and the emotional attachment that has taken hold with the Rebels. He picks out favorite players each season and cheers for them as if they are relatives. Colby Bortles had that honor during his career, but a firm replacement hasn't emerged in the opening weeks of the 2018 season.
"We were Bulldog supporters because I graduated from State, and when Stephen signed I wondered if I could actually pull for Ole Miss," Blackwell said. "But immediately there was just something about it. I could listen to State and USM, but it was nothing like this. I wait at my outside radio and get the voice of Ole Miss."
Blackwell's wife, Jackie, began to join him outside their house for the broadcasts. Other family members often huddle in the living area watching the television, but the couple bonds around the commercial-grade stereo system.
"Uncle Stacy is a stud," said Head. (Jackie is his father's sister) "He started following me, and it turned him from being a State fan. Ole Miss clothes are always welcome at Christmas. He's an inspirational guy, who remains active and doesn't let his limitations win."
Blackwell, who was born with retinitis pigmentosa, a degenerative progressive eye disorder, is a case manager and communications supervisor with the Mississippi Department of Rehabilitation Services at the Addie McBryde Center for the Blind. He teaches independent living skills to visually impaired students. He was a client there in 1993.
Retinitis pigmentosa is typically inherited from one's parents, but neither Blackwell's parents or grandparents have the disorder. Typical carriers experience peripheral vision issues but don't lose complete sight. Blackwell isn't a typical situation.
He was diagnosed when nighttime activities became difficult at 10 years old. Blackwell played high school football for a time before the vision reached a level to make it impossible. He could shoot basketball outside, but the gym was too dark. He drove a car until 23 years old and taught math at now-defunct Rankin Academy until 1992.
"The tunnel kept closing in," Blackwell said. "I couldn't see well enough to keep kids from cheating. They passed who knows what between them, and I couldn't catch it."
He started using assistive technology in 1996 — a year after he married Jackie. The disorder progressed past typical, and his vision became only bright light by the time Head was in uniform.
A screen reader allows him to operate a computer, he continues to play music and study rocks and minerals in his spare time. Ole Miss and rocks are the two main categories of collectibles that he shows and discusses with visitors.
But it's music that that's been a constant companion. Blackwell has spent decades -- off and on -- with Backroads, a local country music band that once won the chance to appear on the television program Star Search and, in 1991, had a serendipitous encounter that continues to motivate him today.
The head of a radio station out of Laurel, Mississippi, called Blackwell and asked if Backroads would be interested in playing for free in nearby Meridian. The radio employee urged him to reconsider after Blackwell first said no since travel and no money seemed like a bad agreement. Eventually, they let Backroads in on the secret but swore them to secrecy until time for promotion.
Garth Brooks, then a fairly new face on the country music scene, had just won the CMA Horizon Award, given to the best new artist, and he would be the Meridian headliner that night.
Brooks' manager wanted a band from outside Meridian, so he could see how his client drew without a local presence bringing in friends and fans. So, on March 9, 1991, at the Temple Theatre, Backroads opened for Garth Brooks, and Blackwell met the soon-to-be global superstar.
"One of the most powerful, exhilarating and uplifting experiences of my life," Blackwell said. Garth had a beard because he was doing the Thunder Rolls video, and I met him between the shows. He could tell I was visually impaired and I didn't have a cane or anything. The band helped me walk forward to him, and he asked me if I had a vision problem. I said that I did, and he responded, 'you've got guts.'
"He didn't have to encourage a peon like me, but he took the time, and it inspires me to this day. I have so much respect for him."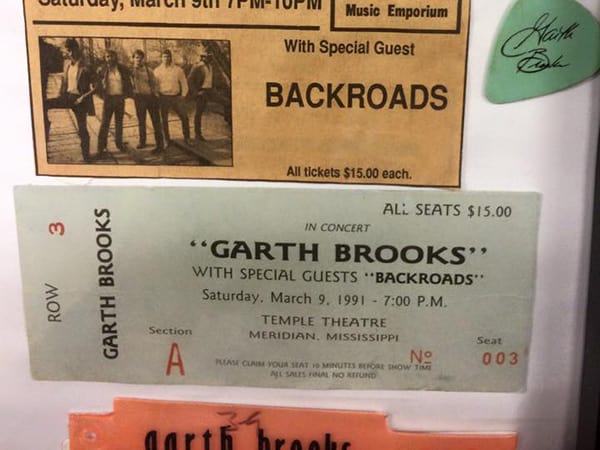 In a non-literal way, Blackwell seems to see clearer than most people. He cherishes moments and possibilities and holds memories dear. He experiences things to his fullest ability.
He loved attending Head's baseball games, and he still goes to sporting events at Ole Miss. He clips an FM radio to the back of his cap and programs Kellum into his headphones. The roars of the crowd add an extra element to his senses, but the focus remains on the Voice of the Rebels.
"'I'm telling Jackie what's going on and who's at bat or if they have holding on an offensive lineman," Blackwell said. "The audience and noise and participation are awesome at the stadium. I get my description from David and hear how others are taking in the surroundings."
He references Kellum as David multiple times during this 20-minute conversation, though they've never personally met. Blackwell mentions in the middle of a separate thought that he has probably heard as many words from Kellum as most anyone else in his life during the past 15 to 20 years.
The sports and players change, but Blackwell and Kellum remain. A chair, a radio, a love for Ole Miss. And the one-way partnership where one's eyes work for both of them. And one's ears produce a clear picture because of the other.
"The best compliment I can get is that the person feels like they are at the game," Kellum said. "I've always said I want someone to be able to see the game through my ears. I had no idea how powerful the meaning of that could be."