Ole Miss QB Chad Kelly's college career ends with knee injury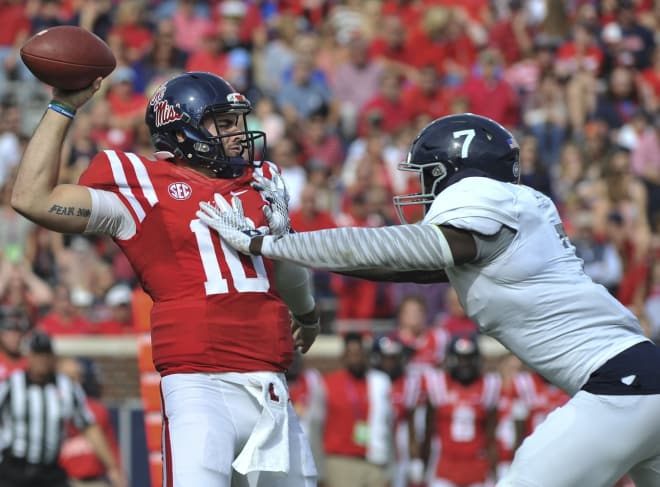 OXFORD | Ole Miss quarterback Chad Kelly suffered a torn right ACL and a torn lateral meniscus in the third quarter of Saturday's 37-27 win over Georgia Southern, three sources told RebelGrove.com Sunday.
A text left for Ole Miss coach Hugh Freeze was not immediately returned. A athletics department spokesperson refused comment before confirming the story Sunday evening.
The injury came on an incomplete pass from Kelly, intended for wide receiver Damore'ea Stringfellow. Kelly was pushed backwards by a Georgia Southern defensive lineman after throwing the ball. He appeared to grab his right knee on his way to the turf, and he left the field after standing up.
Kelly was taken to the locker room and returned to the field, however he never had his helmet and didn't return to the game. An MRI confirmed the diagnosis on Sunday.
Jason Pellerin is expected to start against Texas A&M on Saturday. The Aggies opened as a 20-point favorite on Sunday. The only other scholarship quarterback on Ole Miss' roster is freshman Shea Patterson. Freeze said Saturday it would be difficult to justify playing Patterson and forfeiting his redshirt with three games remaining. However, a source told RebelGrove.com that Patterson took snaps with the No. 1 offense during practice Sunday afternoon.
Ole Miss (4-5) needs two wins to reach its fifth consecutive bowl game. The Rebels finish the season with a road trip to Vanderbilt and a home date with Mississippi State after A&M.
Kelly has thrown for 2,758 yards this season with 19 touchdowns and eight interceptions. Last season he set the school record for total offense and had the third-best total offense season in SEC history with 4,542 yards in leading Ole Miss to a 10-3 record and Sugar Bowl win.
Kelly signed with Ole Miss after leading East Mississippi Community College to a NJCAA national championship. The Buffalo, New York, native signed with Clemson after a stellar prep career but was dismissed from the program.