Ole Miss starts weekend with win over Georgia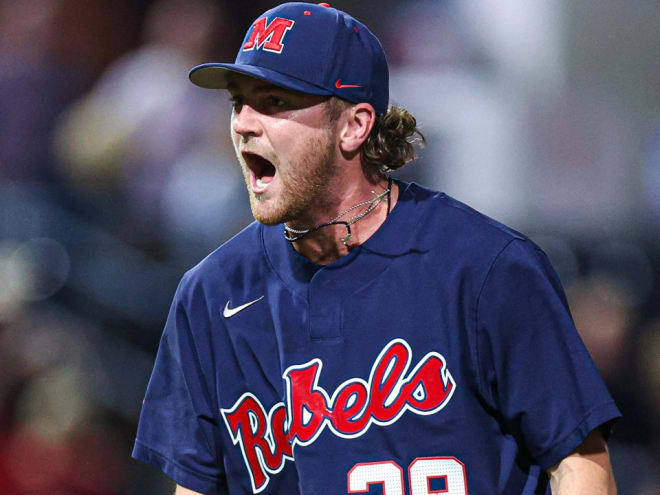 OXFORD | It looked like what Ole Miss thought Southeastern Conference games would resemble this season.
Peyton Chatagnier hit a solo home run to break a tie in the seventh inning, and Jack Dougherty locked down the late innings, as the Rebels beat Georgia, 7-3, to open the series on Double Decker weekend.
Friday was a fun reprieve for the Rebels who have struggled to find consistency in all phases during league play. The win moved Ole Miss to 4-15 in SEC games and 22-20 overall, while the Bulldogs fell to 23-19 (7-12).
"Overall it felt good to just win," Chatagnier said. "I thought we played well in all phases."
Chatagnier came in 6-for-59 in SEC action but connected on a 90 MPH fastball down the middle for a 405-foot home run to dead center. It's his second RBI this month.
The Rebels poured on three insurance runs in the eighth, highlighted by Will Furniss' RBI double. The freshman had two hits and has a hit in four straight SEC games.
Saturday's start time is now 12 p.m. because of expected inclement weather.
Dougherty, who assumed the Friday night role in Hunter Elliott's eight-week absence and missed last weekend with a sore shoulder, threw two scoreless innings to end it. It's the role Dougherty is best suited for, and the one he expected prior to Elliott's injury.
"It's a good feeling to be back in the bullpen," Dougherty said. "I miss it a little bit. To be able to do that tonight was fun."
The right-hander retired five of the six outs by strikeout, including the side in the ninth inning.
"All that we've been through, to get someone with some confidence at the end," Mike Bianco said. "The crowd was excited to see him after missing a weekend, and it's tough to know where to bring him in. I didn't want to do it in the fifth when he couldn't finish the game and a couple times other guys were loose before he could get going.
"We had to win the game."
Ethan Lege went 2-for-4 in his first game in the two-hole, and Ole Miss had eight total hits, including two from Kemp Alderman, as well. Alderman got unlucky with a line out double play in the third inning on a ball that left his bat at 117 MPH.
Ole Miss made big pitches and played solid defense to strand Georgia runners in the back half of the game. The Rebels turned double plays in the fifth and sixth innings. The first two reached in both innings, and the Bulldogs stranded five total in those frames.
Mason Nichols got a pop up and two strikeouts after the first two reached for Georgia in the seventh, and Dougherty stranded a runner at second in the eighth, first pumping and screaming toward his dugout after strike three against SEC Freshman of the Year candidate Charlie Condon.
Georgia stranded 11 runners and was 3-for-21 with runners on and 2-for-14 with runners in scoring position.
"We punched out a lot of guys in scoring position and didn't let an inherited runner score," Bianco said.
TJ McCants and Chatagnier walked to start the third, and a throwing error let McCants move to third. Jacob Gonzalez hit a sacrifice fly, and Lege hit a sacrifice fly with a single.
Starter Xavier Rivas struck out seven and allowed two runs in four innings. He threw 91 pitches and 53 strikes, scattering six hits and walking four. Brayden Jones, Mitch Murrell and Nichols each threw an inning. Jones allowed one run, and Murrell and Nichols were unblemished.