Ole Miss sweeps No. 10 East Carolina with Sunday rally
OXFORD | Mike Bianco wasn't sure he'd seen a more dominant relief performance than Dallas Woolfolk in the late innings.
Carson Klepzig broke up a double play with a slide to keep an inning going. Nick Fortes came off the bench to make multiple critical plays behind the plate. And veterans and regulars continued to chip in like they had all weekend.
In a long, see-saw game, Ole Miss' mix of young and old stayed the course and then closed the door on East Carolina, winning 8-6 and sweeping the series against the No. 10 Pirates. The Rebels (3-0) trailed at different points of all three games but go into Tuesday's home date with Arkansas State with an undefeated record.
It's the first time Ole Miss has swept a top-10 team at home since LSU in 2010.
Ole Miss trailed by four runs after the top of the sixth, as East Carolina (0-3) batted around and broke a tie game. With the Rebels already won the series, it seemed as though the Pirates were poised to steal the finale. But instead the Rebels put up five of their own and added an insurance run in the seventh.
Then things temporarily fell part until Woolfolk put them back together.
East Carolina loaded the bases with no outs after Kyle Watson and Ryan Olenek ran into each other in left field on a fly ball to allow the leadoff batter to reach, followed by a single and a walk.
Woolfolk, who pitched a scoreless inning on Saturday, used mid 90s fastballs and enough sliders to strike out the side. He also struck out two in the ninth and earned his first save of the season. There, in the eighth, facing the top of the ECU order, fastballs set the table, and his last pitch of the inning was an 80 MPH slider that froze Eric Tyler, who had two hits on the day.
"You bring Dallas in, and I don't know if there can be a more dominant performance," Bianco said. "I don't know if there can be. With the situation and the talented team he's facing, to strike out five of six in that part of the lineup. Just tremendous."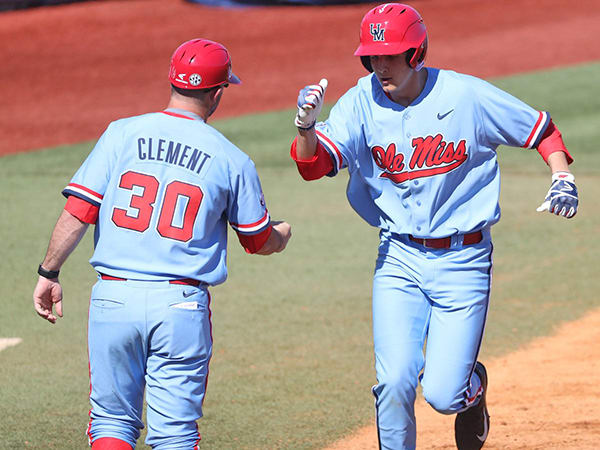 His heroics were set up by a spontaneous comeback. After ECU took the 6-2 lead in the sixth with four hits in the inning, Ole Miss loaded the bases with one out, and Cole Zabowski hit a two-run single to cut the deficit in half.
Zawbowski also hit his first career home run in the second inning and had four RBIs and two runs scored on the afternoon. The freshman had never been to a game at Swayze Field before his debut Friday night.
After another walk, Klepzig entered the game as a pinch runner and slid hard — and legally — into second base to break up a double play and keep the inning alive. Ryan Olenek doubled a batter later and brought in the final two runs in the inning, as ECU lost focus on the runners.
"Klepzig was the fastest guy on the bench, and it was a tough turn (at second)," Bianco said. "He did everything legal, but the biggest thing was getting there so quickly."
Freshman Grae Kessinger got the first three hits of his career, and Thomas Dillard scored twice.
Ole Miss used five different pitchers, who hung in through the first seven innings. Starter Brady Feigl allowed nine hits and five runs — four earned — but pitched into the sixth before giving way to the bullpen. Ryan Rolison and Greer Holston made their career debuts, and sophomore Connor Green pitched for the first time this season.
"It was a tough one for (Feigl)," Bianco said. "The first inning didn't exactly go right, and it took some gas out of his tank."
Ole Miss had 10 hits and went 3-for-9 with runners in scoring position. ECU was 7-of-20 with runners on but only 4-of-15 with them in scoring position. Each team had two two-out RBIs.
Catcher Cooper Johnson back-picked a Pirate runner at first base for the second straight day, and the freshman also threw out a runner at second on a breaking ball in the dirt. Ole Miss pinch hit for him in the sixth, and Fortes ended an inning with a nice catch in foul territory and also corralled a couple errant Woolfolk tosses in the eighth inning.
Ole Miss ran East Carolina starter Trey Benton in the second inning and survived 3.1 shutout frames from All-American reliever Joe Ingle. After Ingle's exit, Ole Miss scored six runs over the next 1.2 innings.
"They are all good when you win them," Bianco said. "I'm proud. So much had been said about the young team and not many older guys but everybody played well. It's just one weekend but proud of how we handled a lot of things. We made mistakes… but for the most part we handled the pressure."