Ole Miss won't be the college baseball destination for Bianco's sons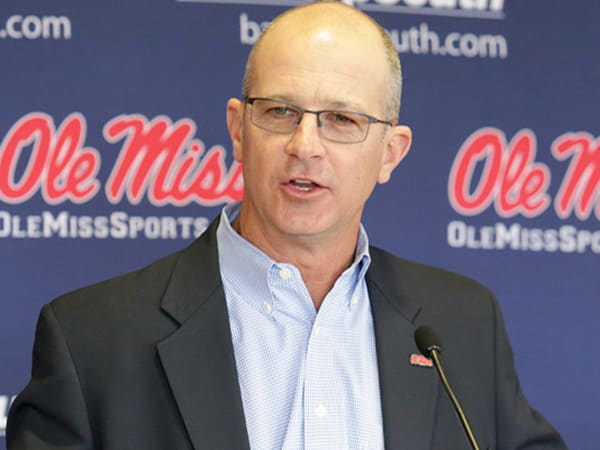 OXFORD | Ben Bianco and Drew Bianco don't know where they are going to play college baseball.
But it's known where the brothers — and sons of Ole Miss head coach Mike Bianco — won't play at the next level.
That was decided approximately 15 years ago.
Mike Bianco and his wife, Cami, concluded when he took the job in 2000 none of their sons would play baseball for their dad at the collegiate level. So, while Drew, a sophomore infielder at Oxford, and Ben, a junior catcher with the Chargers, have the talent to be recruited by upper-level schools, the destinations will be elsewhere.
"I'd like them to go somewhere where they make it or don't and sink or swim on their own," Mike Bianco said. "They don't have to be the coach's son. You're not playing because you're the coach's son and you didn't fail because you're the coach's son. Let them be Drew Bianco and Ben Bianco and (youngest son) Sam Bianco.
"This is a small town and a great town. This is obviously one I think a lot of, but these are my boys. I think for them to get as athletes the true college experience they need to experience it somewhere else."
Ben Bianco, 500th nationally and a 9 out of 10, per Perfect Game, had labrum surgery on Tuesday that will sideline him for the rest of the season, but he alternated Oxford catching duties with top 100 prospect Thomas Dillard prior to the injury. He was hitting .385 with four extra base hits for one of the top high school teams in the country and the defending 5A state champions.
Drew Bianco, the No. 99 player nationally in his class, per Perfect Game, is second on the team in total bases and stolen bases and profiles as a middle infielder at the next level.
Bianco's oldest son, Michael, played at Delgado Community College.
"I've always gone back to if they're good enough to play here they are good enough to play anywhere," Mike Bianco said. "I want them to make their marks on their own. I don't want them to always be the coach's son in the different areas of their college life. One, how many times will you have to answer that question. Not just beat writers here but when you play other teams and you are the coach's son.
"I'm confident that my coaches and I could evaluate my boys and decide if they are good enough to recruit or play here. We could handle it, but it's something my kids have had to deal with their whole lives. When they are 10 years old playing in Tupelo or Jackson, and they have Bianco on the back of their jersey. There are advantages to it, but there are also disadvantages. The point is that's coach Bianco's boy. Coming here they never get away from that."
Bianco sees the biggest drawback as seeing his kids play sparingly or not at all compared to daily on his own field, though since the high school seasons coincide with many of Ole Miss' games, he's often only hearing secondhand accounts or trying to catch the games on the radio or Internet.
Last season during a road trip to Arkansas State, the Ole Miss bus listened to Ben Bianco hit a two-run walkoff home run to beat New Hope in the state playoffs. Bianco joked that the entire bus, except infielder and New Hope native Will Golsan, cheered the radio call.
"The thing that will stink is they are going to play Division I baseball somewhere and it's not going to be here, and I won't get to see them," Bianco said. "My wife would see them here every single game, but she'll be like most of our parents where she goes on the weekends and sees them as much as she can. To me that's a very selfish reason to think of all the things and really the worst thing is I won't get to see them play."
There have been examples of sons prospering under their head coach fathers in college and obviously examples that have gone the other way. Bianco replaced Pat Harrison, whose son, J.T. was an infielder at Ole Miss and shared time with Ole Miss athletics legacy Chris Lotterhos, who hit 62 points higher than Harrison during the 1997 season.
The two had identical fielding numbers, and Lottheros appeared in one more game. Following the year, Lotterhos transferred to Mississippi State and was a starter for the Bulldogs' College World Series team. Harrison hit .139 and .194 his following two seasons in Oxford.
"When we first got here and coach Harrison had a son on the team and we started to pay attention," Bianco said.
Tony Delmonico played for his father, Rod Delmonico, at Tennessee until the coach was fired following the 2007 season. Delmonico led the Volunteers in runs, home runs, RBIs and walks in 2007. He transferred to Florida State and was a sixth round pick by the Dodgers in 2008.
Kyle Serrano currently plays for his father, Dave, at Tennessee, though he's out for the year with an arm injury.
"Occasionally you see it, but to be honest, you see a lot more of them not work and what I mean by that is it's not the great situation," Bianco said. I want them to go into a locker room and not be the coach's son. I want them on the field and make it on their own.
"Here they would also have to make it on their own, but they've been here their whole lives. The can go somewhere with the name on the back of the jersey where people aren't saying that's the coach's son."