On Location: Lafayette continues hot start, beats Charleston 41-8
Last season was one to forget for the Lafayette Commodores. Coach Michael Fair had to deal with the two main things that derail programs: injuries and players losing eligibility.
Both are now things of the past, and through two weeks , the Commodores are rolling after a 41-6 win over Charleston, where the only result in question was whether or not Charleston was going to score a point.
I can't help but think that this will be the last week that the "experts" fail to rank them.
1. Eric Jeffries projects as a LB at the college level
Jeffries primarily will play DE for Lafayette this season. If you didn't already know that, you clearly don't subscribe to this fine website. Lafayette needs his size and speed at the first level of defense.
He played a handful of snaps at LB on Friday night against Charleston. When he did, he didn't do so quietly.
He will play inside linebacker in college.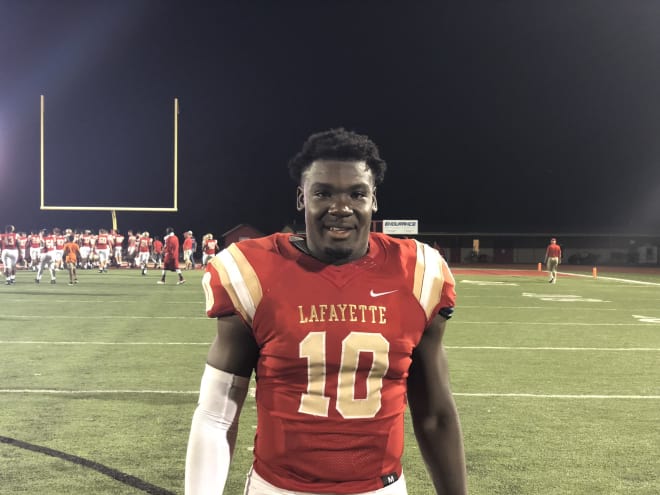 2. I never knew how much I needed 2A marching bands in my life 
I've been to over 100 high school football games since I started covering recruiting for a variety of schools. Never in my life have I seen a band like the one Charleston brought with them from the delta on Friday night.
The band had maybe 15 people, and each one of them played an instrumental role in the success (or failure) of the band.
It was fun to watch.
3. Brandon Turnage is back, and possibly better than ever
Last season was one to forget for Lafayette ATH Brandon Turnage, who missed nearly his entire junior season due to injury. Once a name mentioned with Nakobe Dean and Jerrion Ealy in discussion for the best player in the state, Turnage saw his name tumble down the rankings as he recovered from surgery.
His presence on the Lafayette team this season has been huge thus far, both on-the-field and off.
If he puts together more performances like the one he did against Charleston, his name will begin to get back up in the rankings.
He and Prince have a good relationship.
"That's my boy," Turnage said about Prince. "We've grown close over the years, he has the potential to do anything, kinda like me. I had to stay on my toes all game. We've known each other since middle school."
"I knew i had to have a big game, I knew I was going against a big opponent (Prince) and it was going to be an important matchup," Turnage said about his performance on Friday night."
4. DeAntre Prince is going to be just fine size wise
Going into Friday night's game, I wasn't sure what to make of Ole Miss CB commit DeAntre Prince. Some said he was 145 pounds, and some said he was 5-11.
I can now tell you that neither of those measurements are true. Prince is 6-1, and around 175 pounds, give or take.
Prince played nearly every snap the first-team did for Charleston, getting reps at QB, WR, CB, S, KR, and PR on Friday night.
He remains fully committed to Ole Miss, and has shut down his recruitment.
5. Lance Stewart is a D1 back
Stewart was one of the members of the team last season that were forced to sit out after transferring from Oxford High School.
As a sophomore, Stewart was thought to be the next big thing, but once he switched from blue to red, he seemed to be forgotten.
The storm that was missing his junior season was nothing like the first storm he survived, as Stewart was at one time a Katrina refugee.
On the field, Stewart has the ability to make whatever coach takes a chance on him to make them look brilliant.