Rebels Davis finding his role in crowded backfield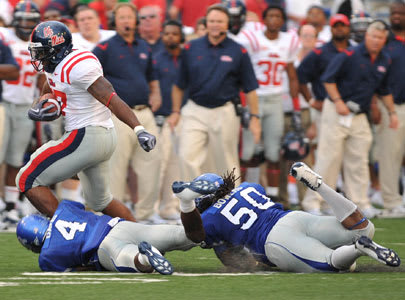 Enrique Davis
could be forgiven if he felt a bit disillusioned by now.
After all, his rise to Southeastern Conference stardom was supposed to be meteoric. Instead, when Ole Miss opened its season last weekend at Memphis, Davis was relegated to third-team duty.
The sophomore tailback made the most of it, getting 46 yards and a touchdown on six carries, a statistic that becomes even more impressive when it is taken into consideration that Davis had the flu and felt miserable on a brutally hot day.
"He's a downhill, hard-nosed runner and he hits with his pads," Ole Miss offensive coordinator Kent Austin said. "He plays hard."
For Davis, a once-heralded prospect who chose Ole Miss over Auburn, Tennessee and others, the transition to the college game hasn't gone as smoothly as so many prophesized. He played in 12 games last season, picking up 244 yards and three touchdowns on 64 carries. In preseason camp, Davis drew rave reviews from coaches, but he still hasn't gotten past sophomore
Brandon Bolden
or senior
Cordera Eason
on the depth chart.
"Enrique has progressed well," Ole Miss running backs coach Derrick Nix said. "He's come a long way. I think he'll be the first to tell you he's not where he wants to be. He's progressed from the first season that he was here. We trust Enrique. He's just not as far along as Cordera or Brandon Bolden at this point. …If something happens, injury or whatever else, he's got to go in the game and do the job, and we all feel confidence in him to go get it done."
That confidence stems from the fact that Davis hasn't gotten frustrated or bitter. Instead, he's worked harder than ever, and the results are starting to show.
"I don't really look at it like that," Davis said. "I just like at it as, whenever Coach (Houston Nutt) wants me to get in there, he's going to call my name.
"The coaches helped me a lot in the offseason. I got a whole lot better with pass protection, I feel. I can't wait to be able to show that. I'm just running the ball better (thanks to) little tips Coach (Nix) has given me and (Ole Miss strength and conditioning) Coach Deck (Don Decker) worked with me in the weight room on getting stronger and more flexible. Coach Deck did a whole lot of things for me in the offseason. I'm happy about that."
Davis worked diligently during the spring and in the offseason to improve his hands and to become a better receiver out of the backfield. A year ago, he caught just one pass for 16 yards. He also focused on ball security and focused on overcoming an injury that he refused to use as an excuse during his freshman season in Oxford.
"My ankle was always kind of hurt," Davis said. "Something happened to me at Hargrave (Military Academy in Chatham, Va.), but I got that back right. I couldn't really do a lot of stuff last year that I wanted to because of my ankle. Now, I can make my cuts and everything."
Ole Miss returns to action Saturday against Southeastern Louisiana.