Rebels fight off Murray State comeback to win in 10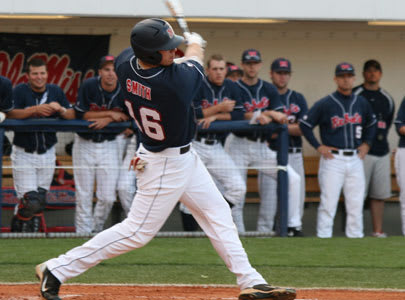 OXFORD, Miss. -- Alex Yarbrough had no home runs entering Sunday's series finale against LSU.
The Rebels' freshman second baseman now has two homers in as many games.
He also has quite a flair for dramatics.
Yarbrough, whose eighth-inning home run Sunday tied a game the Rebels won in the ninth, gave No. 14 Ole Miss an 11-10 win over Murray State Tuesday with a leadoff, walk-off home run in the 10th inning.
"I don't know what it is," Yarbrough said, laughing. "(Murray State reliever Will Handlin) hung a curve ball with two strikes and I got my foot down and saw it all the way. I stayed back just long enough."
Ole Miss won its sixth straight game to improve to 29-13. For the longest time Tuesday, it looked like the victory would be a breeze. Instead, Murray State (19-21) climbed all the way back from a 10-1 deficit with seven runs in the seventh and two more in the ninth, the latter pair coming as a result on an error by first baseman Miles Hamblin.
With the bases loaded and two outs in the ninth, Colton Moore hit a slow chopper to Ole Miss third baseman Zach Miller. Miller's throw to first forced Hamblin to stretch, and the ball bounced off his glove and subsequently hit the umpire, allowing two runs to score.
"It was a crazy baseball game," Ole Miss coach Mike Bianco said. "You have to credit Murray State for coming back. They've been struggling, and to be down 10-1 in the seventh, on the road, and to put that kind of inning together, you see all kinds and it's amazing. You don't see that very much, but I love the way we responded. Nobody really panicked."
Murray State's late rally spoiled another strong outing from sophomore left-hander Matt Crouse. Crouse gave up one run and scattered four hits and a pair of walks over six innings while striking out eight Murray State hitters.
When Crouse exited, Murray State pounced on Ole Miss reliever Jordan Cooper. The Thoroughbreds loaded the bases with none out, scored one run on a walk and then jumped back in the game when Wes Cunningham crushed a grand slam over the right-center field wall. Cooper didn't record an out in the seventh, but Matt Tracy got through the frame with no further damage and then worked a perfect eighth inning.
Bryan Propst singled off Tracy to lead off the ninth inning for Murray State. Ole Miss countered with Huber. Drew Pixley greeted Huber with a slowly-hit infield single. Daniel Hill singled to load the bases with no one out. Hodskins flied out to short right field, not deep enough to score Propst. Huber then struck out Jonathan Craycraft before Moore's ground ball to Miller resulted in the game-tying runs.
For six innings, it didn't look like there would be anything resembling dramatics. Ole Miss got on the board in the first inning with a run-scoring single from Smith. After Murray State tied the game with an RBI-double Cory Hodskins in the top of the second inning, the Rebels' offense exploded.
Consecutive doubles from Taylor Hightower, Tim Ferguson and Hamblin gave the Rebels a 3-1 lead in the bottom of the frame. Kevin Mort drove in a pair of runs in the Rebels' half of the third inning to extend the lead to 5-1. Matt Snyder, Mort and Taylor Hashman added run-scoring singles in the fourth, and Ferguson and Matt Smith hit home runs in the fifth to give Ole Miss a 10-1 lead.
The Rebels finished with 20 hits, a carryover from a strong weekend performance at the plate during a sweep of LSU.
"I thought we were terrific offensively," Bianco said.
Ole Miss plays host to UT-Martin Wednesday at 6:30 p.m. Junior right-hander Eric Callender (2-1) is scheduled to start for the Rebels.