Rebels McGee finally feeling comfortable on defense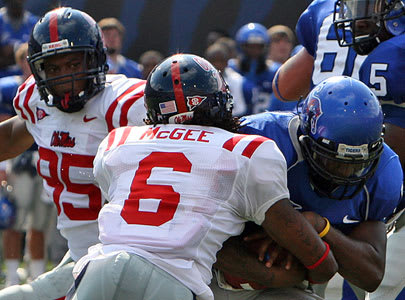 As a freshman running back at UCLA,
Jeremy McGee
never would have believed he'd one day record two quarterback sacks in a college football game.
However, that's exactly what happened this past Sunday when McGee became the bane of Memphis quarterback Arkelon Hall's existence in Ole Miss' 45-14 win over the Tigers at Liberty Bowl Memorial Stadium.
"It was cool," McGee said earlier this week, as Ole Miss slogged through an open date hampered by some 30 cases of the flu, likely the H1N1 virus commonly known as Swine Flu. "I set a lot of goals for myself this season. Last year was a big adjustment for me and it was a blur to me. I just had to get accustomed to playing defense. Now that I've had a spring and a summer camp, I feel like I've elevated my game and I feel like the sky's the limit for me. I'm more comfortable now."
McGee has gotten comfortable at the ideal time, both for his career and for the Rebels. The 5-foot-10, 178-pound junior from New Orleans sat out the 2007 season after transferring to Ole Miss. Prior to the 2008 campaign, with McGee buried on the depth chart at running back and with the Rebels suffering from a dearth of cornerbacks, McGee was asked to make the move. He played in all 13 games, recording 20 tackles and five pass break-ups, but the lack of familiarity with defense showed.
"Last year, I was thinking so much," McGee said. "I was thinking like, 'Man, what am I supposed to do?' I was thinking about my assignment on everything on a play. I was just so confused last year. As the season progressed, I started to get a little bit more comfortable each and every game, but as of now, I'm comfortable. I know there's room where I can improve, but I see that I have a read and I'm on it as opposed to last year when I'd hesitate and then get there."
McGee is one of four game-ready cornerbacks on Ole Miss' roster, joining converted wide receiver
Marshay Green
,
Cassius Vaughn
and
Marcus Temple
. Given the proliferation of three-, four- and five-receiver sets being used by offenses, all four players are incredibly valuable. McGee's value could be increasing as he's a candidate to help out some at safety if the Rebels get into a pinch. Only three safeties _
Kendrick Lewis
,
Johnny Brown
and
Fon Ingram
_ played at Memphis.
"I think I could play (safety)," McGee said. "It's just learning everything and transferring it to the field. I feel like if they just teach me my assignment, I can go out and do it on the field."
For McGee, it's all about comfort. Comfort breeds confidence, and for McGee, that has led to happy times.
"I've been a running back all my life and I never played defense, so it was a big adjustment for me," McGee said. "I'm used to having the ball in my hands as opposed to going to tackle the ball-carrier. Having that year and getting used to playing defense, I'm comfortable with it now.
"I think, as a whole, it's the best thing that could've happened to me. Me coming here and transferring and sitting out that year and getting this coaching staff in and them taking a chance on me and moving me to defense, I felt like that was the best move for me and I'm really enjoying it now."