Rebels open SEC Tournament play with Auburn on Tuesday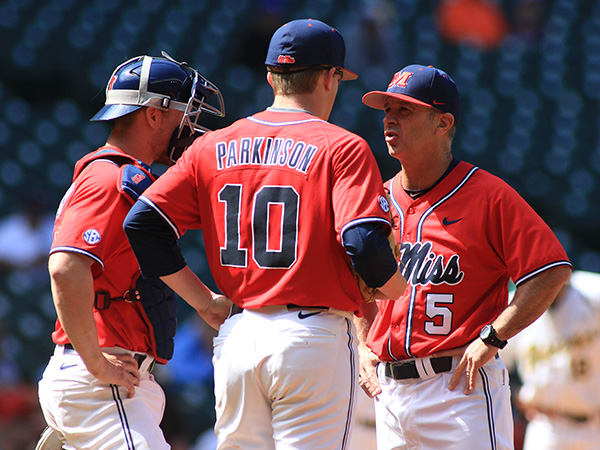 Ole Miss and Auburn will meet for the fourth time in a week on Tuesday in the SEC Tournament.
The Rebels, who clinched the No. 9 seed with a 7-4 victory at Auburn Saturday after losing the first two games of the series, play the No. 8 seed Tigers at 4:30 p.m. on the opening day at Hoover Metropolitan Stadium.
The winner of the single elimination round plays No. 1 seed Florida in the same time slot on Wednesday, as double elimination begins and runs through Friday before the semifinals and final are back to single elimination.
All games are on SEC Network until the Sunday final is on ESPN2.
Four-seed Arkansas, five-seed Mississippi State and 12-seed Georgia are also on that side of the bracket. Arkansas also has a bye. The two Bulldogs meet in the final game on Tuesday.
Ole Miss (32-24, 14-16) enters the SEC Tournament with the No. 32 RPI and the No. 7 strength of schedule nationally. The Rebels are 13-20 against the top 50 and 16-20 against the top 100. Auburn is at No. 43 in the RPI.
The Rebels are somewhere on the NCAA at-large bubble, though a win Tuesday would let Ole Miss get a neutral site matchup with No. 3 RPI Florida. The under .500 SEC record also requires the Rebels to watch scores from around the country.
"Ole Miss has some positives, but Tuesday is important… because you wouldn't want to be 14-17 in the league after that loss and exit in a day," said Kendall Rogers, national writer for D1Baseball.com. "They need other conference tournaments to be won by the favorites, especially the Southland."
Southland members Southeastern Louisiana and McNeese State — RPIs 27 and 34, respectively -- are in the mix for at-large spots.
Ole Miss is 2-2 on the first day of the SEC Tournament since the league switched to the single elimination opening day format. The Rebels had a first-day bye in 2014.
The Rebels are 33-37 all-time in the event.