Swayze Stories: Ole Miss, Oxford & one of college baseball's best stadiums
OXFORD | Oxford-University Stadium's latest upgrade debuts Friday when Ole Miss hosts Wright State to open the season, four days before the 30th anniversary of the first game at Swayze Field.
Player amenities and a premium seating area above the right field stands highlight this latest expansion of a structure that has become a beacon for the progress of a program and evidence of a prospering town being validated in a difficult decision more than three decades ago.
Some luck and a lot of cooperation and forethought brought Ole Miss into the modern baseball stadium tier in the back half of the 1980s, and multiple administrations have worked to elevate the experience for fans and players, as winning under Mike Bianco has been the catalyst to keep the Rebels' venue among the nationally elite.
The City of Oxford made a bold move, and a group of Ole Miss baseball supporters believed in the possibility of more than a dilapidated complex and second-class status as it pertained to college baseball in Mississippi.
This is that story and accompanying anecdotes, told by the people involved, as Ole Miss went from broken wooden bleachers and no bathrooms to approximately 7,000 season tickets and an example for other universities.
All comments, unless otherwise noted, were made within the past six weeks, and some have been lightly edited for clarity. This is the story of Swayze Field.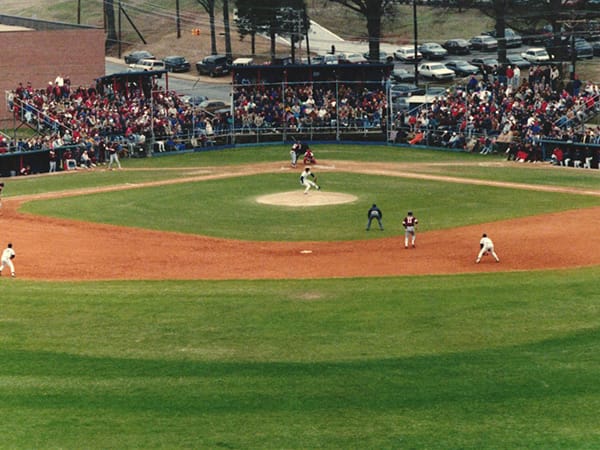 A BROKEN-DOWN PARK AND A DREAM
Jake Gibbs, Ole Miss baseball coach from 1972-1990: "Old Swayze was all we had, and there wasn't much to it. Every year when fall baseball ended I had to go out there and check the bleachers and I'd go tell the athletic department which wood boards we had to replace. We'd replace 20 or 30 boards each year that were broken or rotting… Even then I didn't make an excuse but it was time to do something."
David Kellum, voice of Ole Miss baseball: "They had a wooden open press box with a roof. The first year or early on I was setting up to the right of the box during the cold days in the elements and then I decided to move to the left-hand side because the press box would block wind except around my feet. Stan Sandroni, who was at Delta State at the time, asked why I flip-flopped home and visitor radio. I told him I'm cold all year. He just comes once. And there wasn't a bathroom at the stadium. You had to go across to the street to academic buildings."
Will Lewis, owner of Neilson's Department Store: "I was one of several around here that saw the success Mississippi State was having with baseball — not only on the field but the stands too — at the time and that's when we were playing in this dump up there. Us baseball fans and the Bullpen Club knew we had to do something."
Archie Manning: I had firsthand knowledge of how it was because I played baseball there. I played baseball on the same field where I played freshman football. Every way they say it was needed is true. Freshmen football being played on the outfield tells you all you need to know about what kind of shape it was in at times."
Gibbs: "In about 1978 or so we went and bought hard plastic blue coverings to put on top of the wood. For what it was, it looked nice enough. We had no watering system to water the infield or outfield except for a rainmaker that could water some of the outfield. The administration gave me $15,000 for plastic on seats and an infield watering system. That was about it as far as renovations or upgrades."
Gerald Turner, Ole Miss chancellor from 1984-1995 and current president at SMU: "Old Swayze Field was in terrible shape. It was an erector set, just a bunch of metal and wood."
THE 'BASEBALL TAX' THAT KEEPS ON GIVING
With money in short supply and the need for a new baseball stadium gaining traction in more and more corners of the university and town, Oxford — in 1986 — proposed a two percent tax on all gross restaurant sales of food and alcohol in the city limits. Corinth, Warren County and Natchez had similar taxes in place at the time.
In a legal battle with clear lines of supporters and detractors, the proposal wound through the Mississippi legislature and local government for more than a year. Finally, in August of 1987, the extra tax went into effect. The resolution ordered that $200,000 of the tax revenue annually be used toward a new Ole Miss baseball stadium for a period of 10 years. All additional revenue from the tax annually was to be used for tourism or related activities.
History is on the side of the supporters from a success standpoint as the tax generated $339,500 ($743,161.52 factoring in inflation) in 1987 and $3,101,048.31 in 2017. However, the tax itself and the main reason for the added charge came under major scrutiny throughout the process.
Pat Tatum, Oxford alderman (1981-1989): "(Representative) Ed Perry was the one who shepherded that thing through the legislature, and he was a great proponent for Ole Miss and Oxford. (Athletics director) Warner Alford approached the city and he and (mayor) John Leslie figured out a way to present that thing and get most people on board. There was opposition to it because the restaurants and bars weren't happy with the increased cost to customers. Also they had to fool with it and add the two percent to tabs and render tax statements."
Lewis: "The good thing was Ed made it perpetual. We don't have to go back and get it renewed and some other towns do that. That's very good because you don't want to chance it getting taken away. The real lesson with the whole thing is what a tremendous success the tourism tax has been. The money was supposed to retire the bonds that built the stadium but that's a small part of what it has brought in."
Turner: "We loved the concept of just building it, but we couldn't raise enough private support without help. We got to talking about instead of just for Ole Miss, why don't we make it for the whole city? We basically told the city if they do this eventually the baseball stadium will be paid off and you'll have all that money. It was harder than we hoped it would be."
Professor Robert Ellis, in The Oxford Eagle on March 31, 1986: "A new baseball facility is not going to bring in tourism. Look at (Tad Smith Coliseum). How many times has it been filled this year? The same thing is true with a baseball stadium. The only way to get a winning crowd to a baseball game is to have a winning baseball team."
Former mayor John Leslie, quoted in The Oxford Eagle on March 31, 1986: "Most of the people that have objected to it have objected to the choice of baseball. A lot of people are wondering why we don't use the money to subsidize professors' salaries or build a physics center. Well, it's because we don't have the latitude to do that."
Physics professor Tom Marshall, quoted in The Oxford Eagle on March 31, 1986: "At a time when things are obviously hard for the university, I certainly appreciate everything the city does to help the university. But of all the things you might choose, this is a slap in the face. The academic part of the university is suffering and now the city decides, 'Gee, we're going to give you a new baseball stadium."
Neil White, then owner of (weekly newspaper) Oxford Times quoted in The Oxford Eagle on March 31, 1986: "If you don't think a baseball stadium is a draw, then you've never been to Starkville, Mississippi. There's nothing else a city can do to get a return on its money than build a baseball stadium."
Tatum: "It got a little uncomfortable a time or two in a public hearing with voiced opposition. There were local consumers kind of pissed off about it because it increased their costs to go out and eat and drink. But Leslie would convince people that it's all the students' mothers and fathers and out-of-towners that would pay it. He'd tell us locals don't eat and drink out that much anyway. So you look up and he'd persuaded all the decision-makers."
Oxford Board of Aldermen Meeting Minutes from 1986: "On or before May 6, 1986, written protests against levying the Sales Tax containing 1,077 names of qualified electors were presented to the City Clerk which constituted 23.4 percent of all qualified electors within the city."
Oxford Board of Aldermen Meeting Minutes from 1987: "Said Special Election of the City of Oxford, Mississippi, was held in Oxford, Mississippi, on May 12, 1987. A majority of qualified electors voted in favor of the proposition, the results of the election being 748 for and 401 against, with 65 percent voting in favor, authorizing the City to levy the Sales Tax."
Lewis: "People campaigned against it because they thought it would kill tourism. People won't go to the restaurants. I thought it was an idea that's time had come. The opposition put advertisements in the paper and had fears of it ruining tourism or ruining restaurants… Dr. (Robert) Khayat and myself and others just thought if we build it they will come. We were determined it would be a great thing and work here. It was us and Ron Bourne and (author) Willie Morris and plenty of others. Willie had a lot of presence for the press and that sort of thing. That was helpful."
Turner: "It turned into a goldmine for the city."
Tatum: "Naming it Oxford-University Stadium and leaving the door open for the city to use it also helped pass the thing. We're talking about local tax dollars going to the university and the city should have access to it. I think that was a sticking point for some of the backroom discussions. When that was put in there, it helped get it done. And it's just been occasional use. Really hasn't ever been much city use."
Ross Bjork, current Ole Miss athletics director: "It's still $200,000 a year from the tax for the university. It's a great thing, and the city is definitely getting a noticeable number each year."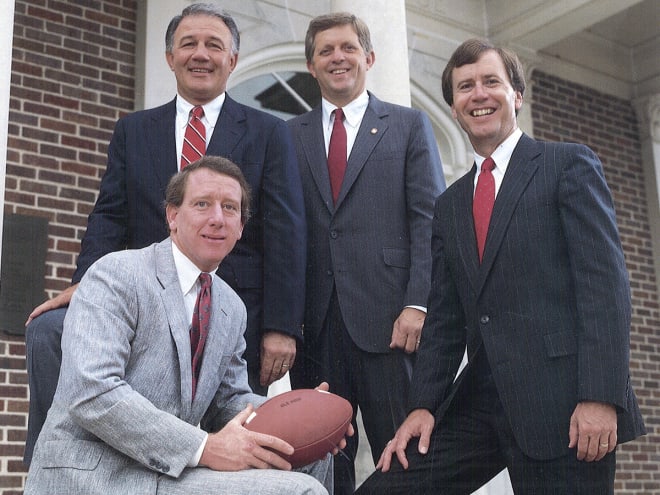 OLE MISS HAD TO DO ITS PART
When Turner became chancellor in 1984, he immediately began a fundraising campaign for Ole Miss academics. It was a success and one of the first — if not the first — private campaigns for collegiate fundraising in Mississippi.
That success turned into an athletics venture a couple years later with the Drive for Athletics at Ole Miss, a $10 million campaign that hoped to provide $1 million for the baseball stadium and additional athletic improvements to the tennis, golf and track complexes. The other major part of the campaign featured improvements to Vaught-Hemingway Stadium and plans for an indoor practice facility, the latter of which didn't occur for more than another decade.
Warner Alford, then-Ole Miss athletics director in 1988: "We've paid a price to be a Division I school. What money we might have accumulated to new facilities, we've spent adding and supporting new sports required to remain Division I. I'm glad we did it, but it meant that we've never been able to renovate or build new facilities to keep ourselves competitive with SEC schools."
Manning: "Now it sounds like such a nominal amount compared to campaigns now. When Turner went to Ole Miss he set a capital campaign for $25 million and everybody thought he was out of his mind. They had never raised money at Ole Miss. Everyone thought he was crazy, and Mississippi thought he was crazy. He raised $46 million. Then he came to me and Dickie Scruggs and asked us to raise $8 million. That seemed like all the money in the world."
Turner: "We almost had bake sales. We put naming rights for seats at Swayze for $300. I bought eight seats. You could get your name on a plaque on the seat in the stadium. A lot of people got in and helped with that. Once the case was made that public schools had to raise private dollars you saw the expansion of it."
Manning: "We were received well. We kidded Gerald that he might not have left any money. People opened their pocketbooks for him with that first campaign. He was a superstar raising money. We went everywhere for that dog and pony show. The old press box had a yellow jacket nest in one corner. Some of the media kept asking us if they built a new press area if they leave yellow jackets or bring them."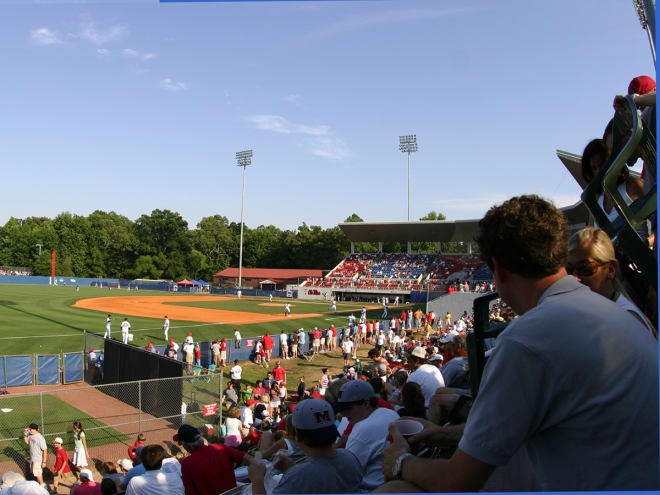 A STADIUM SITE BETTER THAN PEOPLE REALIZED
With the financial aspect secured and the public outcry calmed, Ole Miss put the concept and rendering into reality. Instead of demolishing and rebuilding on site in the middle of campus where The Pavilion currently sits, Ole Miss placed the new stadium on the ground that was once the University High School football field.
The bottom of the valley framed the field well, though extra work was necessary to level a drop-off area that would become the first base side. The stadium sits on the campus-city border, and it's become a flagship landmark as construction continues in that area.
Gibbs: "One of the reasons we put it there is they were raising money for a National Center for Physical Acoustics building. They picked out the spot where the baseball stadium was, and we had to find a place to build a ballpark. After we got started and building the field they decided it wouldn't be a good place for acoustics because of something about bouncing sound off the football stadium. They changed the plans (it's built close to Tad Smith Coliseum.) Acoustics helped us get a great spot."
Kellum: "When they first made the announcement I told my dad, who had played football there, about it. He said it's the coldest spot in Lafayette County. We know now that he wasn't lying."
Tatum: "The high school field where Swayze sits was called Legion Field. You'd come down where that driveway is right behind the stadium and scoreboard. That was the entrance to the old high school field. I played football there. We moved to the new high school — from University High School to Oxford High School — in the 60s."
Turner: "We needed to move more things on that side of campus. If you looked at what was possible we had that berm on the left side by Old Taylor Road. It was a natural place to put it. Plus we could continue to play at the old park during construction."
Gibbs: "We wanted all chair back seats, at least a good Triple A lighting stadium. Some of the administration went to Texas to look at their park and it didn't have a roof but I kept throwing my two cents in and eventually we got the roof. And then I wanted a blue fence like we have now, but the board went with a green fence which was standard back then. Don Kessinger got them to paint it blue."
Gibbs: "I wanted the outfield to be 400 feet and the lines to be long and a 375 alley. I wanted a pitcher's ballpark. It was deep. You win in this league with pitching, and I brought pitchers in on recruiting visits the first year and took them to the mound. I'd tell them to look how far the fences are out there. It was a talking point with recruiting, especially when you talk with pitchers. No cheap home runs."
Don Kessinger, Ole Miss head coach from 1991-1996: "I asked about the fences and they said it cost too much. Our guys got defeated in batting practice. Pat (Harrison) came in and wanted it, too. They just said no. Mike (Bianco) came in and they finally did it. With the way he was winning it was easier to get that done."
Gibbs: "With the field being down in that hole they went down and dug down to really good soil and put in drainage pipes. You can get a hell of a rain out there and still play in 30 minutes. It's always drained that way. That park is sitting on about 13 inches of good sand. That's why it drains as well as it does."
Keith Kessinger, who had the first Ole Miss hit at Swayze Field: "There was tremendous excitement as it was being built to know you're going to get an opportunity to play in that new stadium in 1989. I remember multiple days driving in the left field parking lot and looking at it. It was a remarkable upgrade."
Mike Bianco, Ole Miss head coach who first saw the stadium as an LSU player in 1989: "My dad tells this story from when I was a senior at LSU. I went home from Ole Miss and told him that he needed to see this park and what an amazing stadium it was. It was my first trip through the SEC, and they have this beautiful setting and iron gates and one of the nicest places I'd seen. He remembers me offhand mentioning that it was the type of park a coach could recruit to and win at."
Kellum: "I went to the bathroom twice in the first two innings just because I could."
Bianco: "When I was an assistant at LSU I'd seen it a few times and started to appreciate it. They did it right. The setting makes it unique in this valley with Faulkner's woods. There are a lot of nice stadiums in SEC but, with the ones at the top, ours may have the best setting. People say some parks are nice but look like pro parks. Ours looks the most collegiate. You know when you're at Swayze Field you know it's an example of a great college environment."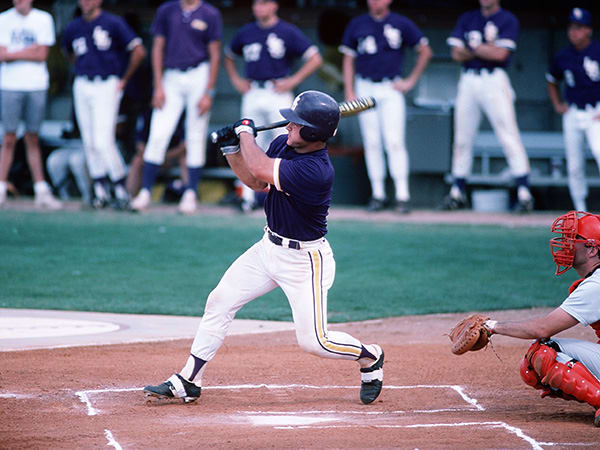 TIM, TUG AND WHITEY USHER IN NEW STADIUM
Swayze Field officially opened on February 19, 1989 with a 4-1 win over Cumberland. Darren Musselwhite threw the first competitive pitch, and Cumberland's Jon Franklin scored the first run.
There were 1,016 in attendance for the frigid first game, but the most notable series of the season came two months later when Kentucky visited for a weekend bookended by special occasions. The series opener, on Saturday April 22, featured the stadium dedication with Manning and Yankees Hall of Famer Whitey Ford in attendance.
Two days later, ESPN broadcasted its first-ever baseball game from Oxford, sending play-by-play announcer Tim Brando and former MLB pitcher Tug McGraw to Swayze for the series finale between the Rebels and Wildcats. Tug McGraw brought along his son, Tim, at the time a college student at Northeast Louisiana (now ULM) with the dream of one day becoming a country singer.
Gibbs: "I called Whitey because I knew we couldn't get Mickey (Mantle), but I knew Whitey would be good to do it. Whitey asked me on the first phone call, 'What is everybody going to be wearing?' I said, 'Well, a sports coat and a tie, maybe. It's going to be dedicating the field.' He got down here and it was hot as hell. Whitey threw out the ball, and he was the only one — out of the governor and chancellor and me and others — that had a coat and tie on. He ribbed me about that for years, about how he had to sweat and be out there dying."
Whitey Ford quoted in the Oxford Eagle on April 25, 1989: "Jake works at Mickey Mantle's and my fantasy camp in Fort Lauderdale and the last fantasy camp Jake was talking about the Ole Miss program and telling us about the new stadium that was being built… So I told Jake if he wanted me or Mickey to come to it we'd be glad to. he said he would, but at the last minute Mickey couldn't come, so I told Jake I'd still be glad to come."
Turner: "It was a proud moment when we had the official opening of it. Whitey Ford was there. I still have the ball. When I was growing up he was the ace, so to see him in attendance was neat. (Jake) and he had played together and he got him there."
Langston Rogers, longtime Ole Miss media relations director: "We had the best lights in the country at the time with the Triple A lighting. That was a big thing to make sure we had with the new stadium. It made us really attractive for television."
Keith Kessinger: "You didn't know if it was day or night. They were significantly better than they had to be, basically Big League level.
Tim Brando, ESPN talent from 1986-1994: "Major League Baseball was coming to ESPN the next year to start Sunday Night Baseball and they were auditioning analysts for that by using them for college baseball in 1989. I knew Tug was a big personality and they tell me he's doing the game with me. But they tell me he's never called a game before.
"I pull up at the Holiday Inn the night before and Tug meets me in the parking lot. He says 'look I have something to spring on you. I only found out I have a son a few years ago, and he's coming to see me. His name is Tim, too, and it's only the second time I've been with him. He's a great kid, wants to be a songwriter.'"
Kellum: "A big group went to Starnes Catfish that night. It was Langston and Brando and Tug and probably others and then at the time we just knew Tim as Tug's son who he hadn't known very long. Shy but polite kid at dinner. Tug had cassette tapes and he wanted me to listen to his son. I had been in radio programming a while, and I can't remember the song but I threw it in the cassette recorder. At first I thought 'whatever someone is pushing his kid on me' and then I thought 'dang he's good.' I put it in a box somewhere in a couple years he's the hottest thing on the radio."
Brando: "After dinner Tug asked me to come to his room and he hands me one of Tim's cassettes, just wanted an opinion because he said Tim was thinking of whether to go to school in the fall or go to Nashville. It didn't take long for me to tell him I think his son's an idiot if he stays at Northeast. He needs to go to Nashville now."
Gibbs: "Tug threw batting practice for us before the TV game. We gave him shoes and a uniform and he got out there with the guys. Tug was up about same time with the Mets when I was a Yankee. He had a big time with it."
Keith Kessinger: "It was a name I knew growing up around the game. He did what pitchers do usually in batting practice. They wanted to get you out. They didn't understand the concept of pregame BP. He was out there throwing screwballs and killing our confidence."
Brando: "Tug is explaining the movement on (Ole Miss pitcher Grant Sullivan's) fastball. He deadpans to me during the broadcast 'that's a Bo Derek fastball.' I bit and played the straight man, though I was scared where it was going. We'd all seen the movie 10. 'It's a fastball with a nice little tail on the end of it,' he said. I hit my callback button to the producer and told him I know Tug is auditioning but this is my career we're talking about. I think that was the only game Tug ever called for ESPN."
Brando: "Years later when Tim was promoting The Blindside he was scheduled to be a guest on my radio show. I get a note that he said he knows me. I ask Tim how out of a zillion interviews he must be doing that day and week, did he recognize my name. He just said, 'Ole Miss,' and then he gave his account of that day. It was pretty neat, definitely a chapter if I ever wrote a memoir."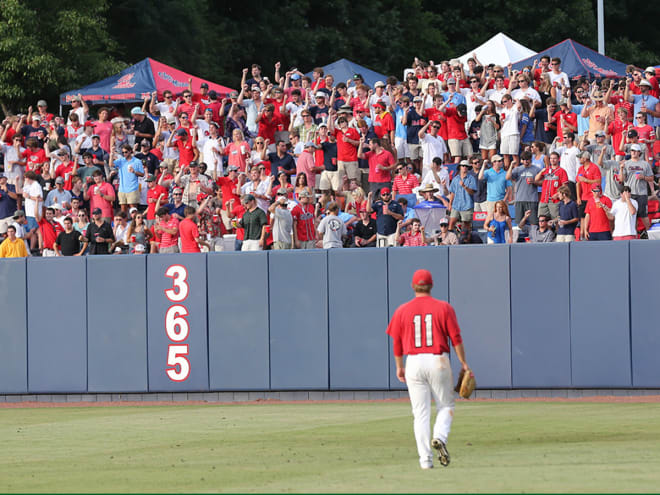 OUTFIELD SEATING BECOMES SWAYZE SIGNATURE
Swayze Field opened with just fewer than 3,000 seats which easily handled the crowds for more than a decade. Early angst had to do with the areas beyond the outfield, as the terrain made it easy to envision seating possibilities. Eventually that turned into one of the stadium's biggest draws as thousands of fans flood the outfield — students in right and the older and slightly more subdued crowd in left.
But to get to that point was a process. The rest of the stadium enlarged naturally as Bianco's tenure included immediate winning and the thirst for baseball success that Lewis and Morris and others knew could happen as early as the 80s. Small outfield seating expansions dotted the early part of Bianco's tenure, and then Ole Miss put $19 million into a massive structural expansion that was completed in 2009.
It poised the Rebels for their place as one of the top three attendance leaders nationally and set the stage for now, as Ole Miss is on the verge of selling approximately 7,000 season tickets for 2019. On Friday, the Rebels introduce rooftop seating on the right-field side, and the players received the bulk of another nearly $20 million upgrade package that features a performance area, workout facility overlooking the field, expansive clubhouse and other amenities.
But it all started with pine trees and what to do with the outfield.
Keith Kessinger: "It was just pine trees out there in left. My understanding is Ole Miss built the stadium and knew MSU had run into left field issues in a regional. Maybe Ole Miss was not going to chance that, but I don't know. I was just a student."
Gibbs: "There was a big green batter's eye in center, but that was it. No one sat in the outfield. We didn't know what was to become of that."
Orma Smith, a senior at Ole Miss in 1988: "We all wanted a Left Field Lounge area where we could sit, but they planted 700 pine trees out there, you know, where we now have the best atmosphere in college baseball. So a Saturday in May after the stadium was mostly finished but before it opened a group of us dressed in black, parked a mile away and tore them down. Loose lips sink ships I guess because we had met at The Gin and some others heard us talking about it… They arrested us and charged us with malicious mischief. We were fined $1,191 and had 40 hours of community service before we could return to school."
Gibbs: "Some weekend some folks went and cut a bunch down, and I had to go to physical plant and get trees to set out. The physical plant set them out there again the next morning."
Turner: "It's sort of like it's destined to be that way now. Attitudes about a lot of partying and tailgating and things have changed since that was going on. We had a lot of different worries you don't have now."
Smith: "We were visionaries, obviously. What would O-U Stadium be without the outfield today?"
Bianco: Almost immediately (after getting hired in 2000) I knew we should expand. I always knew we would draw crowds, and that was the thing was to convince other people here. They acted like people wouldn't come to our games until after basketball was over because at the time Rod Barnes had basketball rolling. I remember convincing them to stop selling SEC package tickets because all you're doing is telling people the first four weekends don't matter.
"You don't just make a bigger stadium because it'll help recruiting. You do it because you need it. The biggest things that led to expansion is we sold out all the grandstand seats in the original stadium four years in a row. Doesn't take a smart businessman to realize we needed more. It was also the time we'd hosted four regionals in a row, and that pumps your season tickets up because people want those tickets guaranteed. It's also easier to get things done in college athletics if they generate revenue. It's much harder to get locker rooms and meeting rooms but things where you sell tickets and make money, you can get that done. We were a sure bet."
Lewis: "Everything about it is tremendous now. We watched the growth and the excitement. We weren't the smartest people, but we believed baseball could be big here. It took a while, but we were proven right."
Bianco: "They had some nervous energy about the club level and would we sell those seats, but kudos to (former athletics director) Pete (Boone) because I would have put suites up there and boy that would have been a mistake. Now you please 875 fans instead of four suites where corporate people buy them and no one sits in them. It's the smartest thing we did in that stadium in 2009 because it made us operate in the black. And there was a need for it. Now we have a waiting list for those seats."
Bjork: "We're a profit program. There aren't many of those, but a lot of people have contributed to it becoming one."
Kendall Rogers, national writer for D1Baseball.com: "Ole Miss has long had one of the premier atmospheres and setups in college baseball, but the era of expansion is here. Everyone is always building and Ole Miss is no exception. You have to keep up and Ross Bjork wants to be in front of it."
Carl Lafferty, Ole Miss recruiting coordinator: "One of the benefits of the aesthetics of Swayze is where everything looks like original construction. Even down to the brick colors. You can't tell what's been added on and what has been there 30 years."
Bianco: "With this latest expansion almost entirely for our players, they hadn't been neglected at all, but it was a bit of an afterthought. Finally we got to that point after the College World Series in 2014 that we were way behind. No one knew that because it's underneath and no one saw it. If you look at locker room and player amenities and we may have been last and if we're not last then we're 13th in the league.
"But it's tremendous. One of the first days after it was complete it was raining and I saw Grae Kessinger take a bat and walk toward the new building. He was going to the training room and then to the indoor cages and he could get a workout in — all without walking in the rain or leaving this one area. And it's all first class. As he walked away it hit me that I was looking at exactly why we did it and needed it."
Turner: When I'm back in Oxford I drive through campus and when I see Swayze I'm proud of the work we started. We don't have baseball at SMU, so I really miss it. We built a great facility, but it's even a greater facility. It's evidence of what work and success and coming together can do."