McCready: 10 Weekend Thoughts presented by Harry Alexander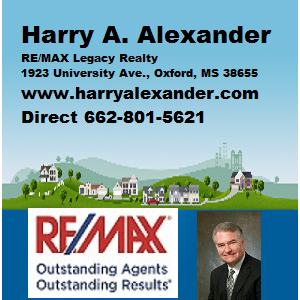 Happy Sunday.
So I begin this exercise on this day at 7:56 a.m., the first Sunday in a while with no football to fill some of the spots in this piece of content.
Carson has a game at noon in Southaven. The Cubs and Braves should be rained out, but after's Saturday's tilt with Mother Nature, who knows? The Thunder play Game 1 against the Jazz at 5:30 p.m., so I'll be all over the place today.
Therefore, I apologize in advance if 10 Weekend Thoughts is even worse than usual.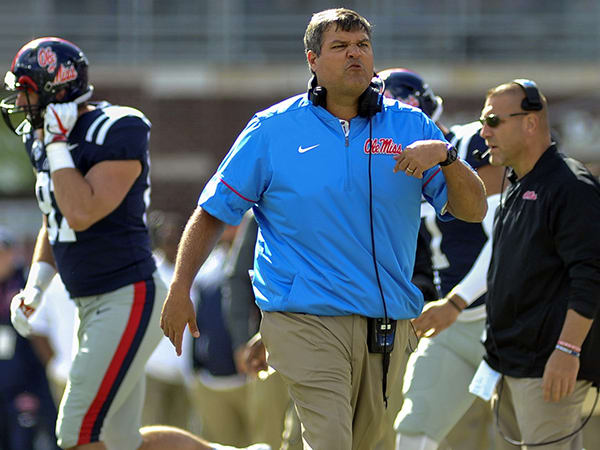 1. I get asked all the time how I think Ole Miss will do in the fall.
I've learned there's no good way to answer that question. If I'm conservative with my guess, I get labeled a homer. If I'm pessimistic, I get labeled a hater.
My philosophy has always been put the wins on one side, the losses on the other and split the toss-ups down the middle. That usually comes awfully close to the real thing. I have found that is often not satisfactory either. Fans want to debate individual games. So today, because I'm a glutton for punishment, I'll do both. I'll do my win-loss-toss formula and give my sure-to-be-wrong/I-reserve-the-right-to-change-these predictions for the 2018 football season.
First, the win-loss-toss formula:
Wins:
Southern Illinois
Kent State
ULM
at Vanderbilt (iffy, but I lean towards a win here)
Losses:
Alabama
Auburn
at Texas A&M
Toss-ups:
vs. Texas Tech (Houston)
at LSU (lean loss)
at Arkansas (Little Rock)
South Carolina
Mississippi State
The result: 4-3 with five toss-ups. Split them and you get 7-5 or 6-6. Some will, undoubtedly, argue with me about making Texas A&M a loss. Others will argue Arkansas should be a win and not a toss-up. Others will argue LSU, with its lack of quarterback play, is a win. My response: You could well be right. We'll see.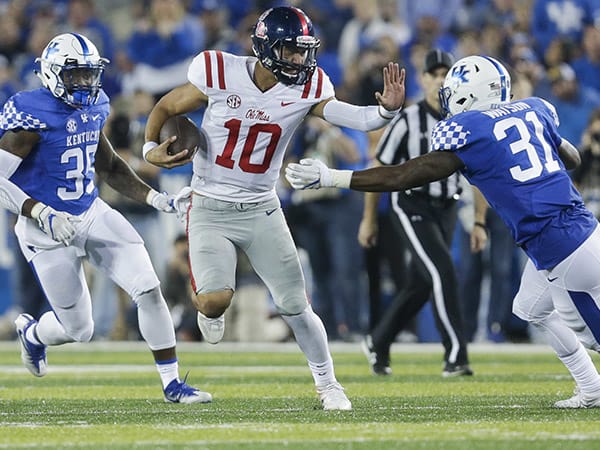 2. As for the game-by-game, here's my best guess here in the middle of April:
Sept. 1 vs. Texas Tech (Houston) -- This one promises to be a shoot-out. Both teams should be able to post huge numbers, and both teams enter the fall with all sorts of defensive question marks. I've got some SEC bias here, as it seems the SEC team almost always beats the Big XII team in these contests when both clubs are basically even on paper. I'll call it a win.
Sept. 8 vs. Southern Illinois -- Win
Sept. 15 vs. Alabama -- Loss
Sept. 22 vs. Kent State -- Win
Sept. 29 at LSU -- Look, the Tigers are a mess at quarterback. An absolute mess. If the football gods came down and told me one SEC West team completely fell apart this fall, I'd assume it was LSU. Still, Ed Orgeron's team is talented, and the early date means the collapse likely won't have begun when Ole Miss gets to Baton Rouge. It's close, and I wouldn't be at all shocked to see Ole Miss win, but I'll call it a loss.
Oct. 6 vs. Louisiana-Monroe -- Win, but pay close attention to the Warhawks' sideline. Those young men from my alma mater are gentlemen, scholars and the future leaders of this world. ULM today, ULM tomorrow, ULM forever. #TalonsUp
Oct. 13 at Arkansas (Little Rock) -- Here's the big swing game of the season, in my opinion. Ole Miss should be more stable than Arkansas this season. The Hogs have question marks everywhere, but they'll play with real emotion. Both teams will point at this game as a win, and the recent history of the series says fans will be entertained. I'll call it a win based on quarterback play.
Oct. 20 vs. Auburn -- Look, it's not the sure-fire loss Alabama is, at least in my opinion, but I think the Tigers are at least a touchdown better than Ole Miss. I'm calling it a loss.
Nov. 3 vs. South Carolina -- If the football gods paid me a visit and also told me one SEC team really stepped up this fall, I'd guess South Carolina. The Gamecocks are taking on Will Muschamp's identity, and I think that's a good thing. This one is a toss-up, yes, but I'm leaning South Carolina here. I'll call it a loss.
Nov. 10 at Texas A&M -- People will argue here, and that's fine. It's football, not the cure for cancer. I think the Aggies are going to be a program to reckon with now that Jimbo Fisher is in place. Ole Miss could pull off an upset here, but I think Texas A&M wins.
Nov. 17 at Vanderbilt -- Ralph Webb is gone. By the time Ole Miss gets to Nashville, Derek Mason won't be far behind. I'll call it a win.
Nov. 22 vs. Mississippi State -- See, the win-loss-toss formula works. I've got Ole Miss at 6-5 heading into the Egg Bowl to face what should be a really good Mississippi State team full of upperclassmen. Venue hasn't meant much in the recent history of this rivalry. Health has. Hugh Freeze had a couple of inexplicable no-shows in this game; Matt Luke won't, at least in my opinion. This one could go either way. I tend to think Mississippi State's superior defense tilts things the Bulldogs' way, so I'll call it a loss, but no outcome would surprise me.
3. Kudos to Kermit Davis and the Ole Miss basketball program for scheduling Butler on a home-and-home starting this season.
That's solid stuff. Ole Miss fans should be excited. A trip Indianapolis should be fun for Ole Miss fans, and the Bulldogs' return to Oxford in 2019 is a very attractive date on the schedule.
Again, kudos to Ole Miss. That's a big step in the right direction for the program.
4. Chipola (Fla.) College wing Brandon Mahan took an official visit to Ole Miss over the weekend.
Sources report Mahan's visit was great. He's down to Ole Miss, Texas A&M and Auburn and will likely make a decision this week.
Ole Miss is also hoping to hear a positive verdict from Tye Fagan, who took an official visit to Georgia over the weekend and left with an offer. There appears to be a cautious optimism from Ole Miss regarding Fagan, who signed with the Ole Miss staff when it was at Middle Tennessee.
Ole Miss' coaches will be out on the road the next couple of weeks looking at 2019 and 2020 prospects.
5. Ole Miss was swept in a doubleheader at Vanderbilt Sunday, blowing a pair of chances to win and/or sweep the series.
There's a lot one can focus on -- a ridiculous scheduling snafu by the SEC, baserunning errors, shaky defense at times, starting pitching that can't go deep in games.
However, this isn't complicated. This Ole Miss team rose to No. 4 nationally by virtue of a strong, deep bullpen. That bullpen has struggled over the past two weekends and gone just 2-4 at Mississippi State and Vanderbilt.
There's plenty of time to get well, and Ole Miss remains in very good shape to be a host when the NCAA tournament brackets are announced on Memorial Day. However, for that to happen, the Rebels' bullpen has to re-establish itself and regain its dominance.
6. The NBA Playoffs began on Saturday, so while, yes, I realize I have a game in the books in almost every series as I write this (believe me or not, it's 9:01 a.m. on Sunday as I type this), I did make my predictions on the Oxford Krystal Beer Garden earlier in the week.
You should listen. I'll have a hockey-themed Beer Garden this week with national hockey expert/old friend Josh Cooper and Nashville-based Associated Press reporter Jim Diamond this week.
Anyway, back to the NBA. Here are my predictions for the first-round series:
Eastern Conference:
Toronto over Washington in 5
Cleveland over Indiana in 6
Philadelphia over Miami in 5
Milwaukee over Boston in 6
Western Conference:
Houston over Minnesota in 5
Oklahoma City over Utah in 7
Portland over New Orleans in 7
Golden State over San Antonio in 5
Note: Yes, I fear we're headed to Golden State-Cleveland for the fourth straight year, and no, I don't think that's good for the game. However, the young Sixers are an emerging fabulous story. A Philadelphia-Milwaukee series will be a lot of fun for those of us who love and appreciate the NBA. Both Oklahoma City and Utah have the defensive chops to scare Houston, especially if the Rockets are without Luc Mbah a Moute, and if Steph Curry is out or a shell himself late in the playoffs, the Warriors are indeed vulnerable.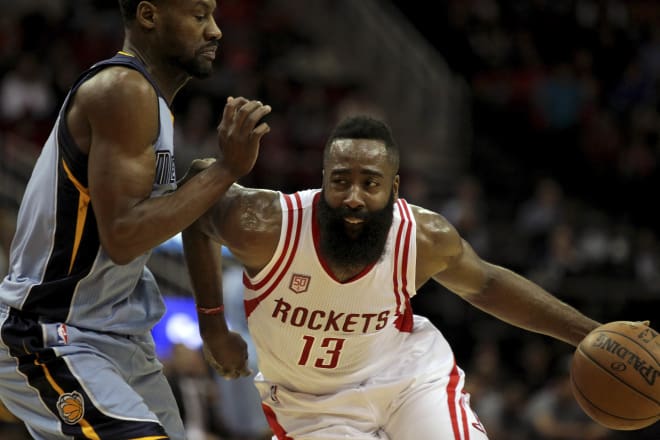 7. I, quite obviously, don't have a vote for NBA awards. If I did, however, my ballot would look like this:
Rookie of the Year: Ben Simmons, Philadelphia (It's close, and I love Utah's Donovan Mitchell, but Simmons' impact this season was remarkable. What he did at the close of the season with Joel Embiid out with an injury was simply amazing. There's a lot of Magic Johnson in Simmons.
Defensive Player of the Year: Anthony Davis, New Orleans (Look, I know Utah's Rudy Gobert will likely win, but Davis defended as a center and a forward all season. He can defend on the post or the perimeter. He's emerged as one of the league's three best two-way players)
Most Improved Player: Victor Oladipo, Indiana
Sixth Man of the Year: Lou Williams, Los Angeles Clippers (I really thought about Toronto's Fred VanVleet)
Coach of the Year: Quin Snyder, Utah (I considered Philadelphia's Brett Brown, but what Snyder did without Gordon Hayward and with injuries to Gobert and Derrick Favors was simply amazing)
Executive of the Year: Daryl Morey, Houston
Most Valuable Player: James Harden, Houston
All-NBA First Team:
G Russell Westbrook, Oklahoma City
G James Harden, Houston
C Anthony Davis, New Orleans
F LeBron James, Cleveland
F Kevin Durant, Golden State
All-NBA Second Team:
G Damian Lillard, Portland
G Chris Paul, Houston
C Joel Embiid, Philadelphia
F Giannis Antetokounmpo, Milwaukee
F LaMarcus Aldridge, San Antonio
All-NBA Third-Team:
G Steph Curry, Golden State
G Victor Oladipo, Indiana
C Rudy Gobert, Utah
F Jimmy Butler, Minnesota
F Al Horford, Boston
All-Defense First Team:
G Dejounte Murray, San Antonio
G Victor Oladipo, Indiana
C Anthony Davis, New Orleans
F Paul George, Oklahoma City
F Jimmy Butler, Minnesota
All-Defense Second Team:
G Jrue Holiday, New Orleans
G Josh Richardson, Miami
C Rudy Gobert, Utah
F Al Horford, Boston
F Robert Covington, Philadelphia
All-Rookie Team:
G Ben Simmons, Philadelphia
G Donovan Mitchell, Utah
C John Collins, Atlanta
F Jayson Tatum, Boston
F Laurie Markkanen, Chicago
8. I could argue the importance _ or lack thereof _ of spring football for days, but I know many simply can't get enough football. So, with that in mind, here are some links from the Rivals.com network from around the SEC from spring games over the weekend:
9. It was a cold day of soccer in Southaven, but spring is rumored to be around the corner. With that in mind, here's Jonathan Howard with the drink of the week:
Spring is, kinda, here. Its almost time for backyard grilling, pool days, and porch sippers. And speaking of porch sippers why don't we go over my favorite of all of them, The Sherry Cobbler, which is your drink of the week.
The Sherry Cobbler is an American-born cocktail by most accounts. A simple mix of sherry, sugar and citrus that is shaken, poured over crushed ice and slurped through a straw, the Cobbler is thought to have originated sometime in the 1820s or early 1830s. But like most 19th Century drinks, its origins are foggy.
Cocktail historian David Wondrich is credited with digging up the first-known mention of the Sherry Cobbler from the 1838 diary of Katherine Jane Ellice, a Canadian who took note of the drink while traveling in the U.S. But its great launching pad to international renown came courtesy of Charles Dickens and his The Life and Adventures of Martin Chuzzlewit. In a scene now famous among cocktail dorks, Chuzzlewit, reacting to his first Sherry Cobbler, sums up the 19th-century sentiment around the drink: "Martin took the glass with an astonished look; applied his lips to the reed; and cast up his eyes once in ecstasy. He paused no more until the goblet was drained to the last drop. 'This wonderful invention, sir,' said Mark, tenderly patting the empty glass, 'is called a cobbler. Sherry Cobbler when you name it long; cobbler, when you name it short.'"
Certainly Chuzzlewit was astonished at the drink's beauty, but also at the act of sipping through a straw—a novel concept at the time. Were it not for the Sherry Cobbler, which is credited with introducing the straw to popular consciousness, we might still be dumping ice down our chins to get to the bottom of a drink.
So what is sherry? Sherry is a fortified wine made from white grapes that are grown near the city of Jerez de la Frontera in Andalusia, Spain. Sherry is produced in a variety of styles made primarily from the Palomino grape, ranging from light versions similar to white table wines, such as Manzanilla and Fino, to darker and heavier versions that have been allowed to oxidise as they age in barrel, such as Amontillado and Oloroso. Sweet dessert wines are also made from Pedro Ximenez or Moscatel grapes, and are sometimes blended with Palomino-based sherries.
The place where you really get the most out of this cocktail is customization. What sherry and what fruit to use? The combinations are endless. Really you can use whatever citrus you have on had. A few personal favorites of mine include using clean Manzanilla with lemon and orange wedges during the summer and rich Pedro Ximenez with grapefruit and fig during the winter, but its really up to you. I strongly suggest this one over the warm months, and if you are in Nashville, come by and let me take care of the work for you.
Cheers!
Sherry Cobbler
2 ounces Amontillado sherry
½ ounce simple syrup
3 orange slices
Directions: In a mixing tin, add orange wedges and sugar. Muddle well. Add sherry, ice and shake vigorously. Strain into a tall glass and fill the glass with sonic ice. Garnish with a fresh mint sprig, seasonal fruit, and grated nutmeg.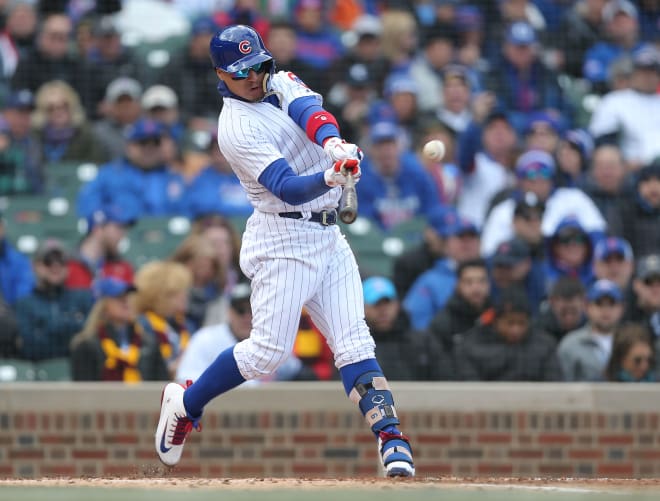 10. We'll have coverage of Ole Miss baseball, football/basketball recruiting and whatever else may pop up this week. Until then, here are some links of interest to me _ and hopefully, to you _ for your reading pleasure.
Also, a note about 10 Weekend Thoughts: My oldest, Campbell, and I are doing the college tour thing the next two weekends, so the timing of this item of content may or may not be impacted. We're going to Ruston, La., this weekend to see Louisiana Tech, so everything should remain on schedule. A week later, we're scheduled to visit both Arkansas and Oklahoma. If we actually make it to Norman, this might get pushed back a day. We'll see. Thanks for understanding.
Forget launch angle and velocity; Javy Baez is going to do it his way
Will Luka Doncic be the next big NBA star from Europe?
Spurs' Leonard will miss remainder of postseason
Bucks' Bledsoe ready to disrupt NBA playoffs
No peaking: Teams seek unfinished products in NFL draft
Atlanta United's 'surreal' rise draws record MLS crowds
Gayle Benson guiding Pelicans, Saints with steady hands, gentle touch
24-0: Robbins forges undefeated start to Tech career
Why Josh Allen at No. 1 makes sense
The Brilliant Chaos Behind America's Best Radio Show
James Harden Isn't Playing Around
San Diego State's football potential has finally gone from theory to reality
Wrigley Field buzz: All-Star Game bid; plans for college bowl game
You wouldn't like Eddie Butler when he's angry
The pride of the shipwrecked captain -Doc Rivers and the Los Angeles Clippers
The bigger they are, the harder they fall? - Rudy Gobert leads Jazz into playoffs
For Rockies' Pat Valaika and family, the heartache of a patriarch not gone but silent
Contents of Abraham Lincoln's pockets at moment of assassination, tonight 1865, Ford's Theatre—not shown to public for 111 years: pic.twitter.com/vnVwd8veAk

— Michael Beschloss (@BeschlossDC) April 14, 2018