Rebels blow seven-run lead in loss at Missouri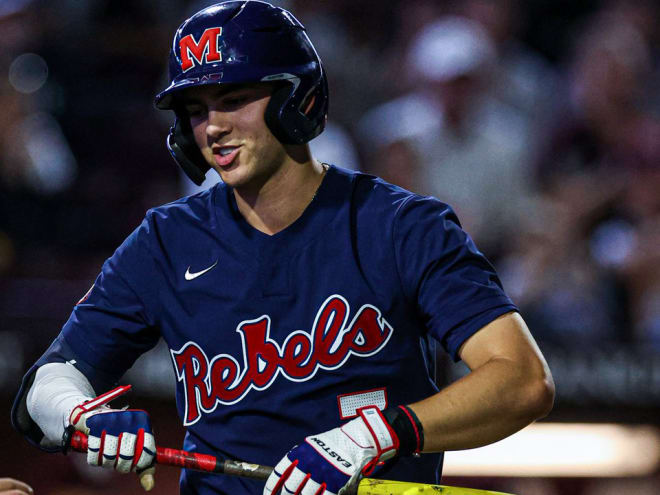 Ole Miss seemed closer to a run-rule win than a loss, but the latter happened Thursday at Missouri.
The Rebels led by seven runs in the sixth inning before the Tigers scored nine unanswered to take the series opener, 11-9. Missouri put up six in the sixth, one in the seventh and hit a two-run home run in the eighth for the deciding runs.
"It's just really frustrating and not sure what to say over and over again," Mike Bianco said. "To get a good start from our ace and to go to another ace in the bullpen and to not finish it is obviously disappointing."
The series continues at 6 p.m. on Friday. Ole Miss is now 24-22 overall and 5-17 in the Southeastern Conference, falling one game behind Missouri and into last place in the league.
Ole Miss led 9-2 after five innings and 9-3 when Xavier Rivas left the game with one out in the sixth. Riley Maddox, making his second appearance since returning from Tommy John recovery, allowed all four batters he faced to reach — triple, single, walk and home run, cutting the lead to one run.
"We got a good effort from Xavier on a tough night to pitch with the wind gushing out to centerfield," Bianco said. "We went to Riley because he's our best strike-thrower… and they got good swings off."
Luke Mann hit his second home run in as many innings to start the seventh off Mason Nichols, who got the final two outs for the sixth inning. Nichols struck out three straight after the home run but left the game in favor of Jack Dougherty for the ninth.
Nichols was at 32 pitches, and Bianco didn't think he could go the rest of the way, considering he's had a heavy recent workload. He went to Dougherty with the hope of using Nichols later in the series.
"Obviously this game is super important, but (Nichols) couldn't have finished it pitch count wise," Bianco said. Obviously it didn't work out."
Matt Garcia hit a two-run, two-out home run off Dougherty to break the tie.
There were eight total home runs in the game, including five by Missouri. The blow lead wasted a nice Ole Miss offensive effort that featured seven of the nine starters getting at least one hit.
TJ McCants hit a three-run home run, Kemp Alderman hit a two-run shot, and Jacob Gonzalez had a solo home run. Ethan Groff, Alderman and Gonzalez had multiple hits. Gonzalez also had a home run robbed in his final at-bat.
Calvin Harris reached base three times and scored three times. Alderman leads the Rebels with 18 home runs. Gonzalez and McCants are two of four Ole Miss players with eight home runs.